You may, or may not, be in lockdown right now.
Either way, you may be grappling with a new kind of outbreak: confusion.
Our analysis of community sentiment (using keywords in online sources) in the last fortnight suggests plenty of Australians are confused, now. But we were not confused - in fact, we were clear - before the last few weeks.
So what's happened?
Analysing a recent week's online conversations (Twitter and other social media, online forums and chat, excluding news media) there's been a significant change compared to the six months prior.
Words like "absolute shambles" and "failure" now appear as often as words like "vaccine" and "best practices" (see figure 1).
Figure 1 (Keywords - 7 day period early-mid-July 2021)

Figure 2 (Keywords - YTD mid July 2021)

A note on our method: we analysed online content, regarding COVID19 and lockdown ex-news, over two recent time periods. The two periods were a) one week in the last month, and b) the year to date. We removed news sources from our analysis given that editorial sources have high reach platforms compared to individuals, and we wanted to gauge what Australian individuals were saying, and feeling.
The delta? Unclear communication
The word "delta" has several meanings (fourth being an obvious one) but the one we're talking about here is "change" or the difference between two things.
What's changed? Australians have gone from being clear about what was expected of us individually, and what the pandemic containment measures were more broadly, to being confused.
This isn't an opinion - it's what online content analysis shows when you compare two different time periods: a recent week versus year to date.
Why? Lack of clarity in communication, gaps and changes in the measures announced, and a perceived botched vaccine rollout. In Sydney, for example, the wording of government announcements, coupled with restrictions along local government boundaries that ran down the middle of some major Sydney roads, immediately led to confusion.
Confusing communication has sparked greater fear, uncertainty and negativity around the response to the delta variant than we'd seen earlier.
It's ironic really because in May the WHO announced itself changed to using alpha, beta, "delta" and other Greek alphabet letters as the new COVID naming system in an attempt to reduce confusion and stigma. In the announcement, the WHO said that previously used scientific names were difficult to say and recall, and thus "prone to misreporting. As a result, people often resort to calling variants by the places where they are detected, which is stigmatizing and discriminatory. To avoid this and to simplify public communications" the WHO adopted new labels.
Putting simplicity, fairness and consistency at the heart of communication helped frame the issues and a response globally - in stark contrast to recent Australian public health announcements which have caused confusion and been divisive.
The price of unclear communication
The result is a lot more negativity.
In the year to date, the proportion of negative sentiment in online chatter about COVID19 was roughly 13% versus, in the recent week, 35%, more than 2.5x the previous rolling average for the year (see figure 3).
Figure 3 (Sentiment: YTD vs last 7 days)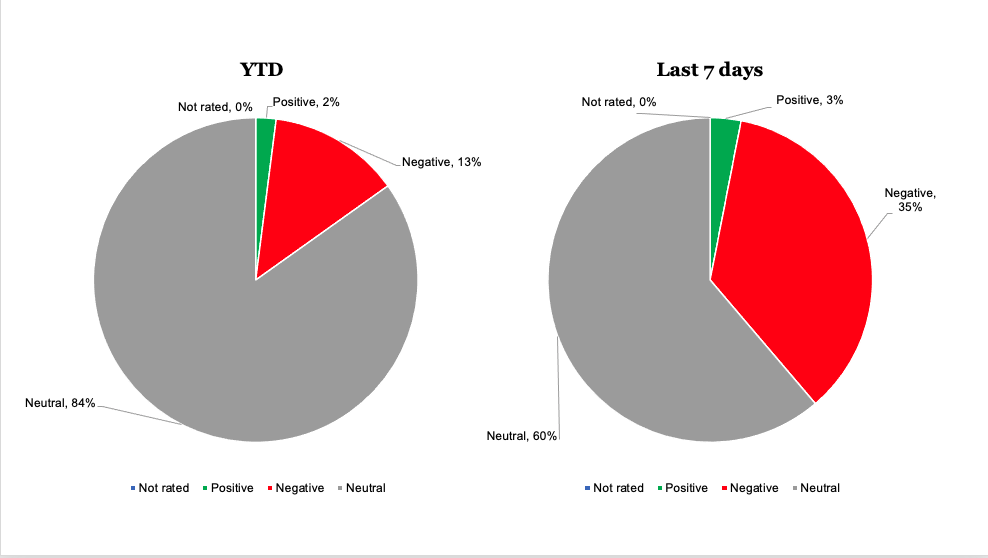 That's a big change. It's not all about the delta strain of COVID19.
Analysing the events and content, this change reflects conflicting statements about vaccinations and their rollout (such as political leaders versus health experts), unclear guidelines (particularly early in the Sydney lockdown) and uncertainty about the new rules, in part due to shifting goalposts.
What this (basic) analysis shows is the real impact of governments not being clear, and not being united in their position. Confusion, criticism and a loss of confidence have followed.
Chaos-causing characters
Dr Seuss famously introduced us, long before COVID19, to "Thing One" and "Thing Two" as the mayhem-causing twins in The Cat in the Hat. They represent, in the book and the movie, chaos. They arrive as disorderly forces, and, in the absence of parental authority, cause havoc.
If "Thing One" is the delta strain of COVID19 and "Thing Two" is the unclear communication about COVID in the last few weeks, let's hope we can put both unwelcome visitors back in their box, as the Cat in the Hat did.
Leadership requires clarity
What can we do?
Most of us can't do much to help the public health effort except stay home and make sure those around us do the same. While public health is mostly a matter for all levels of government to get right we can heed the lessons of the last weeks.
We can lead: operating from "Plan Z"; the worst or most disrupted case, thus making sure that we insulate those who rely on us from more bad news or further change.
We can communicate clearly: with our customers or clients, our teams and those we do business with. That means only speaking authoritatively about things we know for sure, and refraining from speculation about things beyond our expertise.
We can keep it simple: communication and messages that are easy to understand, and to repeat, consistently.
Finally, we can just listen, responding where it makes sense and we have a role.
If you're not listening to the sentiment and "out loud online comments" of those who rely on you, now might be a good time! If you need help with that, drop us a line.
Related: Three Steps To Get Magical Results From Integrating PR, Marketing and Paid Media