Sustainable and virtuous investing is taking many forms and for advisors, there are messages in that evolution. Notably, the continuing fluidity and range of interpretations of what it means to invest responsibly and virtuously provides more opportunities for client engagement.
Much of that stems from the fact many clients want to tap sustainable investments. Others are interested, but are confounded by environmental, social and governance (ESG) scoring and where to start. For advisors, it's usually best to not reinvent the wheel and inundate clients with too much wonky data and information.
A good starting point is actually a really simple one: Investing in companies that treat their employees. Think of it as the "happy wife, happy life" maxim applied to investing. Said another way, it really makes sense that a company with happy staffers may just have happy investors, too.
Sound too simple to be true or useful in investing? Think again.
Happy Staff, Happy Investors
Great Place to Work, a firm focusing on workplace culture and the builder of the annual Fortune 100 Best Companies to Work For has some relevant insight for advisors. Index provider FTSE Russell took it a step further and boiled it down to terms applicable for advisors and clients.
"Our new "100 Best index" outperformed the broader market by 16.5% in 2020, returning 37.4% compared to a 20.9% return for the Russell 3000® Index – the broadest benchmark index for US stocks," according to the index provider.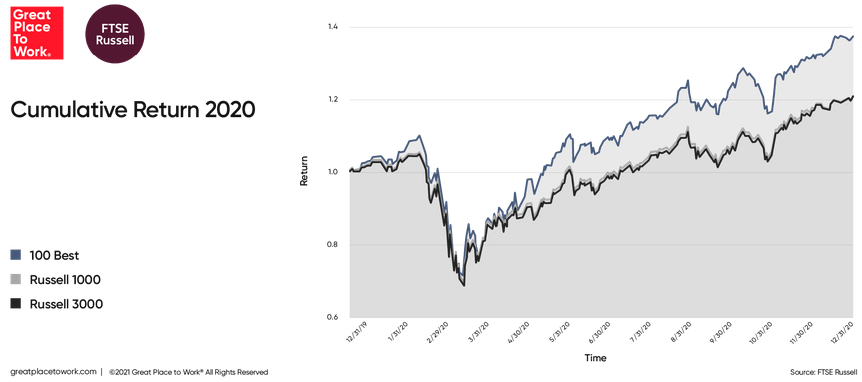 Courtesy: FTSE Russell
The 2020 showing isn't a one-off event. Investing in companies that prioritize their staff is a sustainable strategy that delivers for investors over the long haul.
"The 2020 performance bump mirrors a long-term trend of similar outperformance – the 100 Best index has had a cumulative return of 1,709% since 1998, as compared to a 526% return for the Russell 3000 Index for the same time period," adds FTSE Russell.
It's often said companies shouldn't be looked at as customers' or investors' friends and that's correct. Regardless of industries, companies aren't puppies or warm and fuzzy kittens. They're in business to make money. How they go about that, however, is meaningful to clients and some showed encouraging against the backdrop of the coronavirus pandemic.
"Most remarkably, in 2020, the 100 Best broke records on measures of leadership credibility. Employees scored their leader's trustworthiness the highest ever in Great Place to Work's 33-year history of studying company culture," notes FTSE Russell. "Under the most challenging conditions of COVID-19 and racial injustice, overall employee experience scores improved compared to 2019 thanks to great supervisors, mid-level managers and executives."
Easy to Apply for Clients
While not all of the companies on Fortune's "100 Best Companies to Work For 2021" list are publicly traded, many are and many are names familiar to investors that are easily investable, either individually or via funds.
For example, four of the top 20 firms on the list are technology companies, including Cisco (NASDAQ:CSCO), Salesforce (NYSE:CRM) and Nvidia (NASDAQ:NVDA).
Another dozen members of the list are financial services companies, including American Express (NYSE:AXP) and Bank of America (NYSE:BAC). Several others are healthcare companies clients are familiar with and/or already investing in.
Bottom line: Investing in companies that take care of workers checks the sustainable box and it pays off for clients in the long run.
Advisorpedia Related Articles:
Advisors, When it Comes to Sustainable Investing, You Don't Need to Indoctrinate this Demographic
ESG Risk Is All Over the Place
Clients Are Getting Demanding About ESG Investing