Whenever there is a chance to learn from an iconic brand like Amazon, I jump at the chance. Founder, Jeff Bezos, was an early adopter of a relentless focus on the customer experience.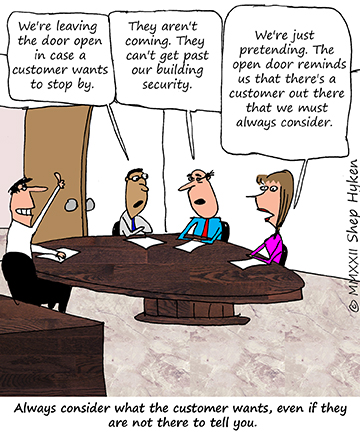 Did Bezos really believe that Amazon should be so good they didn't need a customer service department? Did he really have an empty chair in his meetings to represent the customer? Those are questions I asked Bill Price, Amazon's first global vice president of customer service and the founder and president of Driva Solutions. I interviewed Price on Amazing Business Radio, where he shared some powerful insights and lessons from his days at Amazon and from his latest book, The Frictionless Organization: Deliver Great Customer Experiences with Less Effort.
When Price was interviewing for the job at Amazon, Bezos asked, "What's your definition of customer service?" Apparently, Price had the right answer. He responded, "The best service is no service." The gist of it was that we should be so good that a customer would never need to call us for customer support. Bezos loved the response, and he was hired. And by the way, that answer became the title of Price's first book.
Did Jeff Bezos really have an empty chair at the table to represent the customer?
So, Price became part of the executive team that would meet with Bezos on a regular basis. I had to ask him a question about something that I thought could be modern-day folklore. "When you were having those meetings, did Jeff Bezos really have an empty chair at the table to represent the customer?"
Price said, "I was in the very first meeting at Amazon where Jeff left the chair empty. He wanted to keep the chair empty for the customer because the customer can never come to our meetings." So, it was true! Bezos was so focused on customer service that he wanted everyone to keep the customer in mind, and having a chair at the table to represent the customer was his way of doing so. That's truly customer-focused!
Even though Price eventually left Amazon, he continued to focus on the customer experience. His latest book, The Frictionless Organization, is filled with ideas on how to deliver the experiences customers hope for. And there are advantages to being frictionless. Here are three we should all consider:
Being frictionless reduces costs. When it's easy, customers won't need to call customer support, which can be very expensive.
Being frictionless drives customer and revenue growth. That's a big reason behind Amazon's success. They make it easy for the customer.
And the perfect one to end on… Being frictionless gives you a competitive advantage. If you aren't, you open yourself up to a competitor who will. In Bill Price's words, "If you don't make it really simple and easy for customers, someone else will do it for you."