Inflation keeps cooling. Interest rates look like they've peaked. I think we're setting up for a "Santa Claus" rally into year-end.
Some great news: We just confirmed venture capitalist (VC) Mark Yusko will appear at our upcoming artificial intelligence (AI) investment event. I'm going to talk to him about where the big VC money is flowing in AI these days and what opportunities he's focused on.
Go here to claim your discounted early-bird ticket!
Let's get after it…
1. The first AI "app store" is about to launch.
Last week, ChatGPT creator OpenAI announced "GPT Store."
It allows anyone to create their own AI "app" based on ChatGPT's tech—no coding skills needed.
You can build a personalized robo-tutor… a travel concierge… or your own ChatGPT-like intern that filters all your emails.
This is HUGE. We'll look back on this as the single most important tech reveal of 2023—it's even bigger than Microsoft's (MSFT) Copilot launch.
GPT Store is AI's App Store moment.
Apple's App Store gave birth to a crop of fast-growing, multibillion-dollar businesses like Instagram, Uber (UBER), and WhatsApp.
One example of what's coming: Someone will build "Doctor-GPT"—an AI physician in your pocket that can tell you when you're sick and what to do about it.
This is what I mean when I say AI is the great equalizer. Folks who think buying big tech stocks is the best way to invest in AI are missing the big picture.
This is a clever move from OpenAI. Roughly 100 million people use ChatGPT weekly. The AI app store will help it reach a billion users.
It's wild that ChatGPT isn't even one year old. Imagine what's possible three years from now.
2. Buy these robotics stocks; avoid these others.
When I started investing in AI, it couldn't tell a chihuahua dog from a blueberry muffin.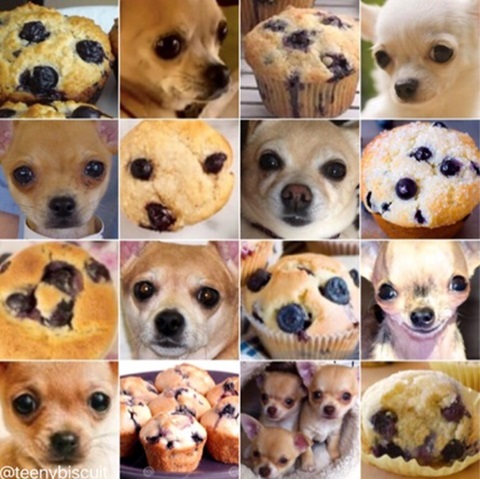 Source: HuffPost
Now AI can scan a crude sketch of a website on a napkin… and quickly turn it into a beautiful, fully functional website. Wow.
Similar breakthroughs are happening in robotics right now.
Self-driving cars are zipping around US cities…
Flying drones recently got cleared to make long-range deliveries without someone watching from the ground (game-changer)…
And machines are quietly taking over US factories. Amazon (AMZN) now employs 750,000 robots.
AI going "physical" is one of the biggest investing opportunities over the next decade.
Unfortunately, the robotics ETFs (BOTZ and ROBO) have been duds. They're packed full of bad businesses that barely grow. It's no wonder these ETFs have underperformed. Continue to avoid them.
Instead, be selective and only own fast-growing, profitable robotics businesses. That's what we're doing in Disruption Investor.
3. The problem with capitalism.
Last night, my wife showed me a YouTube video of old technology ads from the '80s and '90s.
The prices were so… high.
A big, clunky camcorder used to cost roughly the same price as the latest iPhone.
Yet your smartphone is a camcorder, TV, game console, calculator, radio, CD player, and several things that would be considered magical in the '90s… all in one.
It's like the whole RadioShack store has been shrunk into our phones: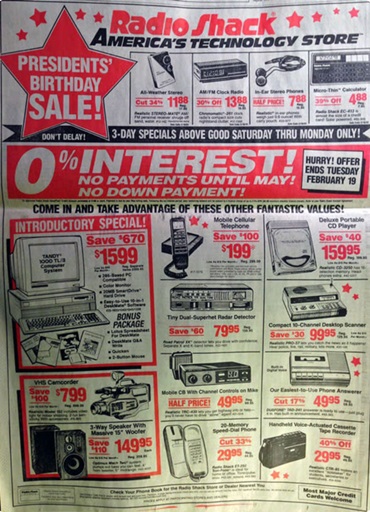 Source: Engadget.com
Mediocre TVs used to cost thousands of dollars. Now some new flatscreens are under $200.
A VHS tape of Top Gun sold for $26.95 in 1983. Now, you can watch thousands of movies and shows on Netflix for $15/month.
People love to bash capitalism. Those greedy fat cats exploiting poor people.
Get out of here with that nonsense. Capitalism has lifted billions out of poverty. It's the gift that keeps on giving. Wherever it's allowed to flourish, prices drop and quality rises.
Five years ago, a Tesla (TSLA) cost $85,000. Electric cars were just toys for rich people.
Now you can get a brand-new Tesla for $43,000… and its battery goes twice as far. Thanks, Elon!
Compare this to industries where the government is a big player, like healthcare.
Need I say more?
Capitalism rocks.
And I'm glad we have the stock market to piggyback on the world's greatest entrepreneurs by investing in their companies.
4. Today's dose of optimism…
"Pessimists sound smart; optimists make money" is a line I live by.
While it might not always seem like it, things continue to get better for most people most of the time.
Murders are near historic lows. New cases of dementia are falling by 13% per decade. Child mortality is a fraction of what it once was.
This may be anecdotal, but I'm 100% convinced parents are so much better these days.
When I was growing up, mums and dads got drunk in pubs and let their kids fall asleep under tables loaded with pints of Guinness.
Chain-smoking at home was normal. Kids would play indoors in clouds of toxic smoke.
No parent I know would consider doing these things today.
To quote the opening line in The Money Game, "The world is not the way they tell you it is."
Related: On Biden's AI Executive Order