Written by: Monica Kingsley
We've been in for some volatile, yet short-term sharp moves in the overnight sessions. Similarly to pre-earthquake tremors, does it point to a larger move about to happen?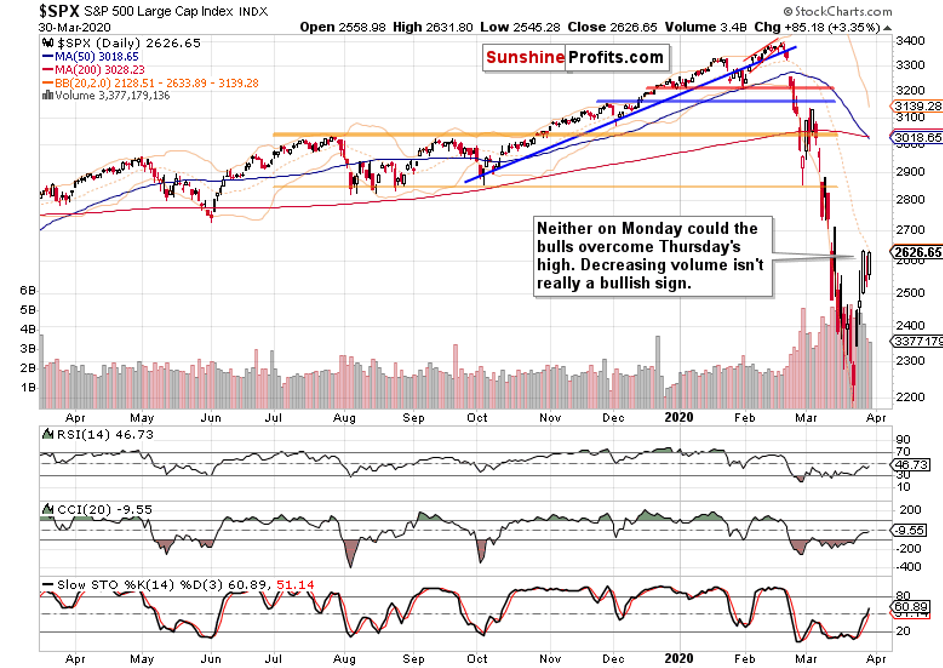 Yesterday, we pointed to the Friday's candle being an inside one, and the same point can be also made about Monday's session. These were our observations regarding its meaning:
(…) it is indeed rich in indications. Its shape is bearish thanks to the large upper knot and prices closing near the daily lows. As the daily volume was lower than that on preceding up days, thus marking the bears' unwillingness to participate heavily in a reversal so far, we might still get another attempt to move higher.
But that's unlikely to overcome Thursday's highs in any lasting way, in our opinion. The pace of RSI and CCI rise is already weakening after they both reached their mid-range readings. While Stochastics is still on a daily buy signal, that can change pretty fast – even with a couple of days' sideways action only.
But still, we expect the return of the bears in the coming sessions as the most likely scenario.
Again, the volume was lower yesterday, and the daily indicators are increasingly and tellingly curling lower. Food for thought.
Let's also revisit the high-yield corporate debt chart (HYG ETF).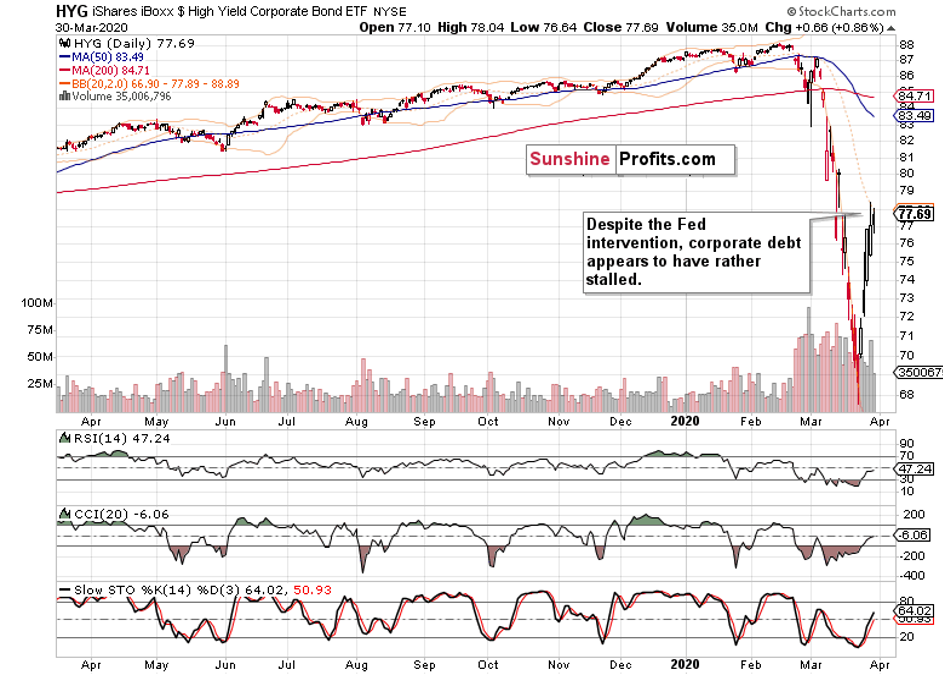 Before summarizing, let's quote from our quick intraday Alert sent earlier today to our subscribers. This is what we have written about the pre-market action:
(…) the futures moving much in our favor (below 2615 as we speak).
This is happening against the backdrop of surging USDX, plunging oil and commodity currencies (plunging AUDUSD and surging USDCAD). The S&P 500 futures gave up much of their overnight gains to trade close to unchanged when compared to yesterday's closing prices. It's highly likely we're in for a risk-off day later today.
Our observations are valid also at this moment - with the notable exception of oil, which has turned somewhat higher in the past two hours (from around $21.40 to almost $21.80, yet trades at around $21.50 right now). Otherwise, the currencies' moves are continuing, and not even the usual safe haven (JPY) has attracted a bid vis-à-vis the greenback. The risk-off mood rules on, and mightily so.
Summing up, despite the weekly chart's price action, the bears still have the upper hand. While the temporary upswing has run into stiff headwinds on Friday, it can still retrace a part of today's premarket decline but don't bet your farm on that. On the other hand, it appears to be rolling over to the downside as we speak. The time for the rally is increasingly running out, as both the daily indicators and high-yield corporate debt charts show. Considering the risk-reward perspective, our currently open short position remains justified.