S&P 500 is getting under modest pressure, and technology is to blame. Is the correction about to turn nasty from sideways? Still no signs of that, even as the investment grade corporate bonds are being sold of as hard as long-term Treasuries. Yet, these corporate instruments have only now broken below their late Oct lows – unlike long-dated Treasuries, whose price action resembles free fall.
These government debt instruments are arguably the key asset class for every precious metals investor to watch. What used to be gentle decoupling signs over the latest weeks and months, got thoroughly tested the prior week. Yet, I stood firm in not calling gold down and out. The support zone at late Nov lows generated a rebound that was oh so likely to materialize.
Silver naturally outperformed, both copper and oil had a strong day, and agrifoods are making new highs. The inflation dynamics described in Friday's article aptly called Why the Sky Is Not Falling in Precious Metals, continues unabated, and the pressure keeps building inside the metals and commodities.
Not even the dollar managed to benefit from the rising yields – the resumption of its bear market I called on Feb 08, is one of the 2021 themes. Money keeps flowing from the Treasuries market, and there is plenty sitting on the sidelines (corporate or private) to still deploy and power stocks and precious metals higher. Also those ready to withstand Bitcoin volatility (hello, the weekend Elon Musk tweet follow through), stand to benefit – cryptos are behaving like a store of value, a hedge against currency debasement. I wrote in my very first 2021 analysis that the Bitcoin correction wouldn't get far.
Powell's testimony is about to bring volatility, but does it have the power to change underlying trends? Not really – while his latest high profile assessments brought about a downswing, stocks recovered in spite of the GameStop (contagion?) drama too. Should we see a replay of the above, new highs are coming – and they are, in both stocks and precious metals. We're in a commodities supercycle on top!
Let's get right into the charts (all courtesy of www.stockcharts.com).
S&P 500 Outlook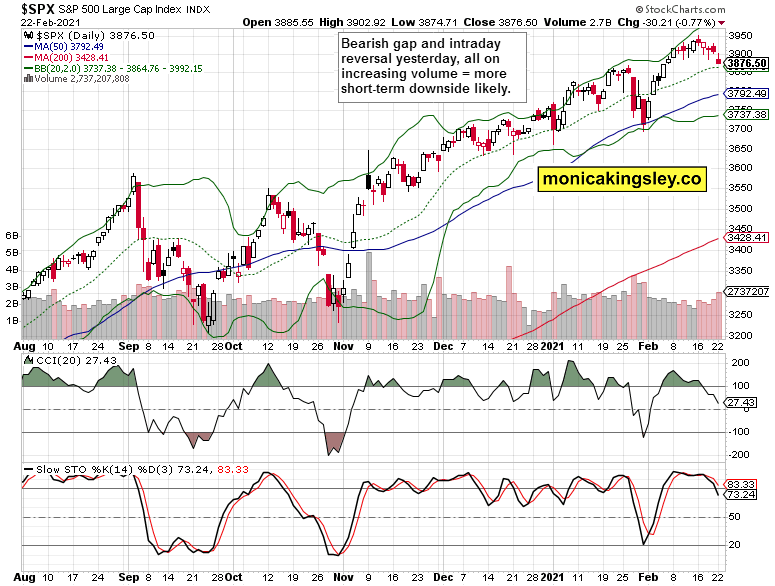 The daily chart shows yesterday's turn of events clearly. The volume increased, indicating that the bulls will need to grapple with more downside.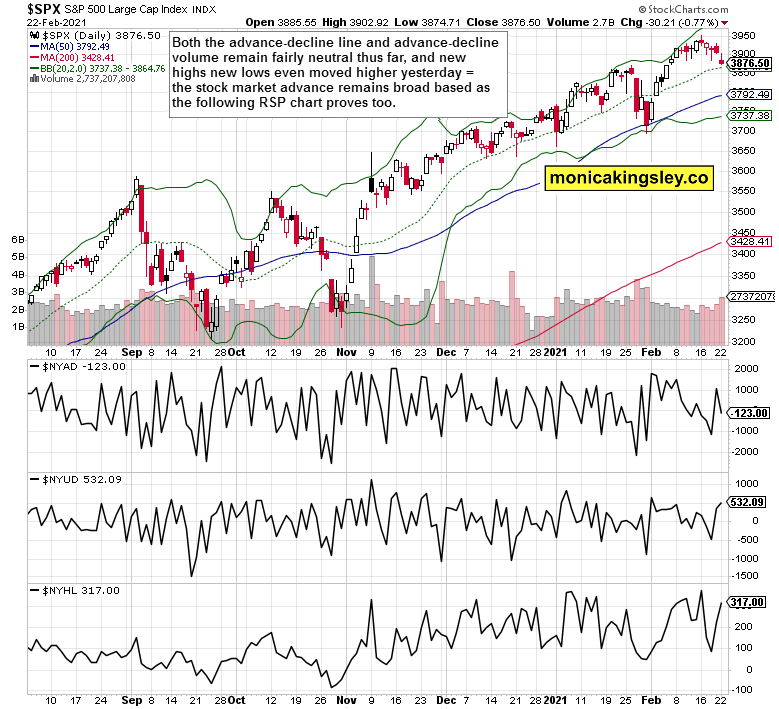 Both the advance-decline line and advance-decline volume have curled noticeably, yet new highs new lows continues higher. That's a confirmation of the broad based nature of the stock market advance, further illustrated with the following chart.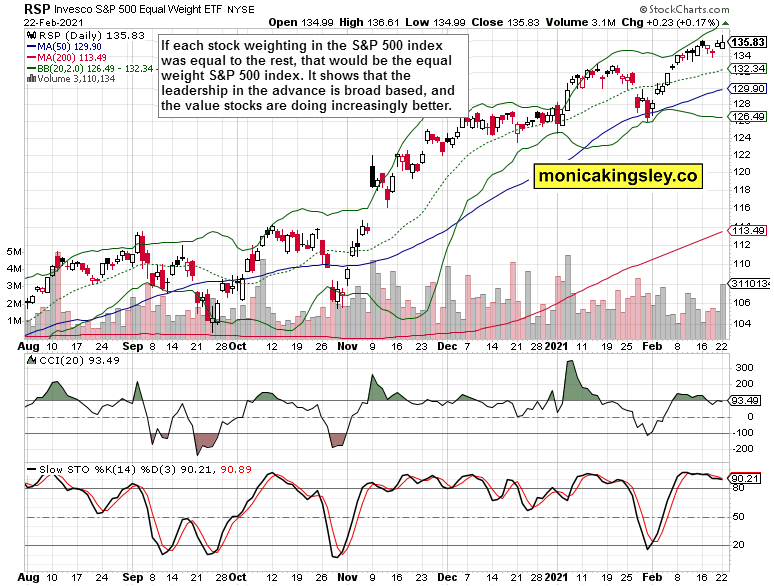 What if all the constituent shares in the S&P 500 had equal weight (i.e. there is no $NYFANG)? The above chart is the reflection – and it's challenging the latest highs. The rotation theme I'm discussing so often, means in this case taking the baton from tech, and seeing it pass to value stocks. Such broad advance is a healthy characteristic of bull runs far from making a top.
Technology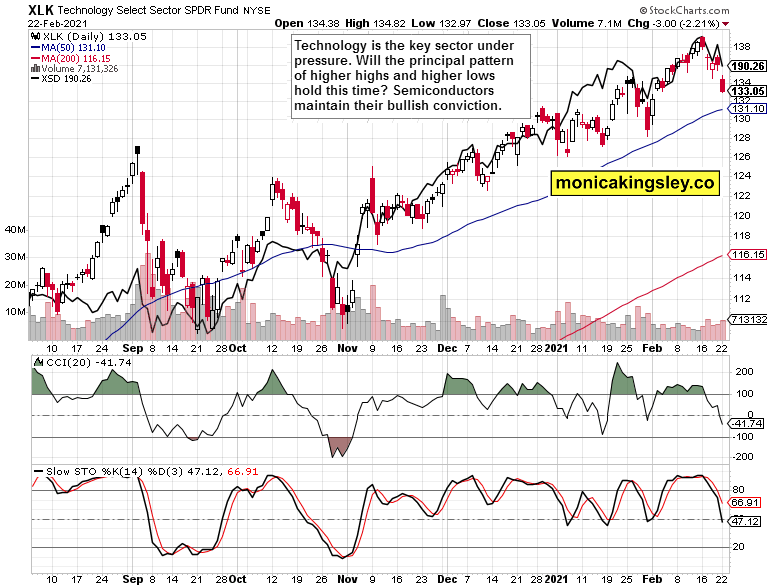 Here is the culprit behind yesterday's decline – on increasing volume, technology (XLK ETF) has plunged. Yet it's the semiconductors (XSD ETF) that I am looking at for clues as to how reasonable has the decline been. And given how the tech is holding up, it's a bit accentuated.
Credit Markets
High yield corporate bonds to short-term Treasuries (HYG:SHY) ratio is still behaving reasonably – the overlaid S&P 500 prices (black line) aren't accelerating to the downside. Thus far, everything keeps pointing to stocks behaving a bit more sensitively than throughout 2021 mostly, yet far from crashing or showing their readiness to. The real correction has to wait still – this is not the real deal.
Gold, Silver and Treasuries
Gold price action indeed proved not to be as bearish. Finally, we're seeing a clear refusal to move down even as Treasury yields continue to plunge. How long will this new dynamics stick, where would it take the yellow metal? I treat it as a valuable first swallow.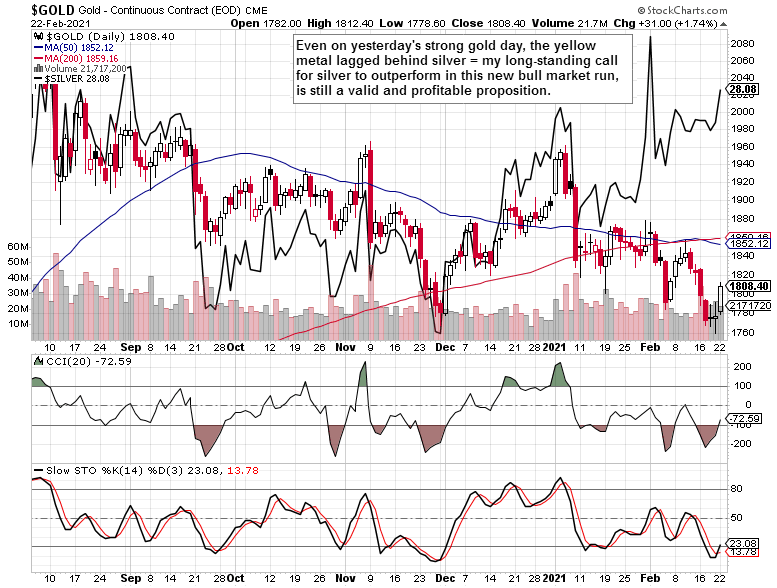 The scissors between gold and silver keep widening, and the white metal again outperformed yesterday. That's exactly the dynamics of the new precious metals upleg that I'm expecting.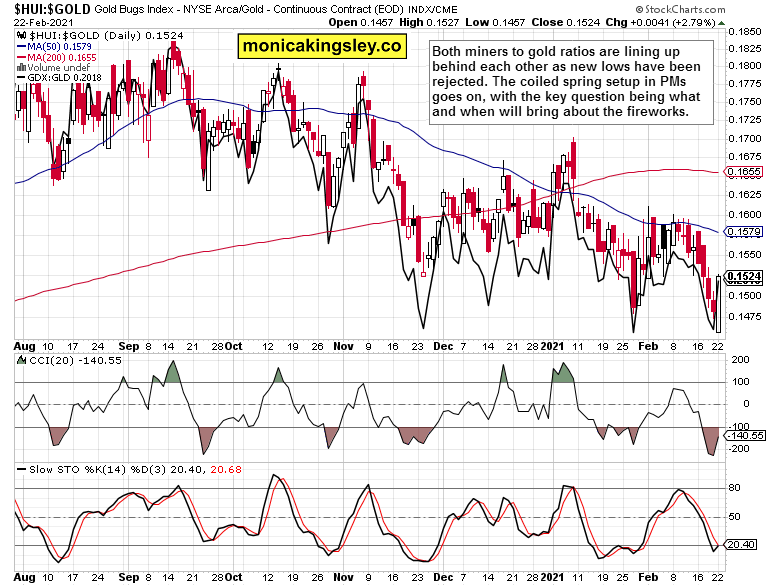 Both depicted miners to gold ratios show a clear pattern of post Nov resilience. GDX:GLD is not breaking to new lows, while $HUI:$GOLD rejected them. Bobbing around, searching for a local bottom before launching higher? That's my leading scenario.
Summary
The unfolding correction got a new twist with yesterday's downswing in stocks, and unless tech gets its act together, appears set to run further. Emerging markets fell harder than the Russell 2000 yesterday, which is another proof that the correction isn't yet over.
Gold and silver price action remain encouraging, and the same can be said about oil and many other commodities. Once the stimulus bill is passed, the positive fundamentals that are going to turn even more so, given the Fed's accomodative policies. Will these work to stave off the rising Treasury yields as well? If so, then gold's fundamentals got a crucial boost, which would soon be seen in the technicals too. As I wrote yesterday, the metals didn't get a knock-out blow – the medium- and long-term outlook remains bright, and too many market players on the short side in the short run, means a high likelihood of a reversal – which is precisely what we saw.
Thank you for having read today's free analysis, which is available in full at my homesite. There, you can subscribe to the free Monica's Insider Club, which features real-time trade calls and intraday updates for both Stock Trading Signals and Gold Trading Signals.
Related: Why the Sky Is Not Falling in Precious Metals
The views and opinions expressed in this article are those of the contributor, and do not represent the views of IRIS Media Works and Advisorpedia. Readers should not consider statements made by the contributor as formal recommendations and should consult their financial advisor before making any investment decisions. To read our full disclosure, please click here.