Written by: Meera Pandit
Sustainable investing, which considers environmental, social, and governance factors (ESG), is a philosophy most investors are aware of, but not all may fully understand it, as it has evolved meaningfully over the past few years. There are a number of catalysts driving momentum into sustainable investing, notably these 7 Essentials of ESG:
ESG considerations are affecting consumer preferences and public attitudes – Many consumers are demanding more sustainable products, and are willing to pay up for them. There is considerable growth in sustainable consumer packaged goods, alternative meat and plant-based foods, and eco-friendly fashion. Companies are responding to these preferences by altering what the sell and how it is produced and distributed.
Policymakers are setting environmental and social goals. Policymakers around the world have committed to net zero carbon emissions to mitigate global warming. Social goals are gaining momentum as well, with the Federal Reserve explicitly noting greater inclusion as part of its full employment mandate.
For some companies this may be a headwind… For industries reliant on fossil fuels, this could be a challenge for those that do not adapt, particularly with the renewable energy becoming more affordable.
…but it also creates significant opportunities for those at the forefront of change. Not only does green energy stand to benefit, but so does the ecosystem around it like storage, transportation, and electrification. Other innovations like electric vehicles have been growing at impressive rates, although are still in the nascent stages of traction.
It's not just climate, G matters and focus on S is growing. Proper governance can mitigate the risk of poor management, fraud, or negligence that can negatively impact future profits. Separately, 2020 revealed both social inequality and deep disparities in health outcomes; policymakers and companies are focused on tackling longstanding inequality.
ESG is affecting the investment landscape… As with any investment strategy, manager selection matters. There is still not a great deal of consistency around evaluating ESG factors, so skilled managers may have an advantage in unearthing opportunities.
...and is changing the nature of investment flows – Assets under management, net flows, and product launches of sustainable strategies have increased, highlighting growing interest in the space.
Although ESG is still in its early innings, long term investors willing to be patient as it continues to evolve may benefit as the opportunity set grows and changes.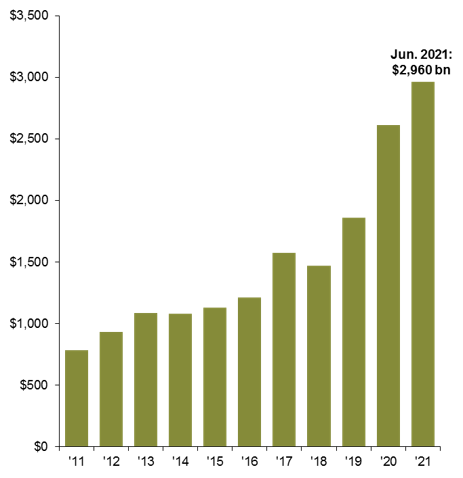 Source: Morningstar Direct, J.P. Morgan Asset Management. Includes open-ended funds and ETFs globally. To identify sustainable funds, we searched Morningstar Direct, as follows: 1. Open-End Funds and ETFs universe 2. Domicile = All Countries. 3. Sustainable Investment Overall = Yes. 4. Oldest share class = Yes. Data as of June 30, 2021.
Related: The ESG Movement: The "Goodness" Gravy Train Rolls On!