As a guy who has invested a little in cryptocurrencies, I sat back a year ago in a warm glow. The investment had risen phantasmagorically, and was now worth a good pension. Today? It's worth almost nothing.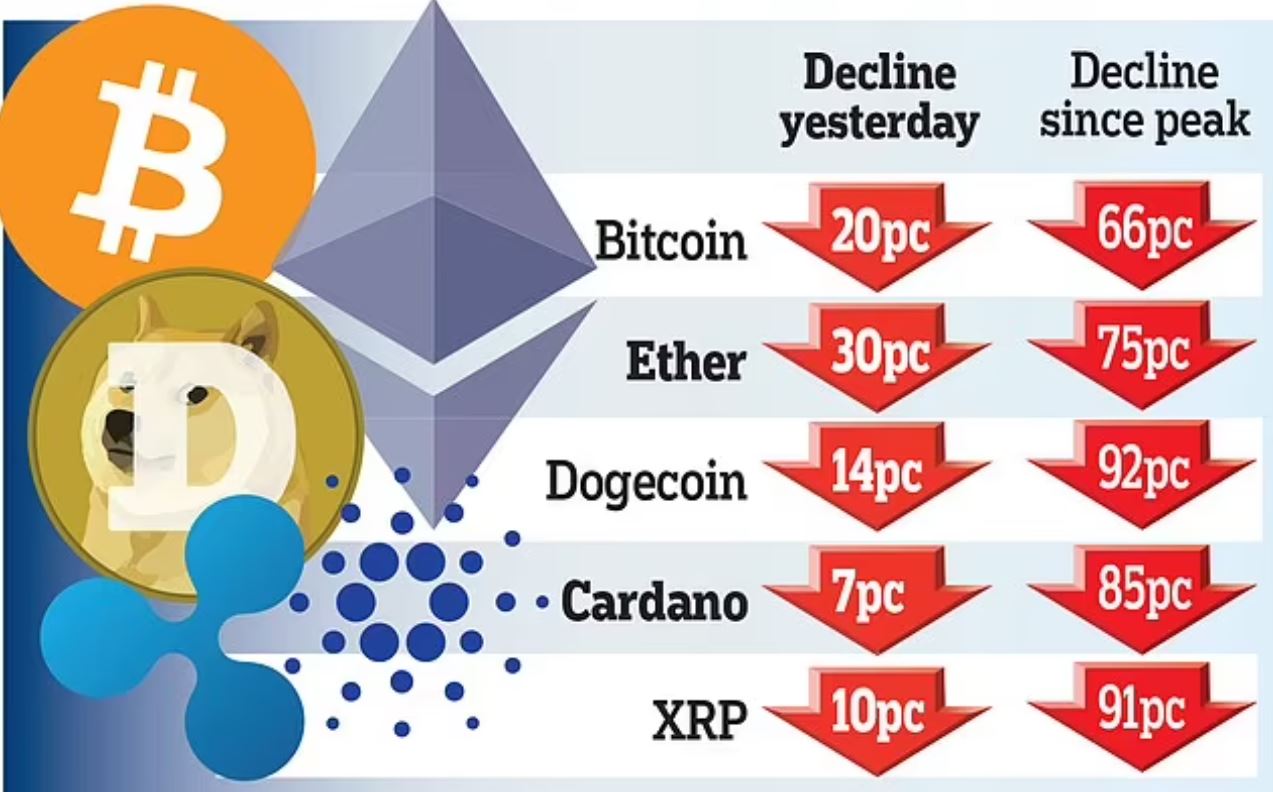 Source: Daily Mail
What's gone wrong?
Well, it started with Terra, and it's led to Terror.
The wobbles actually began over the first quarter, and you can see through this chart the volatility of bitcoin in general and, when bitcoin wobbles, all crypto crashes.
The view of some is that it was caused by worries over soaring inflation, rising interest rates and the war in Ukraine. Some believe that this has sent investors fleeing from high-risk assets. I think that's in the mix, but the core is around cryptocurrencies and the exchanges that trade them failing. This has added a lot of fuel to the fire.
I blogged about the Terra-LUNA issues a month ago and, mainly due to these issues, it's led to nervousness across all cryptocurrency markets.
Follow this with the failure of Celsius, the SEC investigations into Binance and its BNB coin (who have also paused bitcoin withdrawals by the way), the possible bankruptcy of Coinbase and more, and you can see why everyone is feeling disturbed.
Having been invested in this market since 2012, I've seen the ups and downs. The Mt.Gox crash, the lost password when the exchange CEO died, the peak of BTC in 2017 that then crashed … the list goes on.
Some refer to this as a Wild West, and many involved in these markets have not been invested as long, are not as aware and are not prepared.
Many have borrowed money to invest. According to data from the Financial Conduct Authority (FCA) last year, there are around 2.3 million UK investors in cryptocurrency, equivalent to 4.4 per cent of the adult population. Of those, one in seven borrowed money to do so. A 2021 Pew report estimates 16% of Americans have invested in cryptocurrencies, mainly men.
Roughly three-in-ten Americans ages 18 to 29 (31%) say they have ever invested in, traded or used a cryptocurrency such as Bitcoin or Ether, compared with smaller shares of adults in older age groups. Men are about twice as likely as women to say they ever used a cryptocurrency (22% vs. 10%).
The thing is that a lot of these people have taken their life savings and invested in these markets as a bet. And today, they lost. They've lost a lot. They've lost 80% or more of their life savings. But then, as Andrew Bailey, the Governor of the Bank of England says, you should only invest if you are prepared to lose all of your money.
The biggest issue for me is the market crash could lead to a life crash, particularly amongst younger investors who are predominantly male. Male suicides amongst those in their forties are at an all-time high already, and things may get worse due to many men borrowing and betting on crypto … and losing.
What's weird is that this has nothing to do with the basic construct of the idea of cryptocurrencies. The 2009 Satoshi Nakamoto white paper still stands, as does the idea of a global currency for a global network.
The issue is more to do with too many campers jumping on the boat.
There are, last estimate I saw, over 18,000 cryptocurrencies out there, of which over 10,000 are active. Active? Actively used or actively invested?
Either way, it's too many and, in a market that's based upon hype, of course you're going to see crashes. Let's just hope this one doesn't hurt too many people's lives and cause life crashes that match market crashes.