It's hard to say this about Bitcoin, particularly following a day in which the largest cryptocurrency hit an all-time, but data say what the data say. The data confirm Bitcoin hype isn't at manic levels. At least not yet.
For reference, the data being referred to are search interest in the dominant digital asset expressed by Google users – relevant because that's the world's largest internet search engine.
"Compared to 2017, bitcoin's search interest is low relative to the increase in its price," writes ARK Invest analyst Yassine Elmandjra. "As measured by Google's relative search interest, when bitcoin's price soared to more than $40,000 in early January, the "hype" reached only 50% of that at the peak near $20,000 in 2017. Since January 8, it has dropped to ~25%, as shown below."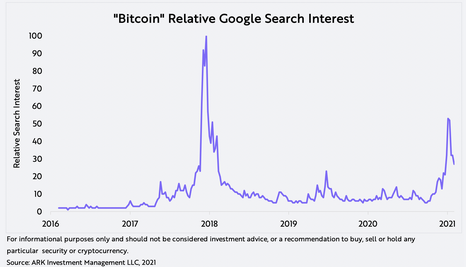 Courtesy: ARK Investment Management
What's interesting about Bitcoin hoopola being kept somewhat in check is that as of late Monday, Feb. 8, the cryptocurrency is up 33% over the prior week and it's sporting a market capitalization of $831.49 billion. On that basis, Bitcoin would be the fifth-largest company in the S&P 500, slightly ahead of Tesla as of the Feb. 8 close.
Speaking of Tesla...
It's not immediately clear what the impact will be in terms of hype, but news out Monday is likely to stir up some other emotions around Bitcoin.
Tesla founder and tweeter extraordinaire Elon Musk revealed that the electric vehicle maker invested $1.5 billion in the digital currency and will accept it as a form of a payment for its vehicles. For what it's worth, Tesla also said it will accept gold and select bullion-backed exchange traded funds as payment, indicating it's not playing favorites among assets likely to benefit as fiat currencies are debased by global central banks.
If I had to wager, I'd put some money on the Tesla news being a spark for more advisors fielding questions about Bitcoin, particularly from younger investors.
"This is a massive move by Tesla. By accepting bitcoin as a form of payment, Tesla is unleashing the first major consumer experiment in not just bitcoin but cryptocurrency as whole," notes Global Data analyst Danyaal Rashid. "Tesla, being the fifth largest company in the world by market cap, will send out a bold statement if it can successfully integrate bitcoin payments into its business."
That is to say the now overt intersection of Bitcoin and Tesla could be an excellent value-add opportunity for advisors because there's a strong chance they're already fielding questions about electric vehicle investments, namely Tesla. The automaker's unique payment scheme is a chance for advisors to talk vital basics with newer, younger clients.
"The main sticking point will be the volatility of the cryptocurrency. The firm cannot accept $35,000 for a Model 3 today and then $29,000 tomorrow – it is just not good business. In bitcoin, swings of 10-20% in price in a matter of days are not uncommon," said Rashid. "However, if adoption of bitcoin becomes more widespread, volatility is likely to fall."
Harbinger of Things to Come?
For now, one certainty is that there is no certainty that Bitcoin hype will remain subdued with a personality as indomitable as Musk so overtly endorsing the asset.
The other certainty – one advisors can freely discuss with novice clients – is that companies hold assets with appreciation potential on their books. Those include stakes in private companies, shares of spun off units, real estate and more. So it's not out of the realm of possibility that more companies will invest in Bitcoin and accept it as payment.
That could be epic for the crypto's price. ARK estimates that every S&P 500 company allocated just 1% of cash to Bitcoin, the digital coin's price would increase by $40,000. That's a long way from happening so for now, enjoy the sanguine hype climate. It may not last long.
Related: Another Big Economy Shows Clean Energy Muscle. That's Good for Investors