Why Should Financial Advisors Share Personal Posts on Social Media?
Short answer: because almost none of your competition does.
Why is it critical for #financialadvisors and #financialplanners that want more #referrals to post personal content on #socialmedia?
Let's back up the truck for a second because the first question that needs to be asked is if you should be posting on social media at all?
The answer, since you are reading this newsletter of mine on…social media is yes.
You should be posting on social media, but you should be posting content within a greater strategic plan for how you are getting predictable referrals. Otherwise, you are expending time and energy for little purpose other than "visibility". Visibility, branding and customer awareness are tools used to sell you worthless marketing tech and advertising crap.
Let's take a look at a few posts of mine (very personal) that have done the 'best' on social. Note: they have gotten a lot of views.
This one is from the summer about my son's 18th birthday. Here is the link to the post: Roberts 18th birthday.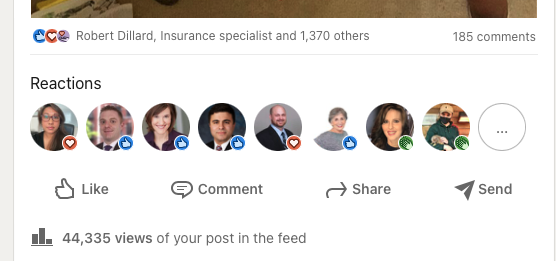 44+ thousand views. Meh.
What I love is this: 1371 reactions and 185 comments.
I added dozens of ideal prospects to my network thanks to this post without even trying and added dozens more by following up and thanking them for commenting and reacting. This post alone has helped me develop two amazing referral relationships and is still being viewed because I anchored it on my profile. If this doesn't move you I don't want to work with you.
Here is a post from this Sunday about my son and our church experience. We love our church and it is a special place, but, there are some challenges when people first interact with my son.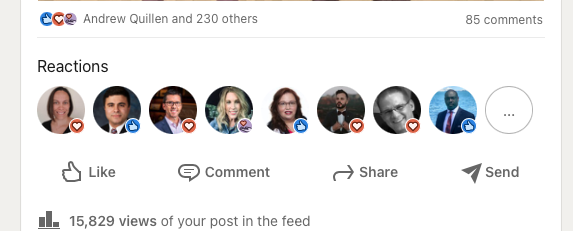 Once again, a lot of views in a pretty short time period (for me), but, the real awesome sauce is the 230+ likes and the 85 comments. I have added well over 10+ new network connections without asking and will add dozens more as I thank these caring people for reacting and commenting. I have also started conversations with several ideal prospects as a direct result.
Note: not #sales conversations. Real conversations about them and what struck them about my special needs son.
What is common? Lots of views on social media. There is some value to the number of views, but it never relates to sales directly and therefore is not as valuable. What I focus on with all my social content is reactions and comments. Without exception, these posts are my two best results from that metric. I have hundreds of reactions and hundreds of comments.
Why is this important? Because this involves an action from the person on the other end of the screen. They saw my post and 'liked' it and/or commented. These are people that are valuable members of my community (when you screen out the bots and spammers) and, when they are in my target market, are invaluable opportunities to develop a relationship.
Some of you will be uncomfortable posting personal content and I get that. I was just like you.
Thankfully, I was given the opportunity to take the 'Social Selling & Influence' course by Tim Hughes and Adam Gray from DLA Ignite and everything changed. As part of the program they uncovered my story about my disabled son and how devastating and wonderful the process of being his dad has been for me. They encouraged me to change my headline accordingly and to start sharing about that.
Here is the reason why you should strongly consider starting to share personally on social: your clients will find out WHO you are eventually.
Buyers today have unprecedented access to information about you and your company online.
If you look like everyone else (and your probably do) you are going to be relegated to 'commodity' status and stuck waiting for prospects to be ready to talk to you. Instead, we want them to want to meet with you before they are ready to buy from you.
How does that happen? By letting your referral sources and your prospective clients know who you are as a person.
I share about my journey as a father of a special needs 18 year old because it affects everything I do both personally and professionally.
Every client of mine is going to know/learn about my son because that journey of mine dealing with incredible adversity and the ongoing nature of the struggle is one of my greatest strengths when it comes to coaching.
I know how hard it can be…I know what it is like to not have any idea how you are going to meet your obligations and I know how to not quit even when you don't have any tangible hope other than your faith.
Do you have to have a story like mine?
No, and I am not in a competition with anyone for the best story of overcoming. One of my clients is passionate about hunting and farming and is starting to develop the skill of sharing how those two foundational elements of his life are present and beneficial in everything he does as a financial planner. This is going to allow people to get to know who Tyler is before they meet him and for some of them, will allow them to elect not to meet him.
You don't have to change or hide who you are to be successful, by referral, on social media. Instead, you need to double down on who you are. Do you love hunting? Do you have a story like mine as a caregiver that shows people you are a real person? Maybe you love cooking (I could totally do a ton of content about cooking and finances).
The reality is that who you are when you aren't getting paid is who you really are. That is the person that clients who are deciding to entrust you with their financial future and their families really want to know. That is the story you need to share. Not the IRA, tax crap that all the huge financial firms shove down our throats on social.
Social = human.
Related: How Can I Get Enough Appointments with Ideal Clients?