In our customer service training workshops, we have an exercise that introduces a concept called The Five Levels of Service. The levels advance from Unacceptable to Basic to Good to World Class to Trademark. Any company should be happy with World Class, which is when the company is consistently and predictably delivering a level of service that gets customers to come back. Very few companies can get to Trademark levels of service. This happens when a company or brand is referred to in a way that positions them as one of the best at what they do. Most often, it is a comparison. For example, people might say, "They are the Cadillac of their industry." Obviously, that is a powerful complement for both the company and for Cadillac.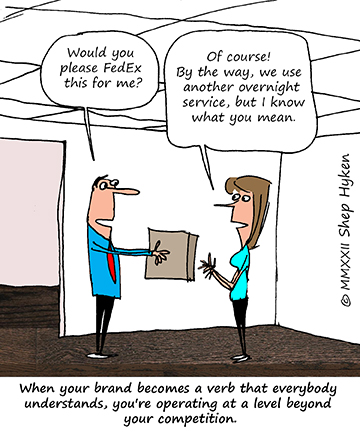 The Trademark Level of Service
Along those same lines, I was talking with a client who said, "We want to Chick-fil-A our customers." Now, Chick-fil-A is a fast-casual restaurant known for its chicken and great customer service, but I've never heard of the company name used as a verb. It wasn't a week later when I heard someone else say almost exactly the same thing. This is an example of Chick-fil-A hitting the Trademark level of service.
It's quite flattering for a company to be mentioned in this fashion. If you have experienced Chick-fil-A, you know that it is not just the food that brings you back. It has created a service experience that is praised and studied by many other companies and brands. It has a customer-focused culture, hires good people, and is consistent and predictable. That's part of a winning business strategy that has created a reputation on par with the most iconic brands in the customer service and experience world. And when you hit that level, others want to learn how to have the same success.
A Customer Experience Like Chick-fil-A
To make my point, my friend and fellow customer service expert John DiJulius was contacted by the Charlotte Police Department (CMPD) to help them deliver a customer experience like Chick-fil-A. Yes, the chief of police specifically said that they want to provide a Chick-fil-A level of service. It turns out that 97% of police interactions with the public do not result in an arrest. Of the less than 3% that do, only about half a percent are for violent crimes. In other words, about 97% of the police interactions could potentially be positive customer experiences – even a Chick-fil-A experience.
So, I wonder, how many other brand names like Chick-fil-A are used as verbs or nouns to describe how a company wants to deliver great service? If your brand is used in a sentence to position it as the brand that others should emulate, then you are operating at a Trademark level of service. It's a lofty goal and one worth pursuing. You may or may not attain it, but along the way, you could still be recognized as a World-Class organization.