2020 brought a rush of changes and the way we live was altered within weeks. Social media, often a sounding board for displaying our lives, reflected these changes. Global lockdown increased the prevalence of social media usage, as more and more people sought socialization and comfort through digital platforms.
According to Datareportal, social media usage increased up to 43% as a result of COVID-19.
As social media grew and 2020 progressed, new trends began to emerge in response. Users began interacting with social media in new ways, altering the approach of many brands.
And, as we move into a new year, many of these trends are likely to continue. Let's dive in, and see how advisors can respond to these trends and answer the needs of users in 2021.
Social Media Predictions for 2021:
Though many of the trends from 2020 are a result of the pandemic, many are likely to affect the future of social media, if not continue outright. Like working remotely, many people will find new methods of going about their day that they may enjoy more. Here are a few trends from the social media of 2020.
1. Demands for Value and Authenticity Increased:
Users of social media engage with social platforms to escape from their day; to take a break and socialize with others. Social media platforms are not the first place we think of when wanting to solve a problem, that's what Google is for.
In 2020, the need for escape naturally grew even higher. As data from Datareportal shows, quarantine brought new needs and digital resources like social media became an outlet: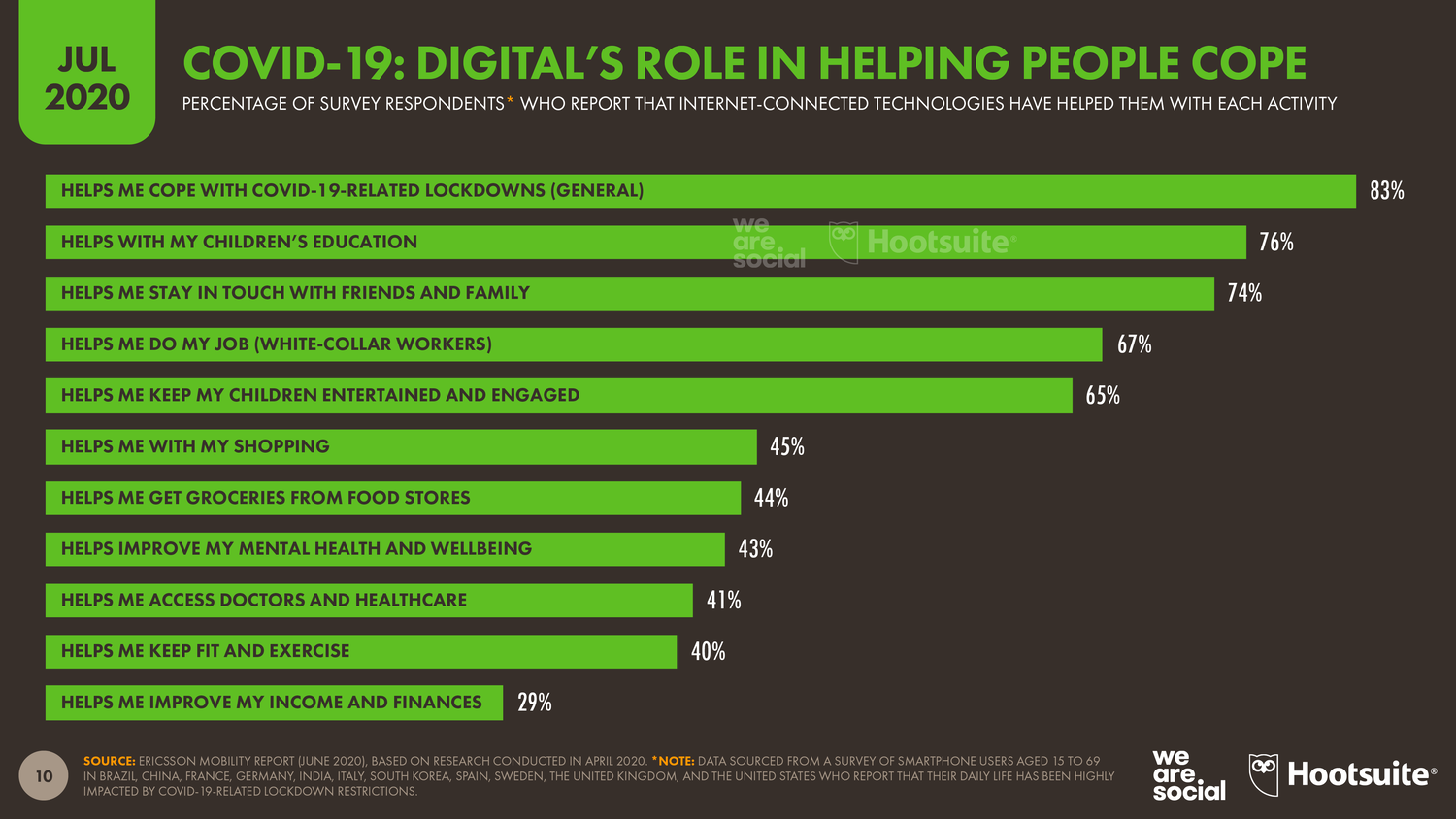 Coping with COVID-19 lockdowns, helping children, and contacting family and friends became paramount. Brands had to be aware of the needs of their audience. An increase in users and time spent on social meant an increased chance of users seeing a post from a brand.
To avoid feeling disconnected, successful brands reduced the amount of content they posted during the week and focused more on relating to the needs of social users. This is where value and authenticity come in.
Providing value wasn't just about a value proposition, it was about why you're appearing in someone's feed. Brands needed to show what really mattered to them, and anything not acknowledging current issues would be dismissed.
Authenticity played into this scenario in a similar fashion, and in some cases was even more important than value. If a brand was perceived to be taking advantage of the pandemic in any fashion, they would be rightly dismissed.
This created an atmosphere on social media that required brands to show greater social awareness.
Predictions for Advisors in 2021:
The demand for more authentic and valuable posts from brands is expected to continue in 2021. For advisors, this means really digging into your firm's values. Consider a few of these questions:
Why do you do what you do?
Why should people follow you on social?
What specific value do your posts bring and do they answer the needs of your audience?
Answering these questions will be paramount to defining your value to your audience. And, as a longer-lasting result, defining your values can separate you from the competition on social media. This can be done best by relating your services to your values. However, avoid connecting to something too far-fetched. Afterall, authenticity is also key.
2. Video Production Changed
A shift away from the office and into the home meant many businesses no longer had access to high-end studios or production equipment to make the video content we've been accustomed to.
At first, lower production quality seemed like a drawback. However, relatability became key during the pandemic. Seeing people, or brands, going through a similar experience made individuals feel closer to one another. And by ditching refined video content for more personal, cell-phone recordings, many brands were able to connect with their audience in a new way.
Not to mention, many people became used to being on camera, as they moved towards remote work and video formats became the new norm: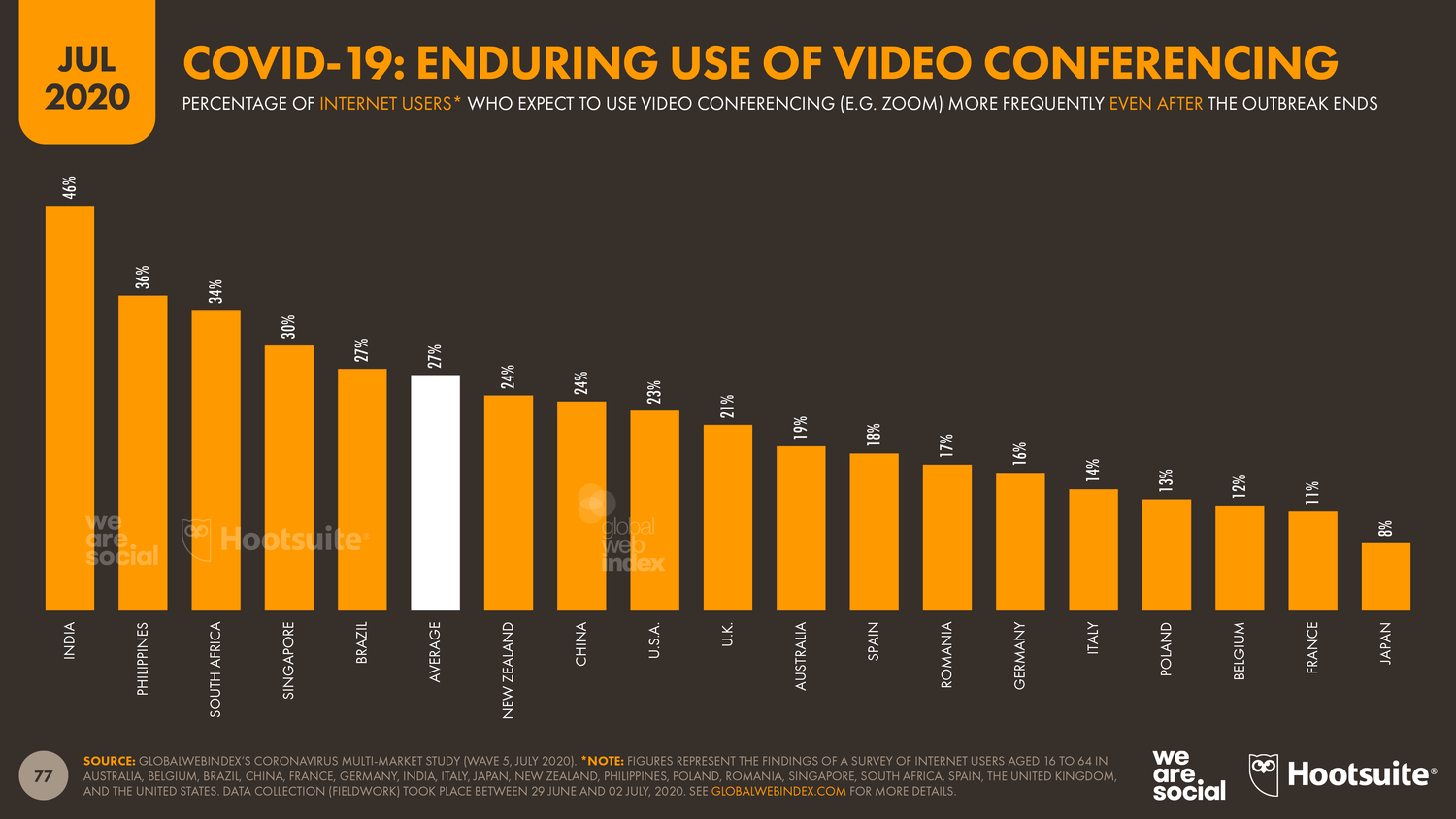 Predictions for Advisors in 2021:
We've discussed the advantages of video many times. It's an excellent marketing tool, popular amongst users and primed for engagement.
But many advisors still avoid video for a variety of reasons.
With the use of personal video becoming more popular, an opportunity becomes available. No longer will you have to worry about making a video "perfect", relatability is the key. Plus, many of us have phones capable of high-quality video, allowing advisors to create content on the fly without having to worry about production quality.
If you're interested in diving into video, check out this video for a few tips.
3. Lead Nurturing Improved
The increased requirements of value and authenticity caused a greater need to nurture leads for longer. This slowed the sales funnel down, requiring brands to engage longer with users, but it also created a higher demand for helpful, entertaining and educational content.
Users began to leverage social media as a platform to research brands, as indicated by the Datareportal study utilized earlier in this post: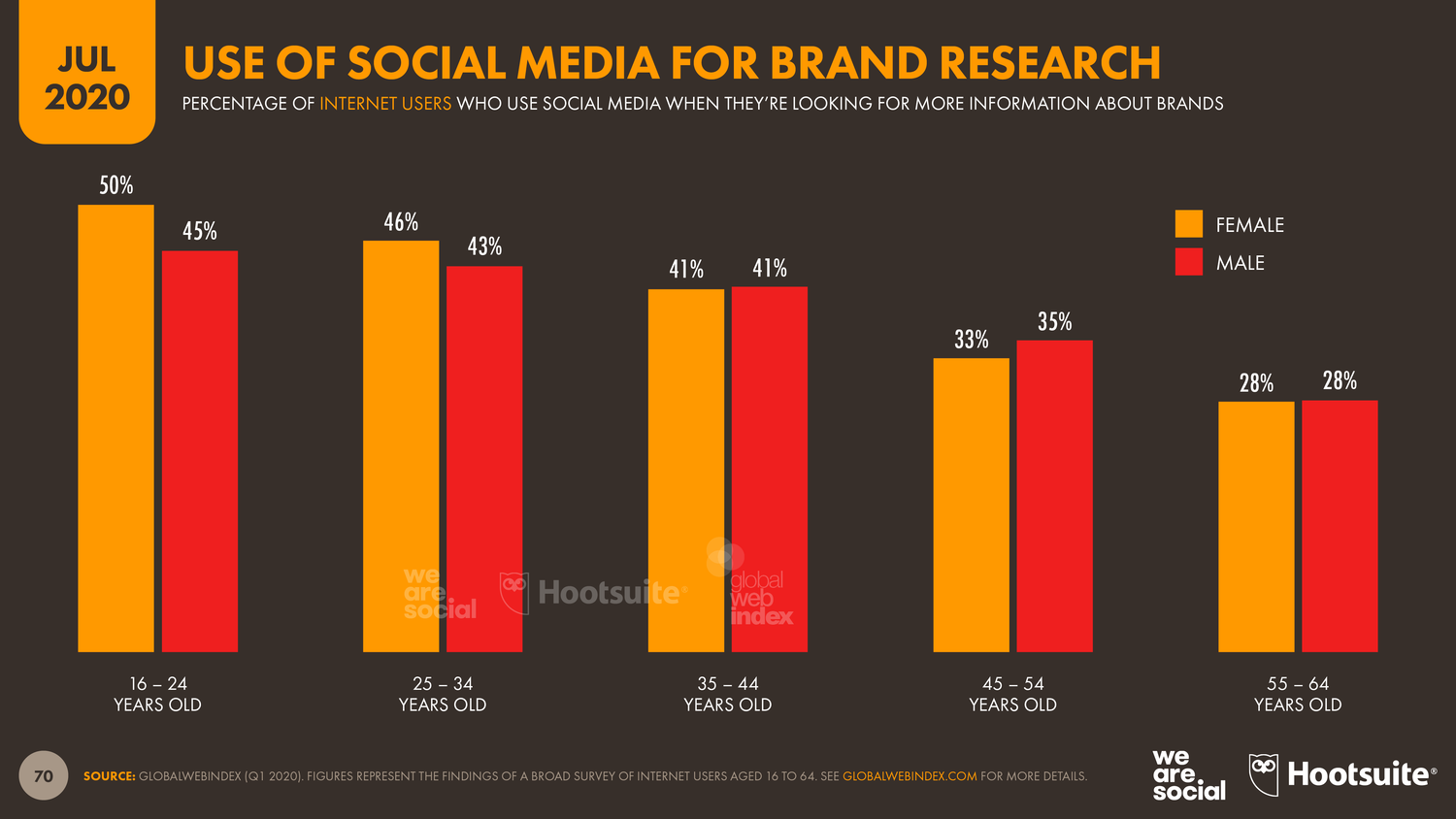 Relating back to our first trend, it is likely many users researched these brands to see how they responded to the pandemic. Brands that provided useful information and demonstrated social awareness likely received the best response.
Predictions for Advisors in 2021:
When using social media we go through a large amount of content in seconds. Think of the last time you were on a social platform, you likely scrolled until you stopped on something relevant to your interests. We've discussed this scenario many times before, but the biggest change is in audience needs.
Like before, advisors should stick to a niche topic and audience, providing as much detail as possible. Though this approach reaches fewer individual users, it has a stronger chance of resonating, which is more important when nurturing a lead. The stat above also supports this, as we see a large portion of users visiting social platforms to better understand brands, not just single products. This supports the idea that individuals are more likely to seek out a brand that resonates with their values, and solves their problems, rather than just one.
4. Short-Form Content Remained Popular
Despite the increase in social media usage, short-form content still remains in demand. Short-form content includes content like videos, infographics and memes. It's marketing material that can be easily shared and quickly consumed.
This sort of content is often for entertainment or branding. And, like a longer format video or blog, the content provides information. But, due to its length, the information is often much more concise.
Predictions for Advisors in 2021:
Posting memes and creating infographics is time-consuming for many advisors. Instead, advisors can reuse their content, breaking up key points to create separate posts. This way value is still maintained, but information density is reduced.
For example, an advisor could pull a through-provoking quote from one of their blogs to create a post around, then link directly to that post if readers are curious.
But one of the biggest advantages of short-form content is how easily it can be shared. Not only can it be sent to new users on your primary platform, but it may also be sent to other platforms you're not active on. After all, social media users often utilize more than one platform, as demonstrated by more data from Datareportal's 2020 report: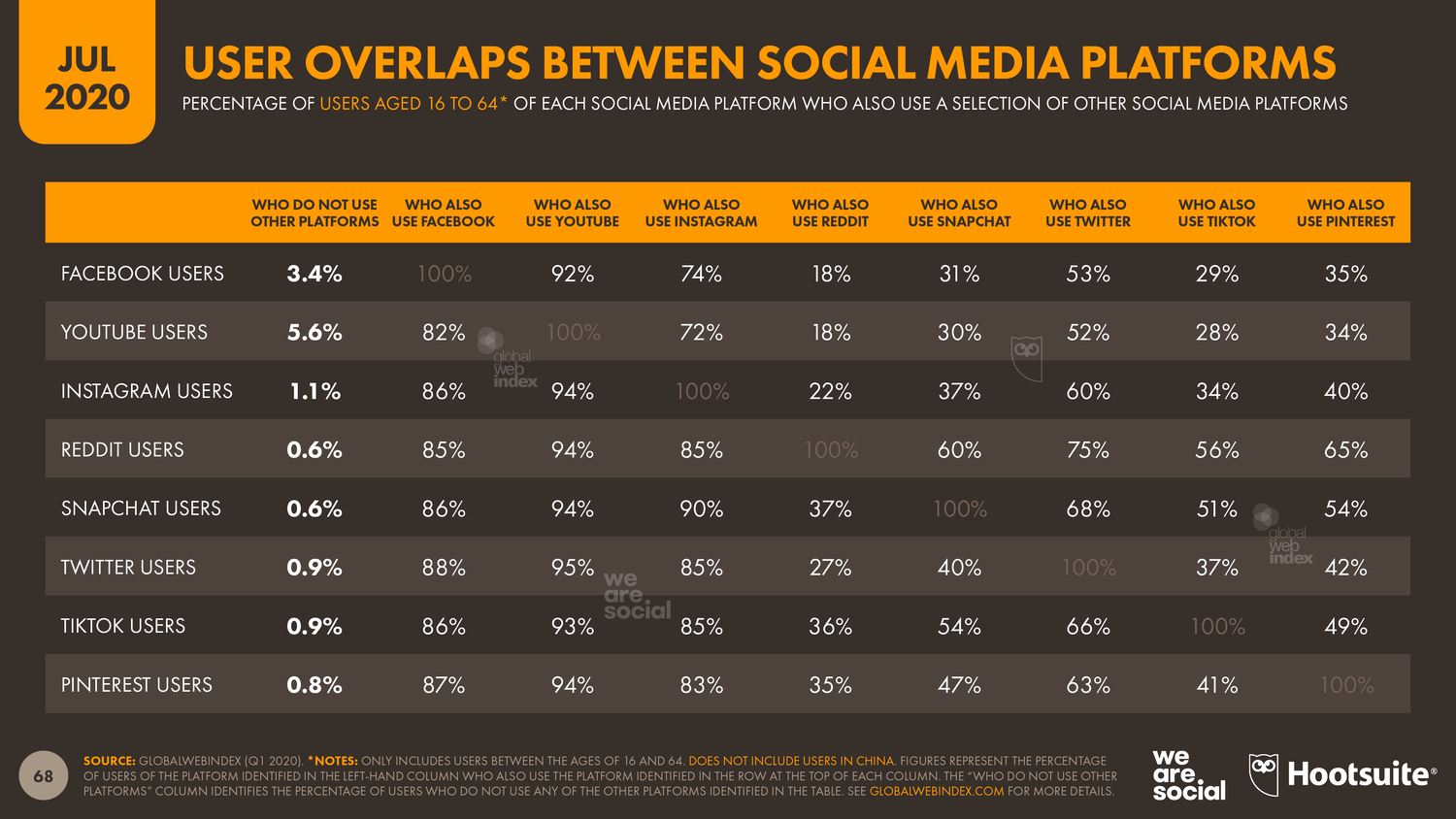 5. The Most Popular Social Channels Remained (For the Most Part) The Same:
With more users on social media, one might expect the hierarchy of popular platforms to changes. However, according to data from Statista, the list remained relatively the same in 2020:
What is interesting is that many of these platforms support video and messaging options, demonstrating the increase in demand for video content, as several platforms focussed on improving their video options, while video sharing platforms like Tiktok experienced massive growth.
Predictions for Advisors in 2021:
In the interest of time and focus, we often recommend advisors to focus their social media attention on two platforms, engaging and posting daily. Though the data above shows the continual growth of video as a marketing platform, it also shows advisors which platforms they can use to reach the largest active audience. And, if you wish to avoid using video, these websites can still be utilized to generate leads.
6. Events Went Digital
The pandemic caused the cancelation of several yearly events. In response, many of these events went digital, if possible. Social media became a platform for promoting these digital events, as it was the location where many audience members were now spending their time. And, with the many social platforms adding more video options to their platform social also became a viable location to host a live video event.
Predictions for Advisors in 2021:
You don't have to host a digital event to respond to this trend, but you can be on the lookout for them as they appear on your social channels. Engaging with these posts can be an excellent way to interact with viewers.
Alternatively, advisors could begin their own event, as creation and promotion could garner valuable engagement. And, utilizing trend number two, these same advisors could host a webinar using Zoom, allowing viewers to attend through a platform they are already accustomed to using. Recordings from the event could then be utilized as future content for social.
Starting the New Year Right:
Trends develop and change over time. And, though many of these trends are likely to continue into 2021, it is always best to keep an eye out for any changes on social media. After all, many of these trends a result of the pandemic, and though it is likely that many individuals may have found a new way of interaction on social media, trends will also change as time goes on.
Related: The Six Biggest Marketing Opportunities for Financial Advisors in 2021