One of the essentials for practice growth is to build a marketing machine that keeps producing money. A money machine which is a combination of mini-systems and components that keeps the whole motor running at full speed.
Most professionals have elements of the marketing machine…but just elements. They haven't built the full system – and then of course they wonder why performance is so erratic.
As with any motor designed to keep a machine running perfectly, all the components are necessary. Some are by design larger than others as they have to provide a bit more of the grunt, but then, the smaller components are just as necessary to keep the whole thing running smoothly.
When it comes to building our marketing machine the combination of large and small components that create the complete system which can keep leads coming in at the desired speed begin to look like this: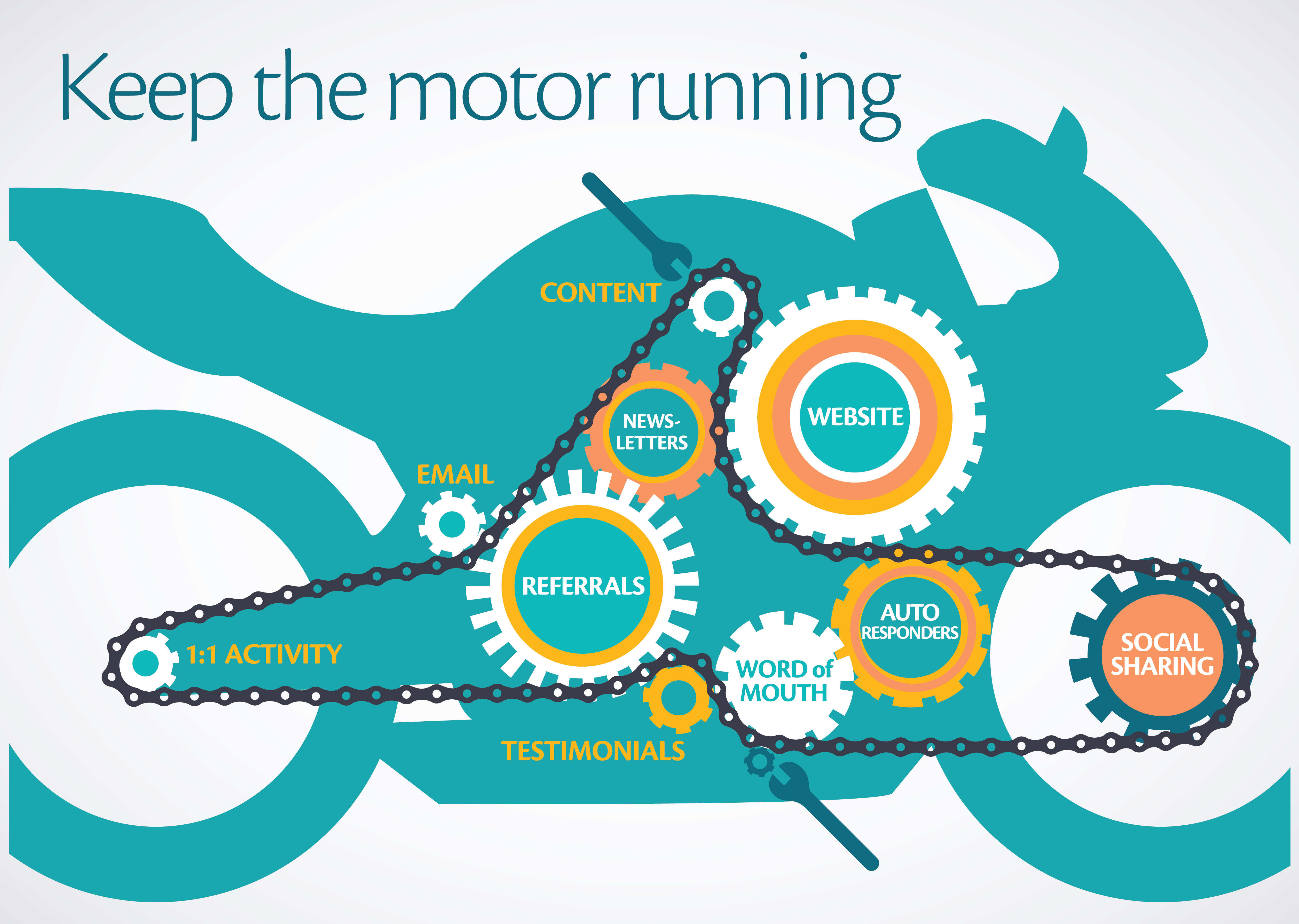 How the Marketing Machine Works
The biggest cog in the machine is without doubt your website. As the host platform for your thought leadership, ongoing communications with the market at large, together with being the "face" of the business to strangers in this era of mobile search it is the projection of your brand, your business personality and your value proposition and messaging.
It is the biggest cog because it is doing the hardest work: it is providing the drive…maintaining the momentum.
Not terribly far behind in importance though is referral systems and use of social networking platforms. They are the 2 biggest elements for converting great content and messaging into short term opportunity, and they do so with the greatest efficiency. They are the components which deliver rapid acceleration for minimal consumption. That is; they are low cost (meaning use less energy or system resources) and give the greatest short term boost in speed or performance.
In order to achieve those short term boosts however there are a few other pieces of the machine that have to keep those big babies turning at maximum revs. Keeping great word of mouth marketing going is essential to getting those referrals, as are using auto-responders and smart communications tools to interact with a large audience without consuming too much time. Testimonials are a much smaller piece of the puzzle these days, buty still necessary as they provide independent attestation and credibility.
Using email marketing, which especially should include branded one-to-one email, together with newsletters or campaign email marketing which reaches out with great content that should also be hosted on your website is what drives interaction and engagement.
BUT…..the one small'ish component which is unobtrusively sitting at the back of the system and which is actually doing the hardest work is good old fashioned one-to-one-activity. Picking up the phone and engaging one-to-one with prospects….calling on clients….talking to COI's….networking and good old fashioned "opportunity prospecting" are as critical as they have ever been. In a world of increasing automation (which includes us automating our marketing machine systems wherever we can) the human touch and proactive personal engagement element is as important as ever. Without it, the engine breaks down.
A great marketing machine today needs quite a few components. Each must be designed and built properly so it works independently – it has to be able to do the job it was designed to do. But each iis also designed to be a component of a larger integrated system. It is the system which delivers power and speed. It is the marketing machine which delivers consistent performance and leads – or "speed" – on demand.
Related: YOUR Need Will Kill the Sale