Written by: Samantha Russell
Video is one of the most powerful formats for creating effective marketing content for financial service professionals.
The saying goes that a picture is worth a thousand words. Well, a Forrester study found that 1.8 million words describe 1 minute of video. That's a lot of words!
This marketing power explains why using video on landing pages increases conversions by 86%.
If you are a financial services professional interested in creating videos for your marketing campaign, you may want to consider creating one of these four types of videos.
1. Get-to-Know-You Videos
Any service professional who has ever been successful knows that trust is the most important thing to establish with a client. In addition, consumers consistently report that trust is the most critical factor in their decision to engage the services of a professional.
You can use get-to-know-you videos to establish a relationship of trust with your clients and prospects. In a Get-to-Know-You video, you can cover any topic you like, but the objective is to build rapport with your audience.
According to a recent survey, over half of the consumers agree that video content gives them the confidence to engage a service professional they are investigating online. We gain trust by communicating subconscious signals with a person when we interact with them. For example, a person connects with you better when they see your face and hear your voice than when they read your words.
Some types of Get-to-Know-You Videos:
Biography and personal stories
Staff and office tours
Community service and charity
Lifestyle and interest showcases
A great example is the Strategies for Wealth's Culture video. It shows off how their work environment functions and the way team members interact with each other.
2. Informational Videos
The fact that you are using video for marketing doesn't mean you should make fluff. On the contrary, it is of utmost importance that you establish your expertise with videos. Establishing yourself as a thought leader by answering questions from your ideal audience is the best way to do so.
Build your videos around frequently asked questions to provide prospects with the answers they're looking for. You can even use the topics of existing blog posts to produce new video assets.
Animated videos are often the best choice when explaining complex concepts or changing market situations. Making complex ideas visual can help share complex ideas, for example, when watching an infographic in motion.
Some types of Informational Videos:
Question and answers
Animated infographics
Core concept education
Market updates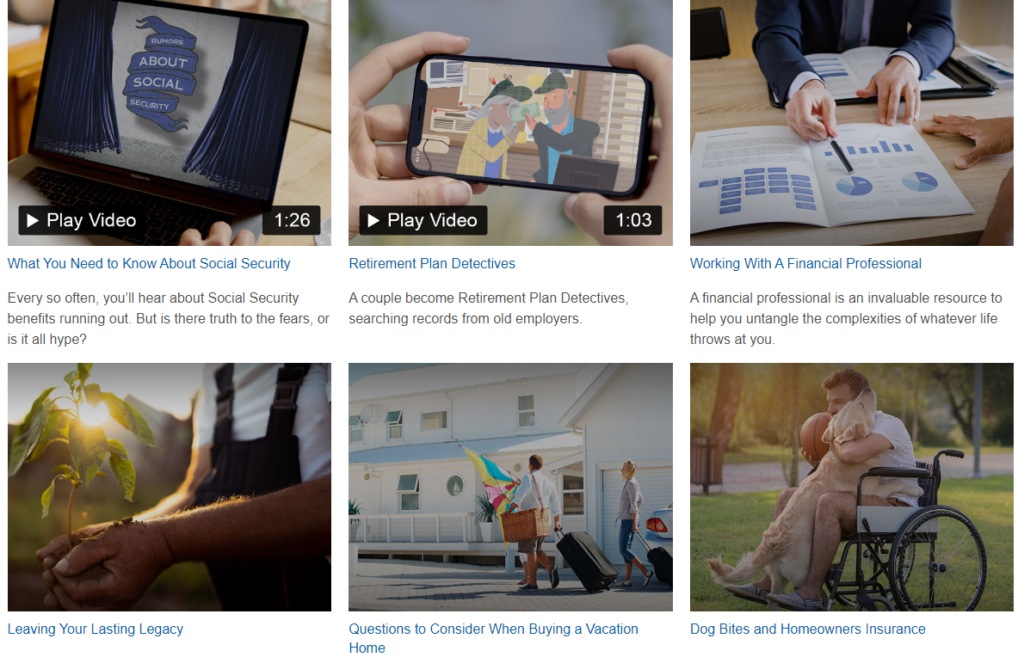 3. Testimonial Videos
Perhaps there is no more effective and reliable strategy than distributing testimonials from happy clients. Two-thirds of consumers are more likely to engage a service professional after watching a testimonial.
A testimonial video can effectively communicate client experiences through videos. What will it be like working with you? Those are the questions prospective clients ask. Hearing how a client describes your service is more effective than telling them you are wonderful.
Until very recently, Financial Advisors faced severe restrictions on sharing client testimonials online. However, the SEC's changes have made sharing testimonials possible for many advisors now, though it is best to check with your compliance department about your company's specific policies.
Prospects can better understand their concerns by watching videos featuring clients explaining your benefits in their own words. This will help them feel more confident in their choice.
Some types of testimonial videos:
Case studies
Client reviews
3rd Party reviews and ratings
Client interviews
4. Timely Videos
Even though there are benefits to creating evergreen content that can be shown at any time, there are also compelling reasons for creating timely content that addresses specific issues in your clients' and prospects' lives.
It can encompass content created for specific times of the year, such as tax season, celebratory content around holidays and other dates, or any type of content that only lasts for a limited time.
This type of content shows that you are staying current with your content creation and that your marketing efforts are not going away. In addition, you can also show your clientele that you are up-to-date about changing circumstances such as taxes by providing them with the latest information about the topic.
Companies can use holiday greetings to foster strong relationships with customers, and video is an excellent way to produce content that resonates. The process is straightforward as well.
Some types of timely videos:
Holiday greetings
Tax season tips
Personalized birthday wishes
Responses to changes in the market
Video content can be developed in various ways and using several different techniques. Creating more content will strengthen your marketing strategy.
When considering your marketing strategy and the best ways to communicate your value proposition to prospects and clients, consider which types of videos will help you do that.
Related: How to Create a Customer Persona That Fits Your Business