Written by: Justine Young
Content marketing is key for advisors looking to gain new prospects and connect with existing clients – but it's often easier said than done. Through our content marketing series, you'll learn all the skills you need to create and distribute effective content, building your list along the way.
Today's topic is lead generation: what it is, why it matters and how you can create lead-gen content to grow and nurture a list of prospective clients. Let's dive right in.
What is Lead Generation?
Lead generation, also referred to as simply "lead-gen" or "lead magnets", is pieces of content that require the audience to give personal information in exchange for a resource.
For example, if a prospect has to give their email address in order to subscribe to your monthly newsletter, that would count as a lead magnet. Or think about it like this: Your website as a whole is ungated, but there may be certain landing pages that require a sign-up form for visitors to access the content within.
Lead magnets help you build your community of prospects while also learning more about their demographics. With a sturdy and well-rounded list, you can curate outreach efforts directly to those prospects and deliver a more personalized experience.
GATED VS. UNGATED CONTENT
Some age-old questions we may never be able to answer: Why did the chicken cross the road? What happened to Amelia Earhardt? Should you gate your content or not?
Let's leave Amelia and the chickens alone and dive deeper into that last question. "Gated" content means your audience has to provide information in order to access the resource in question, whereas "non-gated" content is accessible without any exchange of information necessary.
Often, that required user input in gated content is an email address, name or a combination of the two.
It can be tricky to know when and where to require information before giving visitors access to your materials. A recent study showed that 59% percent of marketers think gated content should be more in-depth than ungated content.
The plus side of gated content is that you gain key information from your prospects, such as their name or email address. The downside is that gated content can actually turn away those very prospects – many people don't like to give away their personal information to businesses.
Gated Content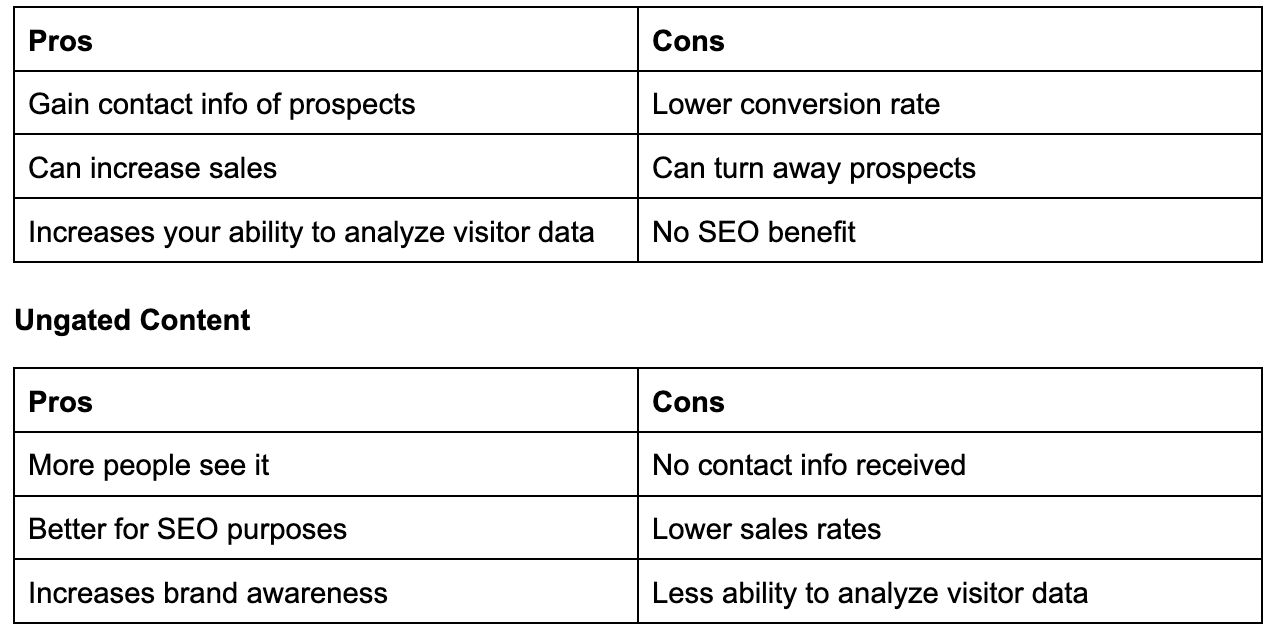 Remember, while list-building is a great goal, it's not always the only goal. Sometimes brand awareness and reputation should take precedence.
In general, gated content is better for audience members that are further along in their buyer's journey and already have some trust in your firm. Content like whitepapers and webinars make more sense as gated, whereas blogs or checklists might be more useful as ungated content.

Trial and error will be your best friend in deciding which route is best for your firm's content. For example, if you're offering a gated budgeting template and it's not seeing much traction, try offering it as ungated to see if it boosts your engagement.
11 Best Lead Generation Tools for Financial Advisors
Lead-gen content is designed to help build your email list – but it should also add value for your prospects. These 11 types of lead magnets can help you get the best of both worlds.
1. EBOOKS/WHITEPAPERS
Ebooks and whitepapers are often lengthy pieces of content in PDF form that delve into a specific topic. These make great gated content as the individual is likely further along in the buyer's journey and looking for more in-depth information.
Consider creating landing pages for your ebooks or whitepapers that include a simple form to collect name, email address and even perhaps a job description.
2. CHECKLISTS
Checklists can be great free tools to hand out to prospects and clients. Whether it's a budgeting checklist or a list of important financial dates to remember, they offer great value and are generally easy to create.
Because checklists can be geared toward both new prospects and clients, you might consider making them ungated and instead focus on building brand awareness, authority and trustworthiness. However, if your checklist addresses a specific issue, a landing page or gated format could help you collect prospect information.
3. FREE CONSULTATIONS
As a financial advisor, you likely offer free or low-cost consultations to your prospects. These individuals are nearing the end of their buyer's journey and probably gathering information to make their final decision of whether your firm is a good fit for their needs.
Consultations work best when they're specific. Test the effectiveness of different types. Rather than just offering a "complimentary consultation," offer consultations that target specific personas like a Retirement Preparedness or Social Security Optimization Session.

4. CASE STUDIES
Case studies are a great way to show off your expertise and value prop through real-world examples. The only issue to be aware of is compliance. Namely, the Testimonial Rule, which "prohibits the use of a testimonial of any kind concerning the investment adviser or concerning any advice, analysis, report or other service rendered by the investment adviser in an investment adviser's advertisement."
As always, run any case studies by your compliance team before hitting publish to ensure you won't run into any issues with the SEC or FINRA down the road.
However, done right, case studies offer a real-world example of your firm's value – prospects can put themselves in perspective of your client and see you how helped them succeed.
5. ONLINE CLASSES

Want to find a new, fun way to gain prospect info and show off your extensive knowledge? An online course could be just what you need.
Online courses can be pre-recorded and uploaded. After a prospect signs up for the class, they have access to the videos and any accompanying material you provide. A great example of this e-course is Wade Pfau's Retirement Researcher Academy, which provides on-demand educational content surrounding retirement planning. The course requires prospects to sign up and pay a fee for access to the membership-exclusive site.
If you have information to share specific to your niche, an online class is a great way to get the word out.
6. WEBINARS
Webinars are usually one-time educational events that happen over an online platform, such as Zoom. Participants sign up ahead of time, then log on and listen in on the specified date. Many webinars also offer an interactive portion where viewers can ask questions and receive answers in real-time.
This lead-gen tool is a great opportunity to show off a specific service or product you offer, such as tax planning or international financial planning.
Webinars are usually set up as gated content, as participants have to register for the event with their information.
7. QUIZZES
How much mortgage can you afford? Should you be renting or buying a home? What's your spending style? What's your money IQ? People love quizzes – especially when they come with personalized results.
While you can't offer financial advice via an online quiz, you can create interactive questionnaires to help your clients answer questions about finances.
To make this content gated, simply require users to enter their email address before they receive results. Just make sure the quiz is high-value, as most people won't give up contact information for low-value information.
8. NEWSLETTERS
A weekly or monthly newsletter is a chance to reach out on a personal level and send top-of-mind information to your prospects and clients. The best part? They definitely have to give you their email to subscribe.
Want to see a stellar newsletter in action? Sign up for our weekly Mixtape!
9. PODCASTS
Podcasts are a bit of an odd duck in that they're not gated, but listeners can choose to subscribe to keep up with your episodes.
Podcasts also offer a fun way to show off your personality and connect with others in the industry by inviting them as guests.
10. EVENTS
Who doesn't love a good soirée? In-person events can help put a name to a face and develop relationships with both prospects and clients. While parties are normally catered toward your current clients, you can also create lead-gen events. Consider a Social Security or Medicare presentation, for example.
To make your event a lead magnet, simply ask your attendees to register for the event ahead of time. You'll likely need a head count in any case to plan drinks, food and so on.

11. TEMPLATES
Templates are also a great resource you can use as a lead magnet. For example, if you have an excel spreadsheet for your clients to budget with, you could make that available on your website for any visitor to download, provided they enter their email address and name.
Done correctly, lead magnets should help build your list while also adding value to your clients' and prospects' lives.
Take These Tips on the Road with Our Handy Infographic
Click the image below to download our free (and ungated!) infographic version of the 11 best lead-gen tools for financial advisors to build their lists.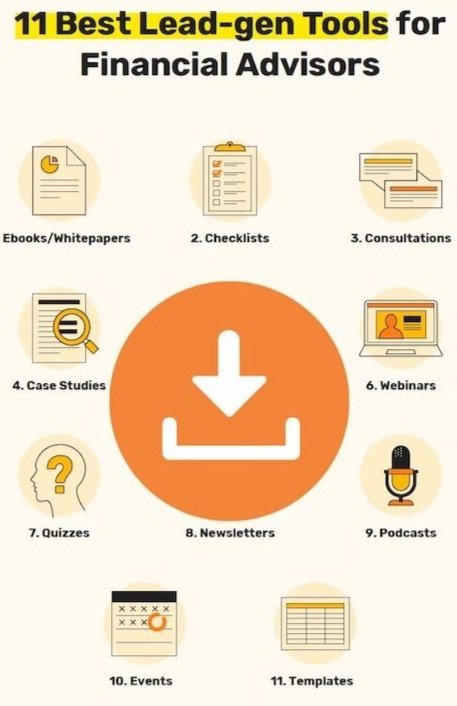 Related: What Is Peso and How Can Financial Advisors Use It?