To succeed in today's financial services landscape, advisors need to be proactive and flexible, especially when faced with challenges from new competitors and service models. In considering best practices for your business, it is helpful to reflect on strategies used by the most successful advisors.
Each year, InvestmentNews Research identifies and describes a group of elite RIAs that represent the most productive professionals in the industry. These profiles can provide a starting point for other advisors looking to profitably grow their businesses. The 2021 survey, sponsored by Axos Advisor Services, provides some insights into how top advisors have achieved their success.
Characteristics of elite advisors
Advisors termed "elite" in the 2021 InvestmentNews study were RIA-affiliated firms—independent RIAs and hybrids affiliated with broker-dealers—with at least $250 million in assets under management (AUM). These firms scored in the 50th percentile of firm productivity (as measured by both revenue per professional and revenue per staff member). Elite RIAs accounted for fewer than 25% of firms that participated in 2021 the InvestmentNews Research advisory survey.
One characteristic that distinguishes elite RIAs is their size:
The median elite RIA firm was managing $550 million in assets in 2020, nearly five times the size of other firms in the survey
Median revenue for elite RIAs was $4.4 million, compared with $750,000 for other firms.
Elite RIAs tend to serve a larger client base, with a median 563 clients compared to 200 for non-elite firms.
While elite RIAs may employ a larger staff to support this larger client base, they tend to do more with less— boosting their productivity and profitability. Median revenue per professional for elite RIA firms was $733,333, almost two times as great as professional productivity at all other firms. Similarly, median revenue per employee at elite RIA firms was $366,666, or nearly double what it was at other firms.
Elite RIAs focus on wealthier clients
One strategy that makes elite RIAs more productive, and more profitable, is their focus in higher net-worth clients. Among the elite firms in the InvestmentNews study, 78% serve households with $10 million to $30 million in investable assets, compared with just 33% of other firms.
continued
Click here to read the entire white paper.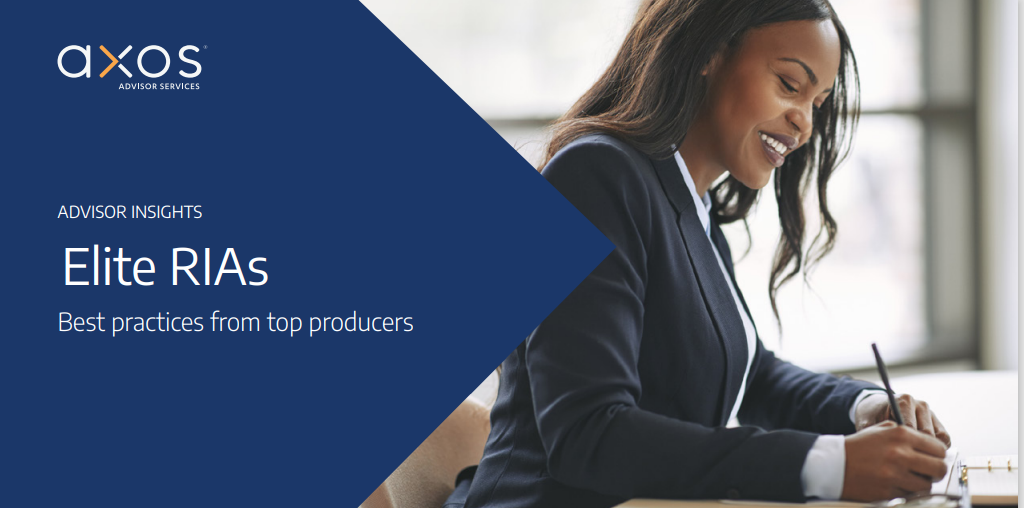 Click Here to View Entire PDF.
Related: Recruiting and Retaining Top Personnel for Your Business