Written by, Cem Tanriover, Dipl.Vw., Türkiye / Germany
The big story here is the Personal Agility Lighthouse (PALHTM) model of Raji Sivaraman and Michal Raczka. The internet is quick also moving an average manager into a collective escape into his own idea. When we search or translate via Uncle Google and discover that it searches us back in the first place, what are we really searching there together? Our, 'the' Imagination…?, the diverse but complementary cross-disciplinary approaches to the poetics, critical theory, gender studies, comparative literature, anthropology or classics? Here is my answer: Personal Agility. Yet how can we use it for sustained performances for social good? The work of Raji and Michal – the 7 steps for agility for higher performance - has to do with transformation-mentality- manager and relationships, which is something only recently dealt with openly as our societal attitudes have become more tolerant and understanding about them.
When I first met Raji during the 2023 Peter DRUCKER forum, I found amongst her many talents, one of her works was with Michal that explores the subtleties of getting the organizational outcome by honing individual skill sets, a story about courtesy, justice, and agility.
Tomorrow managers need to know many cultures and languages but also experience in different fields. The more different the patterns of thought in one language are from another, the more difficult it is to translate' or let us say decipher faithfully for solving our biggest problems and reversing the undue concentration of goodwill, wealth and of course power. This is an example of the 1st principle of the PALHTM model - We need to constantly keep advancing ourselves to reroute our capabilities – Education Agility
Today I strongly believe we need an intercultural system thinking about the new role of management with a powerful storytelling mobilization of the likes our business past has never enjoyed until today. No doubt, we are still a long way from the utopian world economic order in the age of peaceful coexistence, in which the use of public transport is free, theft and acts of violence are unknown. This might be possible with a change in our mentality of how managers operate within themselves. This is exactly what is explored in the concept of the 2nd principle in the PALHTM model – 'We need to relearn ourselves to improve competencies" – Change Agility
Needless to say, it is obvious to many what our current managers suffer from is an equivalent of "You can take the boy out of the country, but you can't take the country out of the boy." Powerful tales are the propellers that power our inner worlds. One such propellor is – "We have to treat others with deference" – Emotional Agility. This is the 3rd principle in the PALHTM model.
Currently, we still operate within baby steps in business frameworks where the principle of the common good is seen as merely a corrective for the current system's excesses, but which managers is out there, risking his head that it should be the system's primary objective? This will require a fundamental change in political economy. The 4th principle in the PALHTM model helps to bring about this change – Political Agility
Surely, we need the finest managers of our age creating bold and aspirational projects of a better approach that we can understand. Like Hermes, the swift messenger of the gods who is also the guide of the soul into the afterlife. Managers of today can change their forms. How? The value add is primarily through the 5th principle of the PALHTM model- Cerebral Agility - "We need to focus on organizational goals not the impediments of alterations".
After the pandemic what has also become painfully clear is that not only children, but humanity needs a better story, but it must be a real one. A wonderful new narrative is raising hands saying – I made a mistake, or I need help from the 6th principle of the PALHTM model - We need to have the courage to say "I don't know" – Learning Agility
Highlighting the above principles, I used the pandemic isolation to write the book - Many Many Beginnings (MMB), believing in better stories and the power of our imagination. As its name suggests, MMB discusses the evolutionary role of art and literature that pushes us past expectations and out of our comfort zone, but suggests an alternative, creative and connected ways of finding out what this special reason means for every one of us, so does the PALHTM model's 7th principle – Outcomes Agility - "We need to commit to excel in the outcome that is foreseen". This is exactly how I came to agree that the 7 principles of the PALHTM model (https://agilitydiscoveries.com/) shows a clearer path for a manager to excel.
In conclusion, old mistakes seem to repeat themselves, today. What can we do? Combining the MMB (https://www.amazon.com/MANY-BEGINNINGS-SPIRITUALITY-INSPIRATION-OLORFUL/dp/B089M61S7R) and the book written by Raji and Michal, Discoveries through Personal Agility (https://agilitydiscoveries.com/discoveries-through-personal-agility/) concepts, let us be more open to a true journey from personal agility to organizational agility by pausing and pivoting to stay relevant and be up to date in cross-disciplinary areas. Let's have a look at 'others' to discover and be inspired by various colors of the contagious potential of creativity. Thanks to automation, digitization, and decarbonization, managers as well as societies are currently on the threshold of massive changes. This has brought forth mentality change of treating each other or doing business without inequalities and thus bringing positive environmental and business transformations. As a result, outcomes can be best changed by 'bringing agile minds together' to discover – 'Who am I really' be it an individual or business.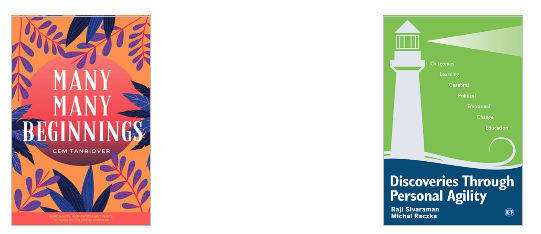 Related: A Mugility Perspective to the Personal Agility Lighthouse Model