Is now a good time to buy rental real estate?
According to Zillow, a $235k home bought five years ago in Raleigh is now worth $335k. That's a 43% increase!
Like much of the country, home buyers in the triangle are faced with bidding wars, all cash offers, and a shortage of inventory.
To add fuel to the fire, Apple recently announced that it is making a huge investment in the Triangle that will bring thousands of high paying jobs.
Have We Seen This Before?
Austin, TX provides a look at what may happen to home values in our region going forward.
Property values in Austin have increased 30% over the last year since Apple and other big tech companies took up residence.
On an inflation-adjusted basis, home prices in the US are back to the peak levels prior to the Housing Bubble burst.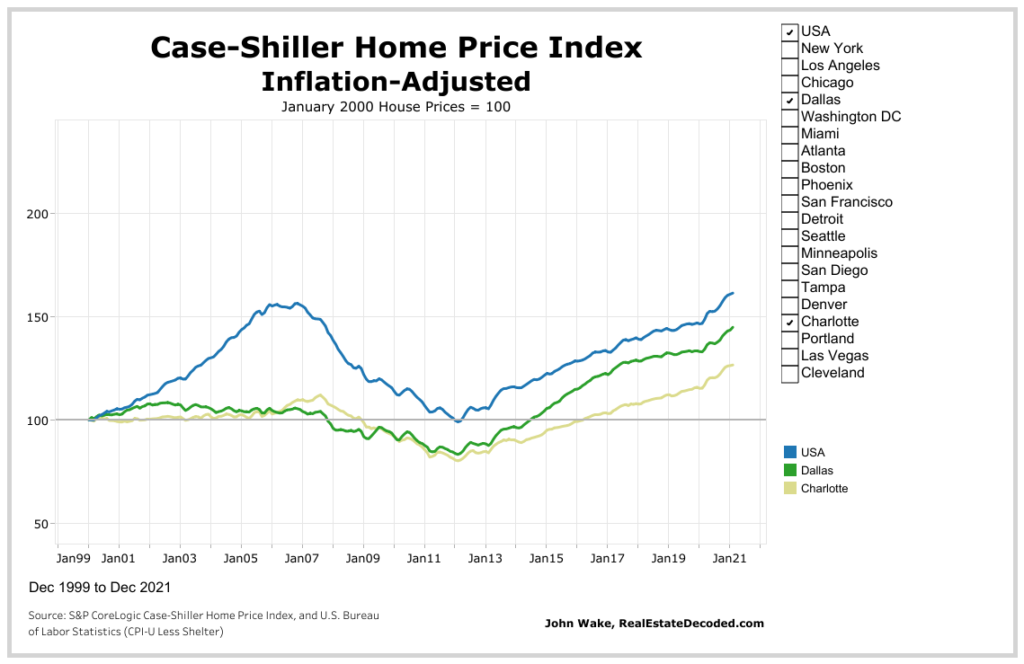 Three Differences from the Housing Bubble
There are fundamental differences between the current housing market and the peak years leading up to the crash.
Inventories and mortgage rates remain near record lows
Demographic trends are positive for continued home ownership demand
Lending standards remain much tighter than the "wild west" days of the mid-2000s.
It's not likely that we'll see another bubble burst in housing that leads to the near collapse of the global financial system. But, potential investors should understand finding bargains in this environment is not likely.
Rental Real Estate Experiences
Over the years, I've heard many stories from clients about their experience with rental properties.
A recent example involves having to replace flooring in much of the home after discovering pet damage left behind by the departed tenants. Another client just sold a property for $100k less than what they paid for it in 2006. One of the more successful stories in terms of return on investment is a client that directly manages (mows the lawns, does minor repairs, etc.) several mobile homes.
If you are considering investing in the real estate market, it's important to do so with your eyes open.
Don't Forget the Value of Your Time
Most amateur investors underestimate the amount of costs of owning a rental property. You can buy a real estate ETF for almost nothing, but purchasing or selling a house can cost thousands of dollars. The IRS allows a depreciation deduction on Schedule E every year because structures wear down over time. A new roof, driveway or HVAC are not insignificant expenses.
Another consideration that is hard to fully grasp prior to pulling the trigger is the time commitment required to be a landlord. Many small investors will have to devote time to managing the property as hiring a management company can be cost prohibitive.
There is also the "expect the unexpected" factor of being a landlord. Calls about a broken toilet, tenants leaving without notice, or worse having to get the sheriff department to deliver an eviction notice months after the tenant stopped paying rent.
Tax Rules for Rental Real Estate
Potential investors also need to have a basic understanding of the tax rules for rental properties. Rental investments often show a loss for tax purposes. For most investors with adjusted gross income above $150k the loss is not deductible against other incomes (wages, etc.). The loss is instead carried forward to future years to be used to offset rental profits or other passive activity income. If there is an accumulated loss when the property is sold it is deducted in full. The IRS may require that some of the depreciation deducted while the property was in service be recaptured, or included in the gain.
Is This a Good Time to Invest In Rental Real Estate?
My advice to investors who are looking at getting into rental real estate for the first time is to treat the venture as a business and not a hobby. Follow this methodology:
Do your homework, read tax laws
Ask other investors about their experiences
Crunch the numbers
You are preparing to take on a large amount of risk and invest a great deal of time, energy and money. Before you make that commitment spend time deciding if the reward has a good chance to be worthwhile.