Elon releases the "Twitter Files"… TSLA is a buy below $200… Our EV play in Disruption Investor hits an all-time high...
1. Elon Musk dropped a bombshell on the internet earlier this month by announcing the release of the so-called "Twitter files."
Musk, who recently bought Twitter and took it private, tapped independent journalist Matt Taibbi to share the dirty details.
In short: company emails confirmed that Twitter's content moderation wasn't exactly objective. In fact, Twitter took orders from politicians to suppress content that was inconvenient to them, Including during elections.
We don't do politics here at RiskHedge… and I doubt Musk had political motives. When you take over a dysfunctional organization like Twitter, it's smart to air out damaging secrets and start fresh. Musk did what he had to.
But this—once again—puts Musk in the center of major controversy.
And many folks are concerned all this drama spells doom for Tesla (TSLA). While it appears to have been removed from the internet, I was sent a Business Insider article titled along the lines of:
"If Twitter Dies, is Tesla Next?"
2. Just last year, Elon Musk was welcomed as the celebrity host of Saturday Night Live.
He was almost universally beloved, a hard thing to achieve in America these days. Environmentalists loved his electric cars. Capitalists loved his business success.
What changed so fast? Musk waded into politics, which has made him lots of enemies—especially in Hollywood and in the media. The other day someone told me they'd never buy a Tesla car now "because of Elon."
And nowhere is his fall from grace more evident than in the chart of TSLA stock.
Tesla stock went on an all-time great run from 2019–2021, gaining 3,000% in under three years. But since Musk said he was buying Twitter on April 14, TSLA has crashed around 45%: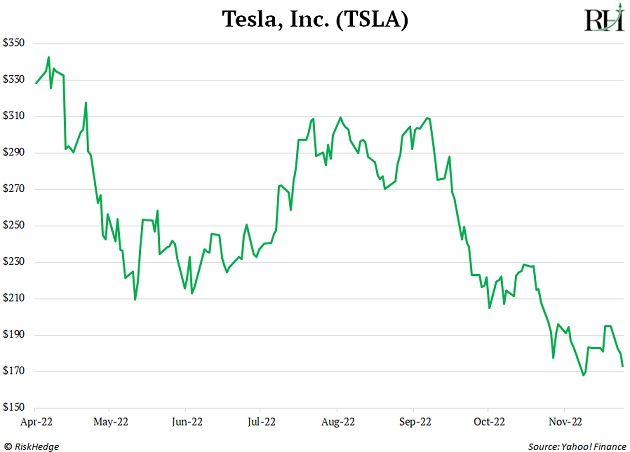 3. I'm getting interested in Tesla stock at under $200/share.
I disliked the stock for a long time because it had little hope of living up to impossibly lofty expectations. But this "reset" in its price is an opportunity.
Tesla is still miles ahead of its competition in electric vehicles. And it just revealed its long-awaited electric semi-truck, which could be a tremendous new growth opportunity. About two-thirds of all cargo in the US travels on trucks.
Couple this with Tesla's opportunity in self-driving technology—a huge area where it's also a leader—and the stock looks attractive here.
I like Tesla, but I hope Musk lays off meddling in politics. It's an unnecessary risk.
4. Albemarle (ALB)—a staple in our Disruption Investor portfolio—recently struck an all-time high.
The stock is up around 205% since our recommendation. Congrats to readers who took advantage.
ALB remains my favorite large stock to play the EV boom. It's the world's largest lithium miner—and Lithium is a key component in electric vehicle (EV) batteries.
EV sales are breaking all records this year: up 60% compared to 2021. And the price of lithium has more than doubled in 2022.
And this is just the beginning. By 2030, EVs will need as much lithium as 250 billion iPhone batteries. That's 14X more than all the lithium the world uses today!
Albemarle controls 25% of the lithium market and owns the purest lithium mines on the planet. And Albemarle plans to expand lithium production by roughly 5X over the next decade.
Remember, we're just entering the "mass adoption" phase for EVs. Today, battery-powered cars are roughly where smartphones were back in 2010. A decade ago, one in 10 people owned a smartphone. In 2022, one in 10 cars sold is an EV.
Expect EV sales to grow rapidly over the coming years. As the disruptor fueling every automaker's electric dreams, Albemarle stands to make a killing.
If you're not already invested, consider using the recent pullback to buy ALB for the long term.
3 Breakthrough Stocks Set to Double Your Money in 2022
Get our latest report where we reveal our three favorite stocks that can hand you 100% gains as they disrupt whole industries. Get your free copy here.