Revisions to S&P's Global Industry Classification Standard (GICS) means big changes to mutual fund and ETF holdings that tracks one of several indices, but were these reclassifications outdated before they even launched?
While many investor eyes were focused on the latest round of escalation in the current trade war between the US and China, there was a major change about to take place that would affect people's investments going forward. In the last week of September, S&P rolled out the largest revision to its Global Industry Classification Standard (GICS) since 1999. Before we dismiss it as yet another piece of Wall Street lingo, it's important to know that GICS is widely used by portfolio managers and investors to classify companies across 11 sectors. With the inclusion of a new category – Communication Services – it means big changes that can alter an investor's holdings in a mutual fund or ETF that tracks one of several indices. That shifting of trillions of dollars makes it a pretty big deal on a number of fronts, but it also confirms the shortcomings associated with sector-based investing that we here at Tematica have been calling out for quite some time.The new GICS category, Communications Services, will replace the Telecom Sector category and include companies that are seen as providing platforms for communication. It will also include companies in the Consumer Discretionary Sector that have been classified in the Media and Internet & Direct Marketing Retail subindustries and some companies from the Information
Technology sector
. According to S&P, 16 Consumer Discretionary stocks (22% of the sector) will be reclassified as Communications Services as will 7 Information Technology stocks (20% of that sector) as will AT&T (T), Verizon (VZ) and CenturyLink (CTL). Other companies that are folded in include Apple (AAPL), Google (GOOGL), The Walt Disney Co. (DIS), Twitter (TWTR), Snap (SNAP), Netflix (NFLX), Comcast (CMCSA), and DISH Network (DISH) among others.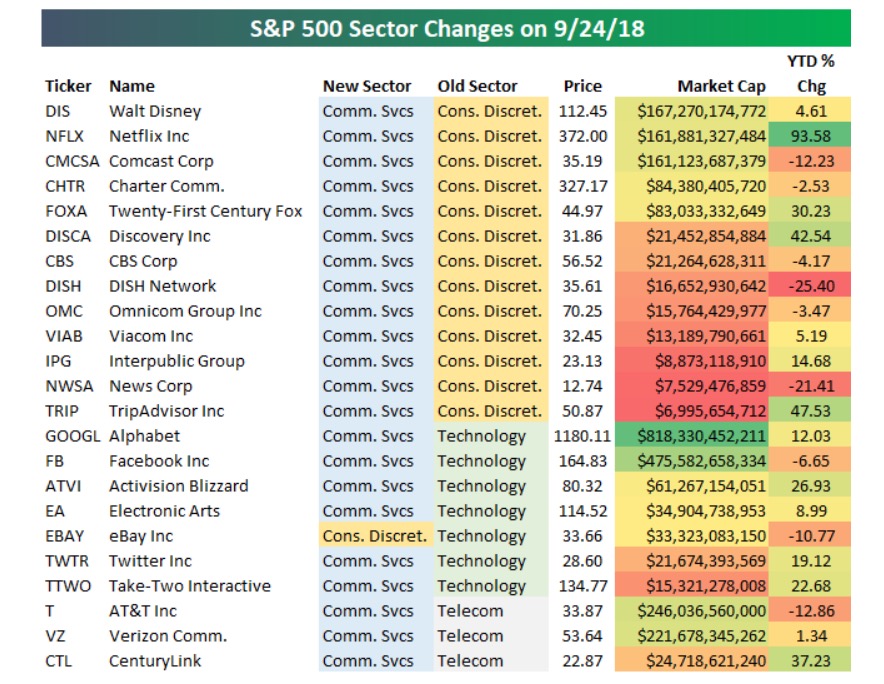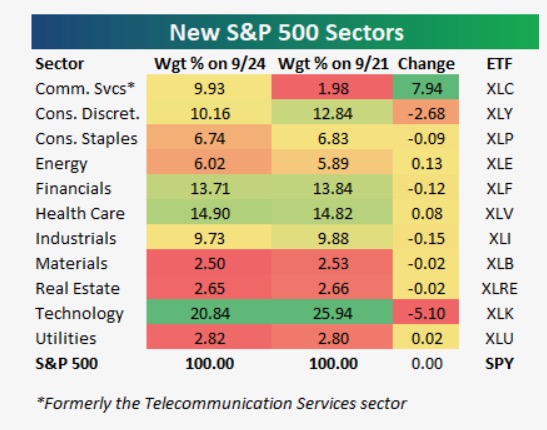 After these maneuverings are complete, it's estimated Communication services will be the largest category in the S&P 500 at around 10% of the index leaving weightings for the other 11 sectors in a very different place compared to their history. In other words, some 50 companies are moving into this category and out of others. That will have meaningful implications for mutual funds and ETFs that track these various index components and could lead to some extra volatility as investors and management companies make their adjustments. For example, the Technology Select Sector SPDR ETF (XLK), which tracks the S&P Technology Select Sector Index, contained 10 companies among its 74 holdings that are being rechristened as part of Communications Services. It so happens that XLK is one of the two largest sector funds by assets under management – the other one is the Consumer Discretionary Select Sector SPDR Fund (XLY), which had exposure to 16 companies that are moving into Communications Services.Related:
Aston Martin Taps the IPO Market
So what are these moves really trying to accomplish?
The simple answer is they taking an out-of-date classification system of 11 sectors – and are attempting to make them more relevant to changes and developments that have occurred over the last 20 years. For example:
Was Apple a smartphone company 20 years ago? No.
Did Netflix exist 20 years ago? No.
Did Amazon (AMZN) have Amazon Prime Video let alone Amazon Prime 20 year ago? No.
Was Facebook (FB) around back then? Nope. Should it have been in Consumer Discretionary, to begin with alongside McDonald's (MCD) and Ralph Lauren (RL)? Certainly not.
Did Verizon even consider owning Yahoo or AOL in 1999? Probably not.
What we've seen with these companies and others has been a morphing of their business models as the various economic, technological, psychographic, demographic and other landscapes around them have changed. It's what they should be doing, and is the basis for our thematic investment approach — the strong companies will adapt to these evolving tailwinds, while others will sadly fall by the wayside.These changes, however, expose the shortcomings of sector-based investing. Simply viewing the market through a sector lens fails to capture the real world tailwinds and catalysts that are driving structural changes inside industries, forcing companies to adapt. That's far better captured in thematic investing, which focuses on those changing landscapes and the tailwinds as well as headwinds that arise and are
driving not just sales but operating profit
inside of companies.For example, under the new schema, Microsoft (MSFT) will be in the Communications Services category, but the vast majority of its sales and profits are derived from its Office software. While Disney owns ESPN and is embarking on its own streaming services, both are far from generating the lion's share of sales and profits. This likely means their movement into Communications Services is cosmetic in nature and could be premature. This echoes recent concern over the recent changes in the S&P 500 and S&P 100 indices, which have been criticized as S&P trying to make them more relevant than actually reflecting their stated investment strategy. For the S&P 500 that is being a market-capitalization-weighted index of the 500 largest U.S. publicly traded companies by market value.As much as we could find fault with the changes, we can't help it if those institutions, at their core, stick to their outdated thinking. As I have said before about other companies, change is difficult and takes time. And to be fair, for what they do, S&P is good at it, which is why we use them to calculate the NJCU New Jersey 50 Index as part of my work New Jersey City University.Is this reclassification to update GICS and corresponding indices a step in the right direction?It is, but it is more like a half step or even a quarter step. There is far more work to be done to make GICS as relevant as it needs to be, not just in today's world, but the one we are moving into.That's especially true compared to the thematic approach that we employ. As we see it, there is a major distinction between grouping companies based on a sector classification – one of 12 choices – vs. doing so based on the tailwinds that are driving their businesses, especially as companies acquire and divest businesses that will have a pronounced impact on their business model.For example, while Walt Disney competes with the content business at Comcast Corp. (CMCSA), it doesn't have a cable network or other communications business like Comcast, Charter Communications (CHTR) or Verizon. AT&T (T) is in the midst of acquiring Time Warner that would dramatically alter its business mix and product strategy, but how does the Communications Sector view account for that? Gaming companies such as Activision Blizzard (ATVI) and Take-Two (TTWO) are consuming network data with linked, multi-player games, but are they each more a gaming and content company than a Communications Services company?And so on…These shortcomings reveal the flaws with grouping companies and their business models by sectors, which Webster's Dictionary defines as "a distinct part of society or an economy." Inherent in this sector based classification schema is the idea that companies don't change their business model. As we've witnessed over the years, Amazon has continued to add to its business model and today is delivering all sorts of products and services that are a long way off of its original book based business. Complicating the sector based classification further is Amazon Web Services, its pending acquisition of online pharmacy PillPack and the rollout of its Amazon Go stores that employ technology that could change the retail shopping experience entirely. Then there is Amazon's Prime Video offering that stream TV shows, movies, original content and NFL games, it's Prime music service as well as its Whole Foods business. Oh yeah, and then there is its Alexa/Echo digital assistant business that is moving beyond smart speakers to being incorporated into appliances, cars and home security services.Is Amazon a Consumer Discretionary company? Is it a Communications Services company like Walt Disney and CBS or a Consumer Staples company like Kroger (KR)? Or does Amazon's burgeoning home security capabilities mean one day it will be an Industrial company alongside ADT?We could go on, but odds are you get the point – trying to sandwich companies into 12 sectors is not always easy, and in some cases, it could be quickly dated.That's why we prefer our thematic approach that evaluates each company against the changing landscapes of economics, demographics, technology development, psychographics, regulatory mandates and others. These intersections get to the heart of the how and why a business's
customers are altering their behaviors
, changing the required value equation for companies along the way. Viewed through that lens it comes as little surprise that brick & mortar retail companies are struggling, shelf-stable and frozen food companies are suffering, why beverage companies are on a renewed acquisition frenzy, and fast food companies are reinventing their menu and overhauling the food and drinks they serve.