Before the pandemic, a corporate client inquired about my business etiquette seminar. During our conversation she told me that she hadn't hired someone because, "She looked old, as she had gray hair."
I did not color my hair during the last 16 months. It was wonderful not having to go to the hairdresser every couple of weeks. My dyed brown hair has almost all been replaced with a combination of my natural gray, silver, white, and black hair.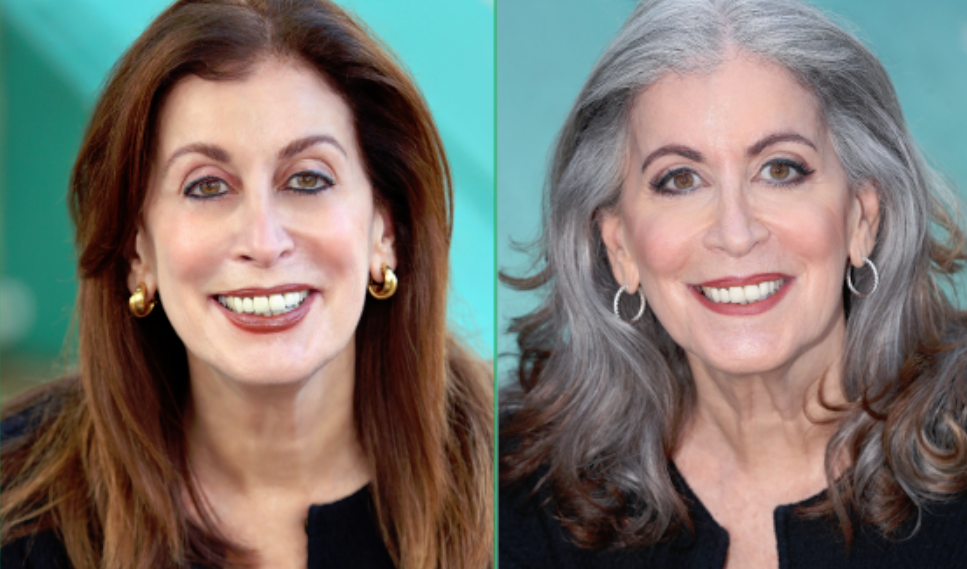 The photo on the left – taken five years ago – is my corporate head shot, and on the right is a recent photo. Photographer Joey Del Palazzo took both photos, and we tried to recreate the original setting as best we could for the second photo shoot.
I teach business etiquette and professional presence, and I know that hairstyle and hair color are important parts of a person's image. I also know that people have strong opinions about hair color. There's a meme featuring The Joker that says: Change your hair color and everybody loses their mind.
Do you make assumptions when you see a professional with gray hair?
Do you think gray hair makes a woman look old, out-of-date, or less professional? And do you believe that gray hair can make men look distinguished, but not women?
I want to believe that gray hair can signal wisdom and experience in both men and women. I also want to believe that gray hair – if it's cut well and suited to you – is not a reason to reject anyone as a job applicant or seminar lecturer.
One of my clients recently admired my silver-gray-black mane and told me, "People pay a lot to get your current hair color!" On the other hand, my style-conscious sisters joke that I am now the oldest sister! (I am the middle sister.)
If I keep my new hair color – and I'm leaning towards doing so – I will follow the advice of businesswoman and white-hair fashion icon Iris Apfel: "If your hair is done properly and you have on good shoes, you can get away with anything."
Related: The Power of Nice!