I think most of us would agree that 2020 was a year of stress and economic hardship, which forced us to shift parameters only to achieve little progress. In contrast, 2021 is looking to be a year of Covid opportunities and our number one challenge is switching gears so that we can adopt a positive perspective and pursue these new opportunities.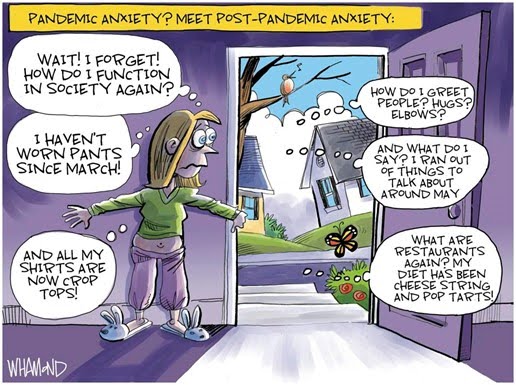 I agree with Jamie Dimon, head of JPMorgan Chase, who argued for the Goldilocks economy in the near future, saying, "I have little doubt that with excess savings, new stimulus savings, huge deficit spending, a new potential infrastructure bill, a successful vaccine, and euphoria around the end of the pandemic, the U.S. economy will likely boom. This boom could easily run into 2023 because all the spending could extend well into 2023."
Here are some suggestions to help you prioritize and capitalize on Covid opportunities:
Positive Expectations are a critical cause of growth and success. Increased risk and positive thinking can create positive Covid opportunities. Low interest rates and inflation have had a huge impact on reducing actual risk. My favorite musical has always been My Fair Lady because of the Pygmalion effect, which infers that having positive expectations leads to enhanced performance, which results in greater opportunity to capitalize on opportunities. The implication is that confidence and energy will increase if we believe in ourselves. On the other hand, a negative self-perception results in a significantly lower chance of succeeding. Therefore, what we think we're capable of basically becomes a self-fulfilling prophecy.
Setting Goals. We frequently make decisions and develop strategies based on general goals and assumptions rather than specific and intentional plans. To paraphrase Lewis Carroll in Alice in Wonderland: If you come to a fork in the road and don't know where you are going, any road will get you there. I meet clients all the time who are excited about their business, but haven't even considered things like long-term versus short-term, growth versus profit, or comparing opportunities.
While goals, business, and energy play large roles, the characteristics of the entrepreneur and investor actually have a great impact on opportunities. Some are just out of college, living at home, with a somewhat unrealistic view of life. Others are venture capitalists, like a Shark Tank judge, looking for the next billion-dollar deal. Some are in their 30s or 40s with extensive expertise and experience, but with a need to make a living quickly. But, no matter the background, when it comes to capitalizing on opportunities and developing a strategy, everyone still needs to consider goals, risk, competition, market size and growth, alternative approaches, resources, experience, and expertise.
Focus. Many business efforts are based on wrong assumptions, are poorly executed, struggle to adapt to change, and ultimately fail. Post-pandemic, focusing requires some new consideration of priorities, changes, and practices.
Make mistakes and learn to adapt. Mistakes mean you and your business are growing. Measure, estimate, prioritize, and adjust. Analysis of alternatives can yield some simple priorities. Even simple analysis can be useful to avoid missing your target population and price points. Observing, understanding and sharing financials, operations reports, and sales reports are the first step. In meetings, rely on your team to provide specific feedback on how to improve.
The 80/20 Rule. The original concept, developed in 1908 by Pareto, was that 20% of the population controlled 80% of the wealth. In the modern business realm, it has been proven time and time again that 80% of business revenues are generated by just 20% of our customers. Yet we all continue to waste time, money, and inventory dollars on customers that bring in a lower return. Prioritizing and following the 80-20 rule are great Covid opportunities to capitalize on: just take care of your best customers and their changing needs.
I keep running into well-intentioned and well-informed clients who ignore this simple guidance. This is especially true in identifying target markets and pricing. For example, exotic new restaurants (that frequently close after a few months) forget hamburgers and pizza dominate restaurant sales. And if you aren't aware of Amazon's pricing, you are simply missing the lead competitor (like department stores have for years).
Simplification can help prioritization. We need analysis and information in order to understand and develop solutions to expand opportunities. However, we must also work to simplify issues and decisions in order to focus on what's important. It's a delicate balance, but I believe that understanding and measuring priorities and risks is the key to creating that stability.
Take More Risks!!! …And STOP WORRYING about it. Is risk taking scary? If you're only thinking about the possible negative outcomes, yes. But it can be exciting if you focus on the potential positives.
Understanding the parameters, alternatives, odds, and the effort of decisions can facilitate risk-taking. What is the value of taking risks? Most would say the probability of reward, the amount of the reward, and the value of the reward. Do you know what you're going up against and what it would take to recover the potential loss? The more you know, the more equipped you are to take reasonable, successful risks.
Don't Underestimate Intuition! While we continually gather more data to make better decisions, we shouldn't forget our gut feelings. People win the lottery, which is proof that some of the best outcomes come from low probability efforts. The pandemic caused great uncertainty about 2021, which means there are tons of opportunities to take (even just a little) more risk. Sometimes a complicated decision can be simplified a bit by listening to our instincts.
Know your biases. The biggest challenge in decision-making is bias. Analysists love to discuss mathematical formulas and measurement in affecting bias; however, most bias (especially in small businesses) is simply human. Your assumptions, analysis, and data can all unknowingly affect results. For example, it is well established that many opinions are formed within the first minute of a presentation. Whether we like it or not, factors like age, educational background, appearance, presentation, and ethnicity can affect perceptions even more than content. I am frequently frustrated when people criticize my poor spelling instead of paying attention to and understanding my content. Point being, our biases can blind us to valuable information.
Happiness, fun, rest, and pleasure are also part of success. Don't underestimate the benefits of taking a break or getting enough sleep. One of the side effects of working from home may be an endless workday with no time to relax and reenergize. I talked to someone recently who hadn't been outside in a week. It's easy to get wrapped up in your work, but a healthy work-life balance is just as crucial as balancing complex and simple strategies.
The most important part of capitalizing on Covid opportunities is to identify them, and then develop and execute solutions. It will require an openness and willingness to test new ideas. So, don't let emotion or biases get in your way. Remember that passion and commitment are strong determinants of success. Take comfort in the fact that risk can be reduced greatly with testing, research, and analysis. And embrace integrated approaches that incorporate new strategies. Covid may have hit us hard, but it won't keep us down. Whenever a mess is made, someone has to clean it up. Instead of dwelling on the wreckage, focus on how you can capitalize on the opportunities to salvage and rebuild.
Related: Bureaucracy No Longer Works