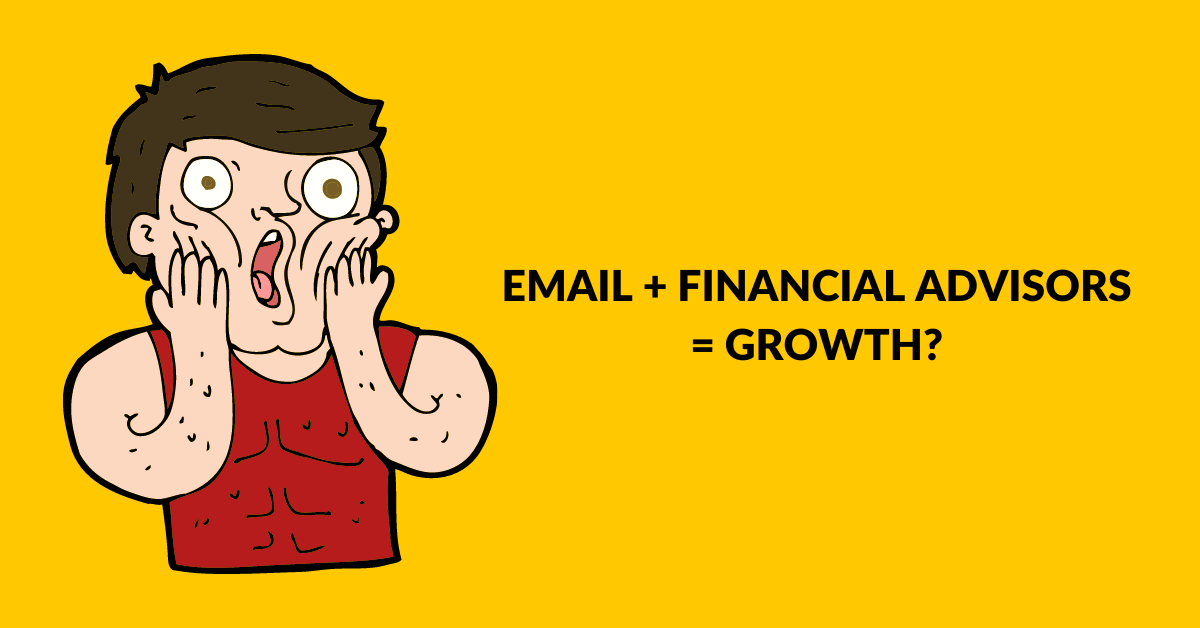 If you're a financial advisor who is interested in getting more results with email marketing, make sure you read this article in its entirety because it contains valuable information designed to make your emails better. 🤯
For some context, I'm James Pollard. I'm the founder of
The Advisor Coach LLC
, a company that helps financial advisors get more clients.
I'm also the host of the "Financial Advisor Marketing" podcast, which has 90+ episodes available for download (which you can find by searching "Financial Advisor Marketing" wherever you listen to podcasts).
But I'm perhaps best known for my emails.
I send daily emails and have been doing so for years. I also help financial advisors improve their email marketing.
In fact, I've sent and tested more than three million emails and I've noticed a few trends that make my emails way more effective than industry averages. Here they are...
1. Avoid Stock Market Commentary Emails Like The Plague
These are perhaps the worst emails financial advisors can send. Clients hire financial advisors so they DON'T have to think about this stuff.
Also, by sending these commentary emails, financial advisors are training their clients to believe that weekly or monthly stock market changes are important. Yet, they typically tout the benefits of having a long-term perspective when investing. You can see where clients get confused.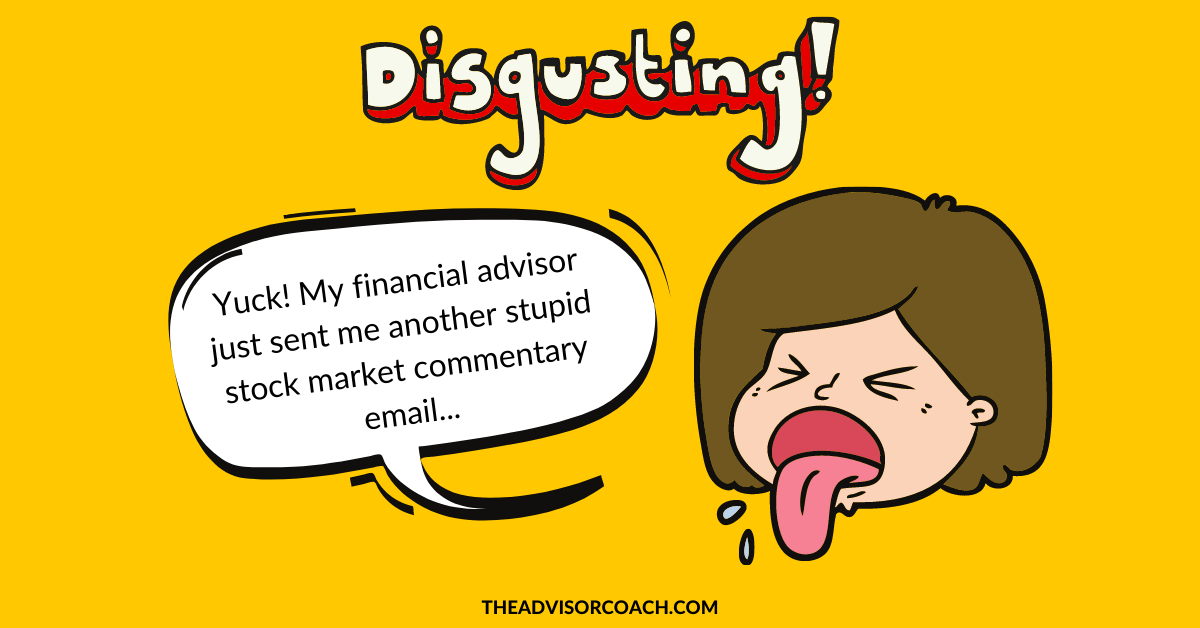 2. Entertain In Your Emails
People crave entertainment. If you've ever been on my email list, you know that I tell stories, crack jokes, and otherwise combine information with entertainment. I've applied that same philosophy to financial advisor emails with great success.

Sometimes financial advisors will tell me "that won't work for MY clients", yet I've never seen a case where sprinkling in some entertainment hasn't increased response. Honestly, the more "professional" the reader, the more he or she is desperately looking for entertainment. When you step in and tell a fun story, you'll instantly stand apart from the crowd.

This is contrary to the "experts" who tell people to load their marketing with tons of facts, figures, and statistics.

Most financial advisors are surprised to discover my most profitable emails have very few facts, figures, and statistics. Most of the time there's none whatsoever.

In fact, I've been "selling" with stories, humor, and drama for years.

Even Harvard professor Gerald Zaltman agrees with me. He found that 95% of consumer decisions are subconscious. Neuroscientists have even found that people with damage in the emotion-generating area of their brains are incapable of making decisions.

Read the above sentence one more time. 🤯​

Because it means that without emotion, it is literally impossible for your prospects to decide to work with you. Most people don't know this and it's one of the reasons they fail to set appointments with their prospects through email.
3. Niche Down
Whenever I help financial advisors with their email marketing, I strongly encourage them to pick a specific niche market.

Why?

Because it makes the entire process much easier. Imagine you're a financial advisor who works exclusively with dentists.

You can create content for dentists. Once dentists see your content, they see your opt-in, where you're offering a lead magnet specifically for dentists. Then, when you follow up via an email sequence, you'll be able to revolve your topics around - you guessed it - dentists.

Stop complicating this stuff.

Can you segment your list even further? Sure. You can get as fancy as you want. But if you're a financial advisor who wants maximum results in minimum time, niching down is the way to go. When people see that you're genuinely involved in their world, they're more likely to set an appointment.
4. Keep It Simple
The emails I send are uncomplicated plain text emails.

No images. No fancy scripts. Nothing complicated.

All I do is type something out and hit "send".

Most advisors assume you need to be a tech-savvy computer whiz to master email. It's not true. I've seen that the more complicated people make their emails, the lower the conversion rate.

Now, if you'd like to watch a free webinar where I reveal some more of my email marketing "secrets", go here: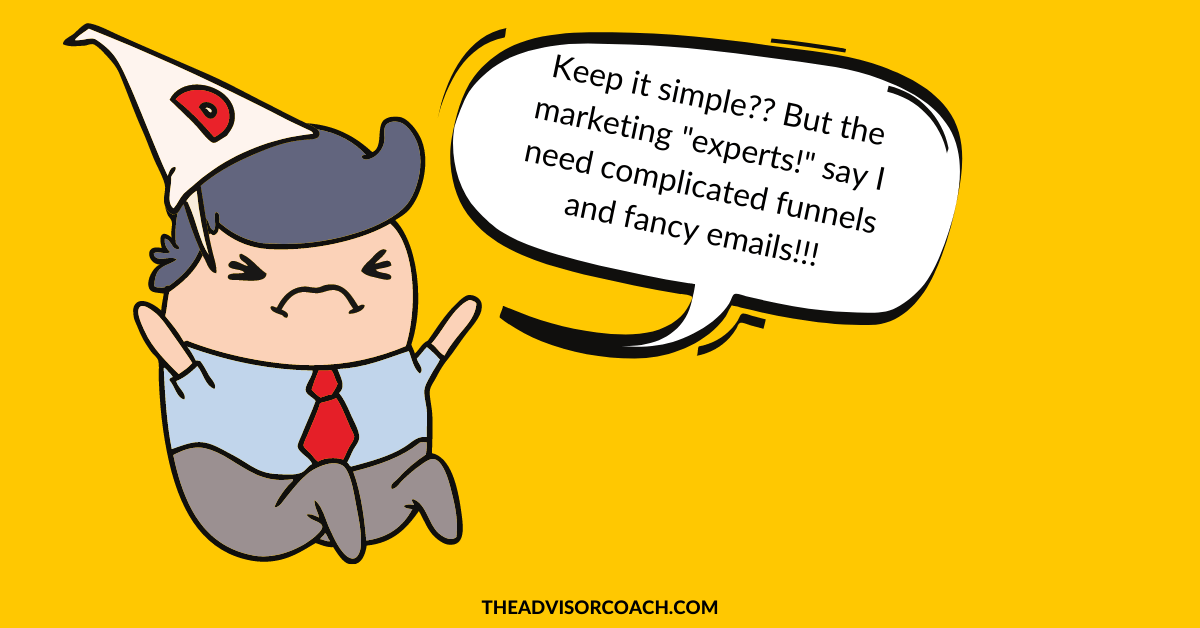 Here's How To Build An Email List Using LinkedIn...
What I'm about to tell you is one of the most powerful ways for financial advisors to grow their businesses…

Why am I giving away this information for free?

Because my business helps financial advisors get clients with email marketing.

However, if you're a financial advisor and you don't have an email list, you probably aren't going to reach out to me for help. So, I'm going to help you build your email list.

How's THAT for transparency?
The Biggest Mistake People Make When Building An Email List...
The biggest limiting belief financial advisors have about email marketing is believing that they need a huge email list in order to see any results.
This simply isn't true.
When it comes to email marketing, quality is infinitely more important than quantity. After all, which would you rather have:
1,000 email subscribers and 3 appointments, or…
500 email subscribers and 5 appointments?

Ideally, you want both quality AND quantity. I've managed to achieve both. Here's a screenshot of my personal email account…
As you can see, I've been able to manage a 49.03% open rate on an email list with more than 46,000 people.

What's the average email open rate? Between 15-25%.
Do I have your attention now?

Fortunately, there's a wonderful place where financial advisors can find both quantity AND quality…

LinkedIn.
Why LinkedIn Is Every Financial Advisor's "Secret Weapon" When Building An Email List...
LinkedIn is arguably the greatest prospecting tool the financial services industry has ever seen.

Email marketing is hands-down the best appointment-setting strategy the financial services industry has ever seen.

Don't believe me? That's okay, here's some proof:
According to McKinsey & Co., email is 40X more effective than Facebook and Twitter combined.
According to YCharts, clients prefer email over ALL other forms of communication (and it's not even close).
According to CampaignMonitor, email averages a 4,400% return on investment.
According to Forrester, people are twice as likely to sign up for your email list as they are to interact with you on Facebook. (This blows a lot of people's minds but it's true.)
According to the AARP, 45% of middle-aged Americans would rather go to the dentist than meet with a financial advisor. Guess what overcomes that skepticism and gets them to meet with you? Email.
According to Optinmonster, 58% of people check email first thing in the morning before anything else. Guess which message is going to get consumed? Email.
According to research by Litmus, 28% of people check email on an iPhone. Guess what allows you to track links and call people once you KNOW they've consumed your message? Email.
Now, back to LinkedIn…

LinkedIn allows financial advisors to search for and reach out to people in their target market with a few clicks.

Do you want to target corporate executives? You can find them.

Do you want to target educators? You can find them.

Do you want to target engineers who went to the University of Arizona? Guess what? You can find them, too!

Once you've found them, you can get them to join your email list…
Here's How To Get Them To Join Your Email List...
Do NOT send someone a pitch or ask to jump on the phone as soon as someone has connected with you. That's one of the biggest LinkedIn faux-pas and we all laugh at people who do that.

Instead, start with an icebreaker. Say something about the person's background.

"Hey, I noticed you're involved in alligator wrestling. Do you still have all your fingers?"

That's a good start.

THEN….
Offer the person a free piece of content related to him or her.

"Curious - are you looking to improve your alligator wrestling skills? If you are, I've got a great guide to rear-naked chokes I can share with you…"

If you're a financial advisor who specializes in working with a certain niche, all you need here is a good piece of content related to that niche. Because if the person says "Yes" to your offer, then you reply with a link where he or she can exchange his or her email in order to access it. This is called an opt-in form.

To help you visualize what all this looks like, this is my opt-in form…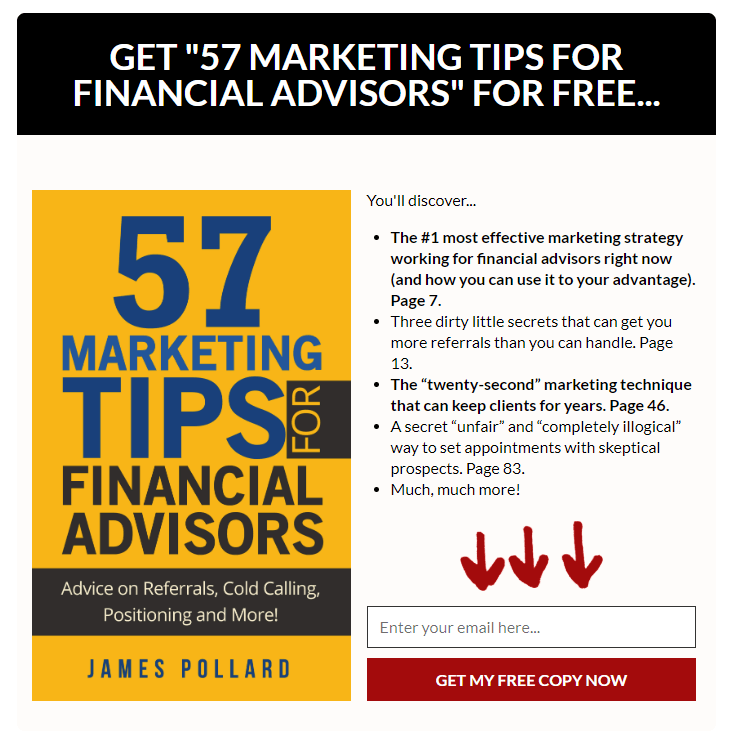 When financial advisors join my email list, they get an 80+ page PDF filled with 57 of my favorite marketing and business-building tips. If you want to join my email list, you can do that here: Get 57 Marketing Tips For Financial Advisors
(Hey, what I can say? I practice what I preach…)
Here's Why This Works So Well For Financial Advisors...
This is just one of many ways to build your email list, but LinkedIn + email marketing is a match made in heaven.

Because it allows people to consume your content on their schedule.

Instead of being pushy and sending a bunch of annoying outbound messages without any demonstration of interest, you're letting people SELF-SELECT.

That's how the magic happens.

People raise their hands and say, "Yes! I'd love to hear more from you."

When this happens, it gives you a chance to follow up and build trust. There are so many financial advisors online and they're all competing for attention. To break through the noise and win someone's trust, you must demonstrate that you are the expert.

Your content does that. It proves that you are worth their time, interest, and attention.
What Do You Do Once You Have Their Email Addresses?
You follow up with a sequence designed to nurture them and eventually set an appointment.
Fortunately for you, that's my specialty. 😎
I've even put together a 100% free training called "3 Counterintuitive Ways Financial Advisors Can Set Appointments With Email Marketing", which you can register for here:
Free Training | How Financial Advisors Can Get Clients With Email Marketing