Written by: Meera Pandit
Many of the innovations and technologies needed for a carbon neutral economy are not yet available, but there are still many existing solutions that can be implemented today to reduce emissions, particularly in how we manage energy efficiency in buildings and appliances.
Nearly 18% of greenhouse gas emissions come from energy usage in commercial and residential buildings, but when both direct and indirect emissions are considered, that share more than doubles. Analysis from the IEA's 7th Annual Global Conference on Energy Efficiency held earlier this month demonstrated that doubling the current global rate of energy intensity improvement to 4% a year has the potential to avoid the equivalent of all the annual energy usage in China. This would not only help reduce emissions, but also aid the consumer by saving households $650 billion a year on energy bills by the end of the decade.
The International Finance Corporation estimates there is a $25 trillion opportunity in green buildings over the coming decades to reduce emissions. Energy usage is the largest operating expense in commercial office buildings at roughly one-third of operating budgets, so companies that can improve energy efficiency can not only reduce emissions but also reduce costs. To that end, companies are developing energy efficient solutions such as air conditioning, heating systems, LED lighting, home appliances, and insulation products, and providing design and consulting services to build more sustainably. Two such examples are Trane Technologies and Signify.
Trane Technologies is a leader in heating, ventilation, and air conditioning (HVAC) systems. The company has reduced its customers' carbon footprint by 50 million metric tons since 2019 and has committed to reduce its customers' carbon emissions by one gigaton (or one billion metric tons) by 2030, equivalent to the combined annual emissions of Italy, France, and the UK. Heating and ventilation represent around 50% of building energy consumption, or 15% of operating costs, and demand for energy efficient solutions are forecast to double by 2050. The company is continuing to innovate, investing $193 million in sustainability-driven R&D in 2021 alone.
Signify is a leader in LED lighting systems, software, and services. Replacing incandescent lights with LED lights is estimated to reduce energy consumption by over 50% and switching to both connected and LED lighting can save up to 80% on lighting-related energy consumption. While these lighting systems may require a higher initial investment, cost savings accrue over time with better energy efficiency and longer lifespans. Signify is at the forefront of innovation in this space, announcing a breakthrough LED bulb that lasts 3.5x longer than its leading peers and consumes 60% less energy.
These companies are among the holdings of J.P. Morgan's Climate Change Solutions ETF (NYSE:TEMP). An actively managed sustainable fund. The securities highlighted above have been selected based on their significance and are shown for illustrative purposes only. They are not recommendations.
Global share of buildings and construction emissions, 2019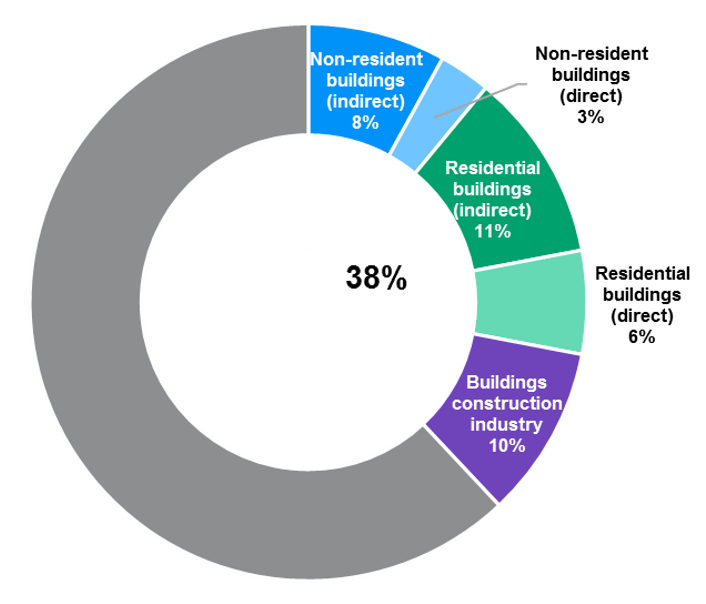 Related: Will the Fed Tip the Economy Into Recession?
Source: J.P. Morgan Asset Management, IEA and the UN Environment Programme, 2020 Global Status Report. Text sources include IEA, International Finance Corporation, Our World in Data, UN Environment Programme. Data are as of June 21, 2022.