Written by: Meera Pandit
Progress on mitigating climate change hinges on cleaner energy as 73% of global greenhouse gas emissions come from energy usage in industry, buildings, and transport. This means the continued expansion of renewable energy and investment in the ecosystem around clean energy which includes storage, transportation, and grid modernization.
Currently about 5% of energy globally comes from solar and wind power. However, for the world to meet its ambitious net zero carbon emissions targets, that share needs to grow to 60% by 2050. Getting there over the next three decades could require $100 trillion in clean energy investment according to IRENA.
Although solar and wind power once felt like a pipe dream, subsidies, innovation, and investment have helped reduce breakeven costs by 90% and 72% respectively since 2009. These advances have made renewable energy not just about sustainability, but also increasingly about affordability, and most recently about reducing geopolitical vulnerability as well.
Crucially, investing in renewable energy is not just about solar and wind. Of equal importance is investing in storage, transport, and electrification, which is underway as highlighted by the growth in the gray bars in the chart below. Two companies contributing to innovation for the grid and transportation are Schneider Electric and Prysmian.
Schneider Electric is a leader in energy grid management, improving reliability, efficiency, and integration. Schneider manages over 30 billion EUR in energy spend for clients and has helped them save or avoid 347 million metric tons of carbon emissions from 2018 to 2021. With increased efficiencies come increased savings—Schneider has saved its clients more than $2.5 billion through implementing more than 750 Energy Saving Performance Contracts (EPSC) over the past 26 years.
Prysmian is a leader in electric cable production and connects energy supplies across the world. Intermittency issues have long been a major obstacle to greater renewable adoption, which Prysmian seeks to reduce. For example, by connecting Norway and Denmark with a high voltage undersea cable, Denmark can share excess wind power it generates with Norway when it's windy, while Norway can share hydropower when it's not. Prysmian was awarded 4.8 billion EUR in contracts in 2021 to connect and route energy as Europe strives to construct a more integrated power grid. It will also build the first energy connection between Great Britain and Germany.
These companies are among the holdings of J.P. Morgan's Climate Change Solutions ETF (NYSE:TEMP). An actively managed sustainable fund. The securities highlighted above have been selected based on their significance and are shown for illustrative purposes only. They are not recommendations.
Global investment in energy transition
Billions USD, nominal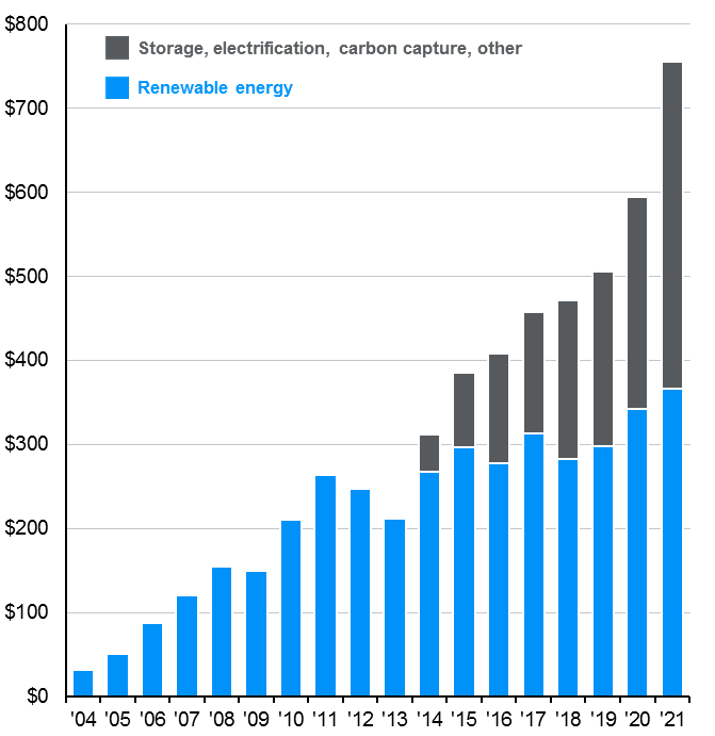 Related: Apparently, Tesla Isn't an ESG Stock
Source: Bloomberg NEF, J.P. Morgan Asset Management. Storage, electrification, other includes hydrogen, carbon capture and storage, energy storage, electrified transport, and electrified heat. Text sources include BP Energy Outlook, IRENA, Lazard, Our World in Data. Guide to the Markets – U.S. Data are as of May 17, 2022.