Written by: Meera Pandit
On April 22, Earth Day, President Biden will host 40 world leaders to discuss climate efforts at the Leaders Summit on Climate. Although the U.S.'s commitment to battling climate change has wavered in recent years, the new administration's infrastructure proposal, the American Jobs Plan, bears a distinct shade of green. It recommits to climate action through investing in infrastructure, R&D, and incentives for energy, transport, infrastructure upgrades, innovation, and training.
Of the sweeping 2.25 trillion USD proposal, nearly 500 billion USD directly seeks to tackle climate change:
174 billion USD for electric vehicles, including building 500,000 electric vehicle (EV) charging stations, electrifying the U.S. Postal Service fleet and 20% of public school buses, and creating incentives for consumers to purchase EVs
100 billion USD for electric grid and clean energy to achieve carbon-free electricity by 2035, including repairs on pipelines and defunct mines and wells
50 billion USD for infrastructure resilience, particularly against extreme weather, and plans to restore and conserve natural infrastructure (wetlands, forest, etc.)
46 billion USD for clean energy manufacturing
35 billion USD for climate technology R&D, including storage and carbon capture
27 billion USD for Clean Energy and Sustainability Accelerator to mobilize private investment
Other provisions indirectly or partially address climate issues – affordable and sustainable housing (126 bn USD), clean water (111 bn USD), transit (85 bn USD), and energy-efficient buildings (10 bn USD)—nearly doubling the green contributions of the plan. The plan would also extend subsidies for clean energy and eliminate them for fossil fuels, and enhance clean energy and energy efficiency standards.
Considering the plan through a broader ESG lens, the plan is perhaps even more "S" than "E". It targets 40% of the benefits of climate and clean infrastructure investments to disadvantaged communities. Approximately 718 billion USD specifically targets underserved, tribal, lower income and rural communities, veterans, women, and historically black colleges and universities.
While the plan is green, whether or not it spurs meaningful economic growth remains to be seen, as it will need to be financed, likely by higher taxes, which could discourage some degree of private sector activity. From an investment perspective, there are both cyclical and secular beneficiaries in industrials, materials, construction, auto manufacturing, utilities, and renewable energy from just the green aspects of the plan, but some headwinds depending on the tax outcomes.
Although ultimately all of this may not pass in final legislation, it represents significant and comprehensive efforts by the U.S. to uphold its commitment to reduce carbon emissions and improve underserved communities.
American jobs plan
Billions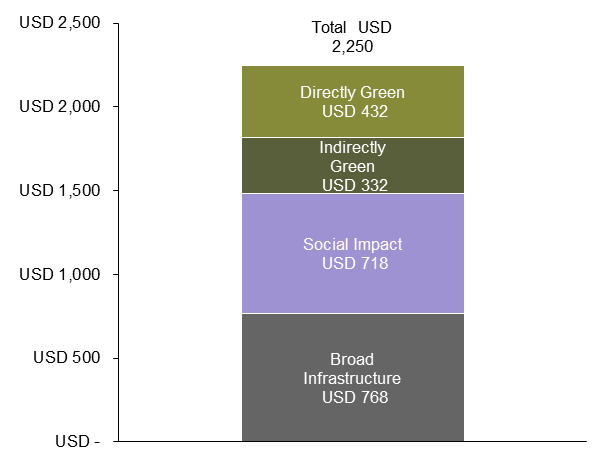 Source: The White House, J.P. Morgan Asset Management. Categorizations are J.P. Morgan Asset Management's Data are as of April 13, 2021.
Related: Clean Energy History Is Repeating, Sort of, But There's Opportunity to Consider