Written by: Justine Young
One thing marketing and finance have in common? An overwhelming love for abbreviations. Between the RIAs and the SEC, you'd think the KPIs would be, IDK, GTG?
Okay, so maybe that sentence is a stretch, but you get the point. One of the best marketing acronyms financial advisors should know is PESO – and, no, it's not the Mexican currency.
As a continuation of our content marketing series, we're walking you through the basics of PESO, as well as outlining how a holistic marketing strategy can work for your firm.
What is PESO?
PESO stands for Paid, Earned, Shared and Owned – it's a media model used to categorize the channels through which you can publish content and garner attention for your firm.
The acronym is fairly new, but the idea is as old as marketing. The PESO Model was first laid out in Gini Dietrich's 2014 book Spin Sucks, which delves into how to categorize types of content within the PESO model, and even includes a handy dandy chart for easy viewing: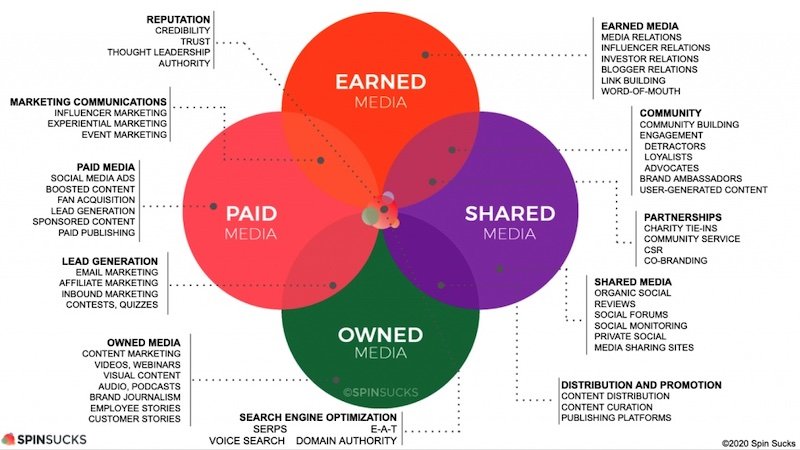 At the center of the chart is a circle representative of your firm's reputation, including credibility, trust, thought leadership and authority. All these channels work together to create your total marketing plan, which ultimately establishes your brand and how others perceive your firm. So, yeah, kind of a big deal.
With one piece of PESO missing, your firm could be missing out on huge marketing opportunities. By organizing your marketing channels and distributing content based on the PESO model, you're more likely to reach your target audience and see real results.

PAID
Paid media is external content that your firm pays for in order to raise brand awareness or promote your services. Think of Google ads, social media ads, billboards, boosted content, promoted tweets, etc.
If you don't own the channel, and you're paying to promote your firm on someone else's channel, it likely counts as paid media.
What Advisors Should Share on Paid Channels:
A big reason to invest in paid media is to raise awareness of your firm, so the content you share via paid channels should be catchy, easy-to-digest and reflective of your firm's overall brand. Most importantly, your paid content should be engaging. Think top-performing blogs, listicles and trending topics. If the U.S. is experiencing a bear market, it might be time to promote content relevant to market volatility through your paid channels.

When you're writing copy for an ad, billboard or other paid content, it's best to think of your ideal client's pain points – what's the issue and how do you solve it?
Also, if you're advertising in print, make sure to include an opportunity for your audience to continue the conversation by listing a link to learn more.
EARNED
Earned media is one of the most sought-after and valuable forms of content marketing for advisors. It occurs when another entity promotes your firm on their own channel or a third-party channel organically, meaning you didn't pay them for it. Your main goal through earned media should be to build backlinks – links to your firm's website. These can increase your SEO and drive traffic to your site.
Earned media could be someone creating a social post about how you helped them create a financial plan (although this is a great example of where you see overlap between earned and shared media). Maybe it's a blogger who decided to compliment your firm in their latest post. If a local magazine runs a story about how your firm came to be, that's also an example of earned media.
That doesn't mean you should sit around and wait for someone to promote your firm – you can be proactive! Whether you decide to pitch article ideas to local publications, or form connections with journalists via sites like helpareporter.com or helpab2bwriter.com, there are a lot of ways to create a buzz, like:
Make a trade with a COI who has a blog of their own: Offer to publish an article on your firm's blog from someone else in exchange for them publishing one of your articles on theirs.

Pitch ideas to local publications related to current events: When open enrollment season starts, reach out to the local newspaper with an idea for an article they could run – and offer to be interviewed for the piece.

Build relationships with industry leaders – these real-world relationships can often translate into opportunities for a shoutout from an expert or two.

Encourage your clients to leave reviews (just make sure you're minding the Advisor Marketing Rule).

Connect with and encourage feedback on your social channels.
What Advisors Should Share on Earned Channels:
One of the main ways advisors get "earned" content is by publishing articles they wrote in publications. Write a column for your local paper about something in the news, pitch an article to a relevant industry pub to see if they'd publish it.

If it's nearing tax season and you have insights to share, consider emailing a local newspaper to share a guest column – you can usually find contact information via their website. Remember, the worst they can say is "no."
Making connections with other related companies within the financial industry and within your geographic area can help you establish credibility and gain more earned media attention – after all, people are more likely to showcase your brand if they're familiar with you and your work.
SHARED

The main forces behind shared media are social media channels. Think of it like a mix of owned and earned content – the content may be yours, but you don't own the channel. For example, if you create a post on Twitter introducing your team members, that would be shared media.
While social media is a great (and often free) tool, it comes with its own risks. When you're renting space on someone else's land, ultimately they're calling the shots. If your profile becomes suspended or deleted somehow, it's gone for good, so be mindful of how and what you invest in shared channels.
What Advisors Should Share on Shared Channels:
It's important to foster positive shared media as much as possible. As you create your social media posts, consider adding questions or a poll that invites the audience to respond. In these scenarios, you're setting the foundation for a conversation.
You can't always control the haters on social sites, but you can create an informative and positive presence in how you respond to others online. If you see someone online giving props to your firm, make sure to recognize and respond to their comments appropriately.
OWNED
Lastly, owned media is just what it sounds like: content marketing channels that you own. That includes your blogs, website, email subscriber lists and so on. They're the places you can publish whatever you want and whenever you want.
One of the biggest perks of owned media is that it's totally yours – and there's no limit to what you can create. You've got total control over your firm's owned media channels
What Advisors Should Share on Owned Channels:
Your owned channels should most align with your ongoing marketing goals. If you wish to increase your newsletter subscribers, you might invest in creating more deliverables and resources to include in those emails. Likewise, if you want to get more engagement across your site, you might choose to further develop your blog.
Whether it's a blog or an email, anything you share on owned channels should totally and accurately reflect your brand values and voice because you're not beholden to someone else's standards. It may also be worth your while to optimize content via owned channels for SEO purposes.
So how will you implement the PESO Model into your outreach strategy? The first step is to identify which channels you're already hitting a home run with, and which could use a little more love. Is your owned media off the charts, but your shared media is slacking? Maybe your team needs to devote more resources to sharing content via social media.
Next, you can organize your content according to these various channels and create a publishing cadence for your marketing team to follow. Remember, the goal of PESO is to make sure you leave no stone unturned in your marketing efforts. It works to boost visibility for your firm and create more opportunities for prospects to engage with you.