Things take longer to happen than you think they will, and then they happen faster than you thought they could. ― Rudiger Dornbusch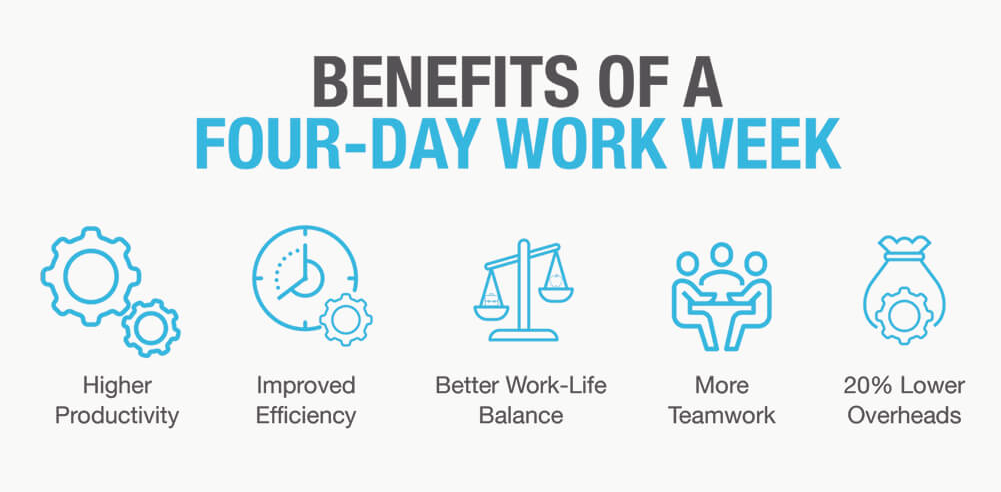 Like any crisis, the COVID-19 pandemic is an opportunity to rethink how we do things. How we live, how we work and how we consume have been recurring motifs for the past fourteen months. Old ideas have gone mainstream. I never thought we'd see a large scale Universal Basic Income pilot in the UK – until Rishi Sunak placed over 10million workers on furlough.
The concept of a better work/life balance has been a common debate for decades – but the pandemic has forced the issue to the fore, with many now openly questioning the wellbeing impact of 40 hour+ work weeks.
Shorter workweeks are not a new idea. The British economist John Maynard Keynes, writing in 1930, predicted that by 2030, technology would have advanced to a point where most people would work 15-hour weeks – all while productivity rose. He's likely to be wrong on both counts.
In 1956, the then Vice President Richard Nixon – another proponent of a universal basic income – said that a four-day workweek would arrive in the U.S. in the "not too distant future."
Many of us have explored the idea. About fifteen years ago I trialled a four day working week for a member of my team. Their 37 hours were divided into four days meaning they were working nine hours a day. We did it for the person obviously but also to test the reaction of the rest of the team. Would they resent someone working a day less than them but getting the same salary.? The experiment stalled after a few months – for childcare reasons rather than it being impractical.
However , I noticed a strange thing over those few months. Productivity increased. Higher quality work, and more of it, was being produced in four days rather than five.
'The old ways of working are outdated'
Henry Ford established Saturday and Sunday days off for his staff in 1926 and he was also keen on a 40-hour working week. It wasn't entirely altruistic as it also gave his workers the opportunity to spend their down time buying (his) consumer products.
The 40/5 model has been the dominant default ever since, to the extent that people rarely question it.
However, times are changing.
A research piece from Henley Business School found:
Two thirds of UK businesses operating on a four-day week reported improvements in staff productivity
A third of business leaders say that making the switch to a four-day working week will be important for success in the future – a move which has already saved implementing businesses an estimated £92 billion annually
Three quarters of British workers back a four-day working week (although – why wouldn't they?) – with 67% of Gen Z saying it would drive them to pick a place to work
Last December Unilever began a year long four day week for it's 82 workers in New Zealand. The move is an "experiment" to see if shortening the workweek by one day can "bring material change in the way [employees] work," Unilever New Zealand managing director Nick Bangs said.
In May, New Zealand Prime Minister Jacinda Ardern said companies should consider implementing four-day workweeks in order to boost employee productivity, provide workers with a better work/life balance, and encourage domestic tourism to make up for a pandemic-induced lack of foreign visitors."I'd really encourage people to think about [four-day workweeks] if you're an employer and in a position to do so," Ardern said in May. New Zealand is known for now putting happiness above GDP challenging us to question how the world views productivity with the the first-ever "well-being budget"
They aren't alone though, in the northern hemisphere Spain has become one of the first countries in the world to trial the four-day working week after the government, prompted by the left wing party Más País, agreed to launch a modest pilot project for companies interested in the idea.
In May 2020, the team at Buffer kicked off a one-month trial of the four-day work week. A year later, they're still at it. They have an interesting set of principles that frame their approach including:
No meetings or expectation of communicating on Slack on Fridays.
Fridays as a default day off for most areas.
Teammates who are not meeting their objectives may choose or be asked to work 5 days.
All of these efforts followed the lead by Microsoft who trialled this in Japan during summer 2019 when their staff enjoying a three-day weekend — whilst getting their normal, five-day paycheck. The notable point about this was they stated they had seen a 40% increase in productivity. It's not entirely clear how this incredible boost was measured – nor whether it would continue if the the experiment was extended – but it's made a lot of companies take note.
The positive here is that people are finally experimenting with ways of work that boost productivity and wellbeing rather than presenteeism – this is to be applauded.
Whether you agree with a four day week or not isn't really the issue. The question is whether it makes continued sense to contract jobs through the lens of a five day week. Indeed, the more our jobs require us to be collaborative and creative, the less is makes sense to pay attention to hours at all.
We've all witnessed Parkinson's law in action. We know that work expands inexorably so as to fill the time available.
A shorter work week might force us all to cut meetings, limit email and interruptions, and operate at a much more deliberate, productive and happier level.
Related: How (Not) To Change Someone's Mind