While Facebook and social media platforms are fun outlets and great ways to connect with others, especially during the COVID-19 pandemic, they are also a great way to network and grow your business. As a financial advisor, you might think that you don't need to have a Facebook page for your business but think again. It is a great way to connect with others, especially as Facebook has 2.74 billion monthly active users and there are more than 1.82 million people active on Facebook on a daily basis.
So, let's say you are a financial advisor looking to target high net worth individuals, well according to one source, 74% of people who use Facebook are high-income earners. However, if you are targeting a younger population, then 24% of Facebook's advertising audience is in the 18-24 range, Looking more for pre-retirees and retirees? Facebook has that as well with 10.4% of the audience in the 45-54 range. So, now that you know more about the demographics of people who use Facebook, let's dive in with nine ways to promise your business on Facebook.
Top 9 Ways to Promote your Business on Facebook
Virtually connecting has never been more important, and here's how.
1. Sign Up For a Business Page and Optimize Your Profile
To get started, you should create a business profile, which is incredibly simple. All you need to do is:
Log onto Facebook
Click on "Pages" which can be found on the left sidebar
Click "Create New Page"
When signing up for your business page, make sure you are doing a few things, such as:
Uploading a profile picture
Uploading a cover photo
Including basic information about your business
Once you have set-up your page, it's important to optimize your profile by adding information in your "About" section that includes more information about your firms, such as your business hours, your website and contact information so that it is easy for visitors and leads to get in touch with you. Just like your website, including a strong call-to-action button with a phrase such as "Schedule a Meeting" or "Book Now" is key to driving more leads.
Another key thing to remember is that you should draft some posts even though your page is new, you want to start engaging with your audience right off the bat. Think about the type of content that they might want to see and how you should create your content to get the highest engagement possible.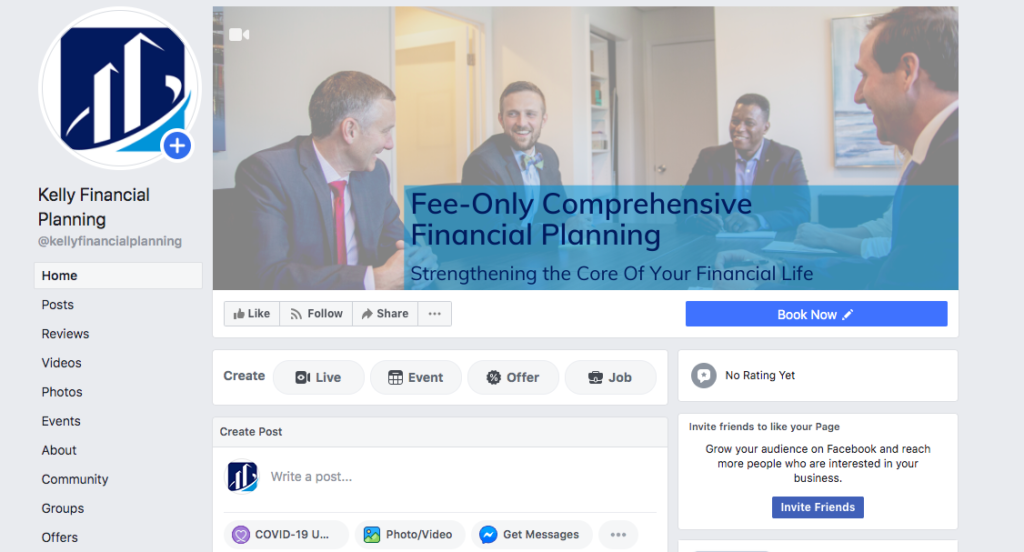 Twenty Over Ten client, Kelly Financial Planning has a strong Facebook page with the logo for their profile picture, a photo of actual employees and not just a stock image for the background with a CTA to "Book Now," making it simple for visitors to book a meeting and move along the sales funnel.
2. Identify and Be Active in Groups That Target Your Niche
As we have already mentioned, there are SO MANY people on Facebook, so it is so important to connect with like-minded individuals who are more likely to connect with you and your content. You can connect with your audience in Facebook Groups without paying for a single thing. Facebook is filled to the brim with people looking to give and receive information.
There are so many people that use Facebook so you may be asking yourself, where do you even begin? Well, start by finding groups that are relevant to your niche, and then simply start to prove that you are trustworthy and knowledgeable by asking questions and answering ones that are relevant to you.
3. Promote Events
Events have been limited throughout the pandemic, however, that doesn't mean that you can't host webinars or online seminars. Once things return to normal, however, community events are a great way to connect with an audience and promote your firm. While you feel like it can be difficult to promote your business, social media can be a huge help with this. Posting your event on Facebook and planning an ad campaign is a great way to attract your audience and drive more people to your event.
Include details, such as:
A registration link
Time of the event
Details about what to expect
Contact information
If there is anything that you think your audience will want to know, then make sure you include it! Including as much relevant information as possible is important to drive more traffic.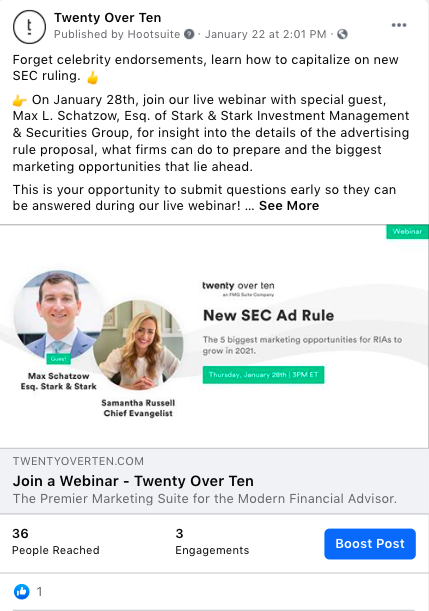 For Twenty Over Ten's webinar last week, Chief Evangelist, Samantha Russell and Max Schatzow, Esq. of Start & Stark Investment Management did a webinar together to discuss the key marketing opportunities for financial advisors now that they can utilize testimonials and reviews thanks to the new SEC Ad rule.
4. Post Valuable Content
While it's great to include educational content that is a mix from your blog, also make sure you are including third-party sources and articles, as this is a great way to connect with others, as you can tag them. In turn, this makes them more likely to share your content in the future. Another way to connect with others is by sharing a glimpse into the company with a "behind the scenes" post so that your audience can get more of a feel for what your company is really like.
As you can see above, Twenty Over Ten client, Meyer Wealth Advisors does a great job of sharing useful articles on their Facebook, such as the kind of business insurance that you need, what makes a great leader, if your firm should offer climate leave and much more.
To help create and schedule content, we have created Content Assist and Lead Pilot. Read below to find out more about how they work.
LEAD PILOT
Lead Pilot is the industry's first-ever AI-powered all-in-one solution for content creation and distribution. By using this tool, advisors are able to launch robust content campaigns from a streamlined, easy-to-use dashboard. Team members can collaborate and share content pieces, upload original content, and customize content from the media library. It not only includes blogs but also video and infographic content. Once it is added, the content can be easily scheduled to be sent out via email or social media with branded landing pages.
CONTENT ASSIST
We offer useful tools, such as Content Assist to all Twenty Over Ten users so that if you are struggling to come up with content ideas for your blog, you can use our pre-made content and edit it to make it your own. With Content Assist, you can choose from different categories, such as retirement, home-buying, young adults, business and much more. Once you have chosen which blog that you want to use, advisors can easily customize and edit the content to add your unique voice, keywords to fit your niche or you can use it as-is.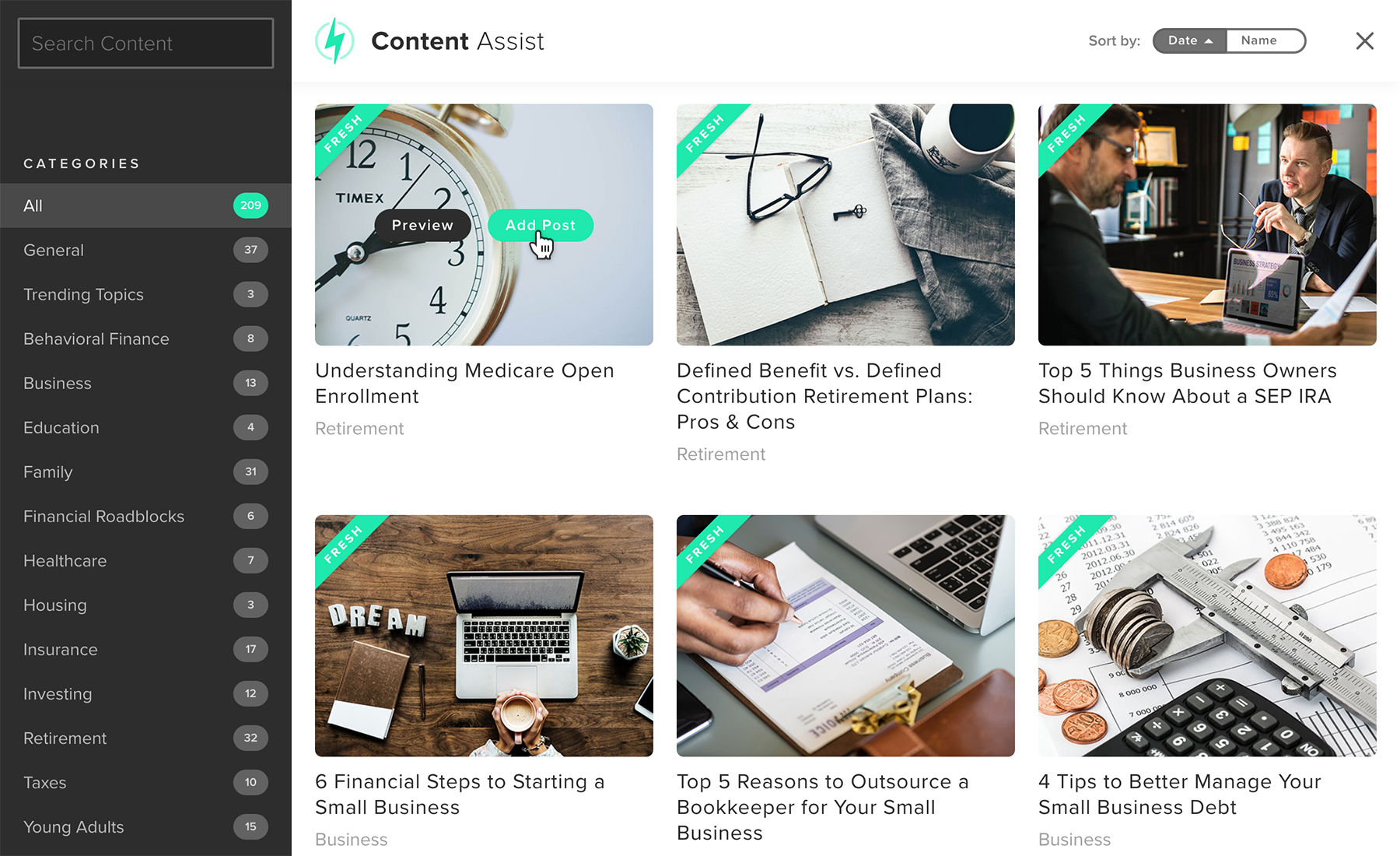 5. Interact With Your Followers
While you need to put your own content out there, it's just as important to interact with others. The rule of thumb that we go by at Twenty Over Ten is the 60/40 ratio rule. Rather than just posting your own content, you should be an active part of the community and get other people to do the same for you. So, you should engage with your audience 60% of the time and post your own content 40% of the time.
Ways To Do This Are:
Like other people's posts
Like others' comments on your posts
Reply to others' comments on your posts
Comment on others' posts
Only a small percentage of it should be self-promotional. everything else should be inspirational, motivational or funny. The majority of what you post should be informative.
6. Try Out Live Streaming
Facebook Live is a wonderful tool to promote your business and provide valuable content to your audience. Things that you can use this for are:
Showcasing your firm's culture
Provide information and show you are an industry leader
Hosting a panel discussion
Host a Q&A session
Promote news blogs, podcasts, videos, etc.
What's even better is that you can host events virtually on Facebook Live as a way to interact with your audience that can't be at an event in person. You can interact and get more people to engage with your page.
It can seem daunting, and a bit nerve-wracking at first, but these tips can help.
Be specific
Create an engaging title
Start with some "small talk" and appear natural so that you can be more relatable
Know your environment
Make sure that you tease it so that people know when to tune in
7. Run Facebook Ads
Facebook advertisements are great for connecting with your audience, especially since algorithms are constantly changing. Ads can give you the boost that you need and so set them up with the simple steps below.
Choose your objective. Log into Facebook Ads Manager and select the Campaigns tab, then click Create to get started with a new Facebook ad campaign.
Name your campaign.
Set up your ad account.
Target your audience.
Choose your Facebook ad placements.
Set your budget and schedule.
Create your ad.
The different types of ads are:
Image Ads, where you use images of your product or brand.
Video Ads. You add movement to your ads can make them more eye-catching in the feed
Carousel Ads that showcase up to 10 images or videos in a single ad with its own link
Instant Experience Ads
Collection Ads.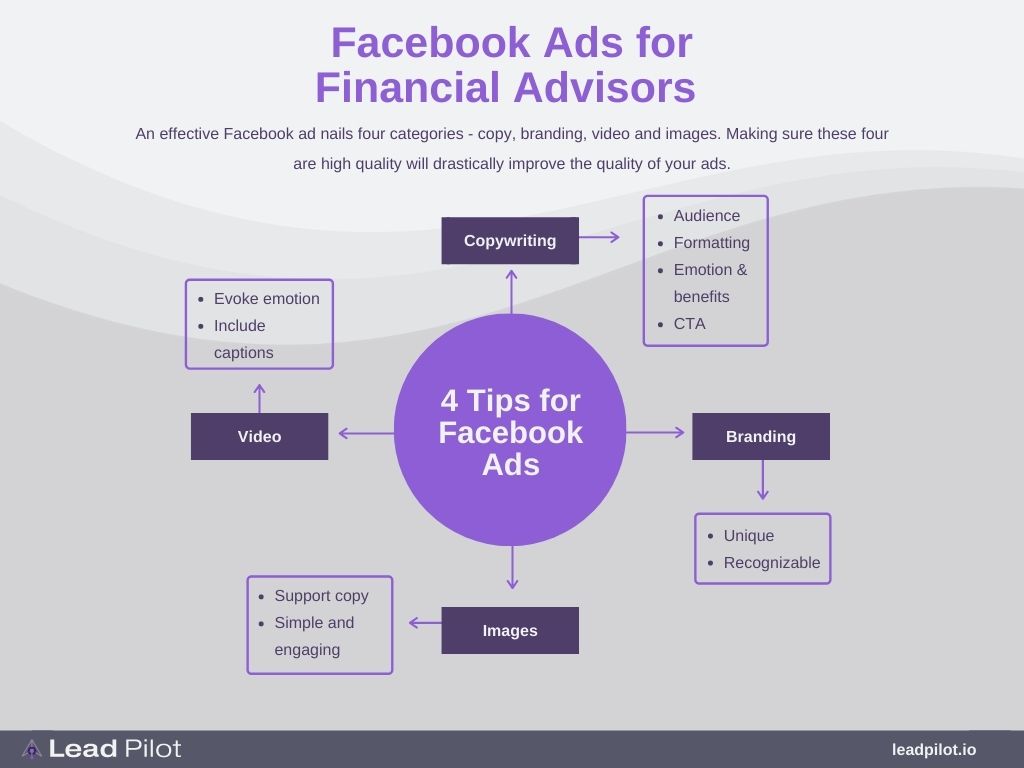 8. Invite Friends
The more people that interact with your posts, the more people Facebook shows your posts to based on the algorithms. So, when you invite friends to like your page, the chances are high that they will probably follow it, and it all goes back to algorithms and boosting it.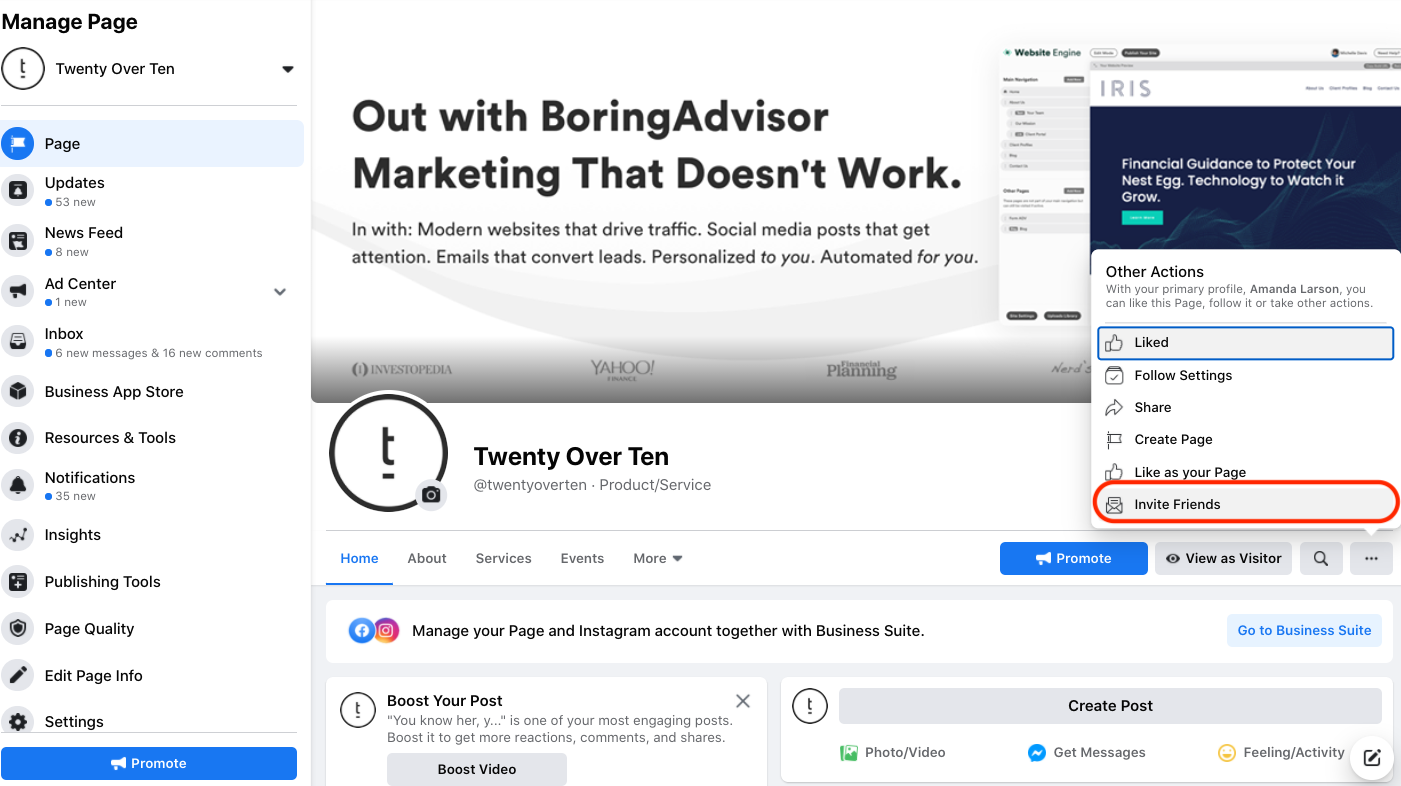 9. Setup Automated Responses
If you set up automated responses through Facebook Messenger, then this is a great way to keep your audience engaged while saving time and answering their comment and questions quickly. By doing this, you can say hello to someone or answer common questions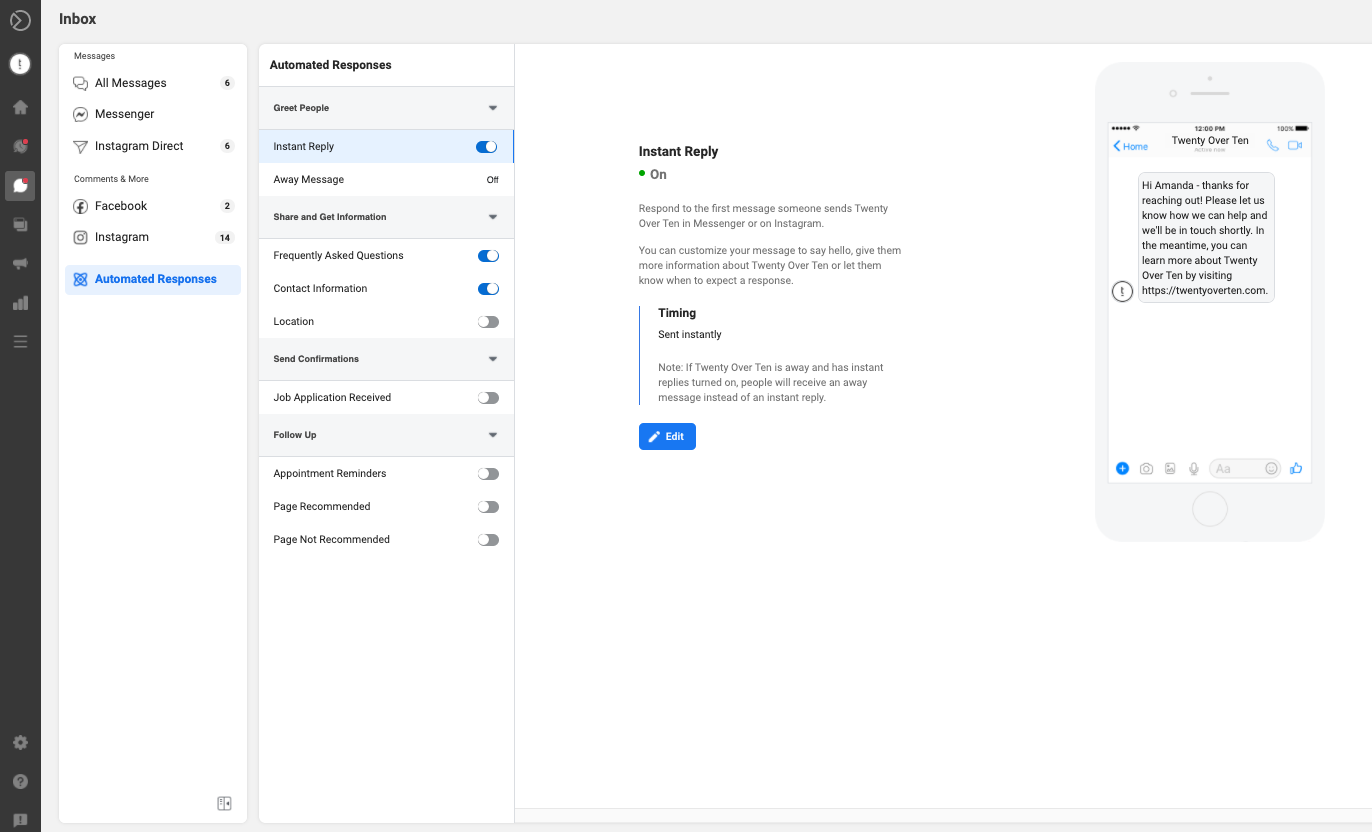 Key Takeaways
As you can see, Facebook Business is a great way to connect with your audience and grow your firm. While it does take some time to create strong content, schedule posts and interact with followers, the payoff is definitely worth it in the end. It's so important to connect virtually, as we all need it more than ever, and that includes growing your business. So, let these 9 tips boost your social media digital footprint as we connect online in 2021.
Related: Do Financial Advisors Really Get New Clients From Social Media?