Written by: David Lebowitz
With the U.S. housing market struggling under the weight of higher mortgage rates, higher home prices, and limited supply, more and more questions have been coming in around the outlook for commercial properties. While we see the commercial real estate space as being subject to many of the same headwinds as the residential market, there are also a handful of opportunities that long-term investors can take advantage of.
To start, the industrial sector is the most expensive area of the commercial real estate market today; vacancy rates sit at historic lows following a flurry of activity over the past few years. A fair amount of this activity occurred in warehouses, as investors extrapolated trends in e-commerce and demonstrated a willingness to pay higher and higher prices for last-mile distribution centers. This has left these assets looking expensive today, but there are still opportunities in the industrial sector – other logistics assets such as truck terminals are essential to the movement of goods but trading at more attractive valuations.
Meanwhile, the multi-family sector has seen vacancy rates rise and then fall over the past few years, as demand for apartments hit rock bottom when the pandemic began and then rebounded significantly as the economy came back online. This initially manifest itself in a sharp rise in rents, but both rent growth and transaction volumes cooled into the end of 2022. Going forward, the health of multi-family housing will depend on the evolution of the labor market; a deceleration in wage growth coupled with a low and stable unemployment rate will support the sector, but any deterioration in employment runs the risk of undermining both rents and capital values.
Finally, there are the unloved parts of the commercial real estate market: retail and office. While the continued adoption of e-commerce will act as a headwind for certain types of retailers – particularly those selling apparel and other basic consumer goods – there is an opportunity in retail services that will support further healing in the sector as the pandemic continues to fade. On office, we continue to believe that despite a national office occupancy rate close to 50%, returning to the office is more a question of when rather than if. That said, many of today's office buildings are not equipped with the tools and resources that workers will need going forward, leading newer vintages to be absorbed at a much higher rate. Looking forward, a core-plus or opportunistic approach to the office space seems preferable, as that will allow for an upgrade of older properties to ensure they are able to meet the needs of today's worker.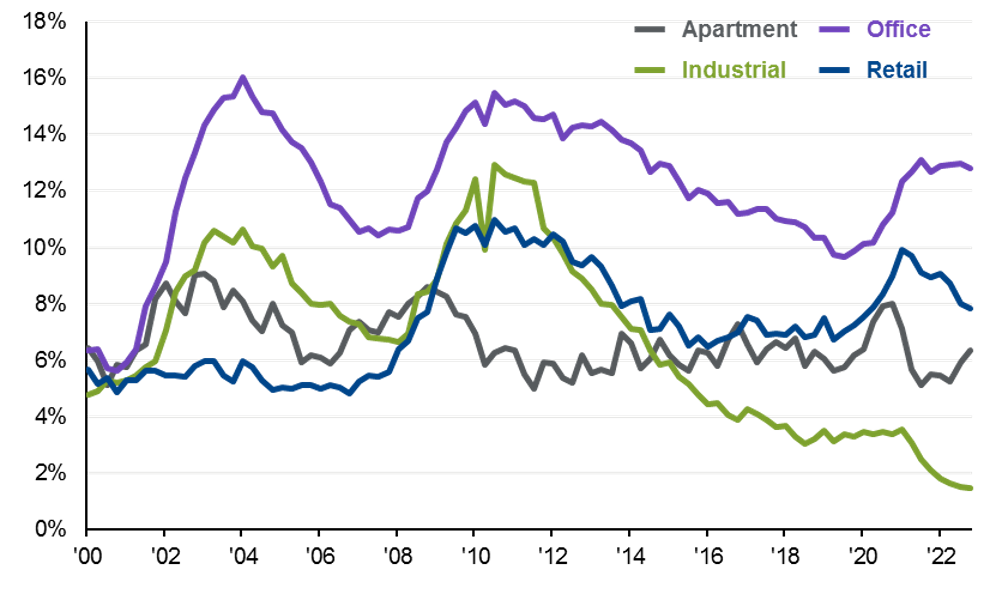 Source: NCREIF, NAREIT, Statista, J.P. Morgan Asset Management. Vacancy rate data is as of December 31, 2022.