I've been on the road more than ever this year, and I'm not finished yet.
I'm coming to New York soon for our first-ever artificial intelligence (AI) investing event. We're filming from the studio at Columbia University.
The S&P 500 is coming off its best week since the summer.
Stocks jumped back above their all-important 200-day moving average, AND we're entering what's usually the best time of year for markets.
I think the correction is over and stocks are going up.
But NOT all stocks…
1. Apple just had another stinker earnings release.
Revenue declined for the fourth straight quarter. And its business hasn't grown since 2021. Oof.
Apple (AAPL) is past its peak. Don't be fooled into thinking it's the fast-growing tech disruptor it once was. This stock should trade a lot lower, and it will soon get knocked off its perch. Invest accordingly.
Overall, this earnings season has been solid. Two-thirds of S&P 500 companies have reported so far. 80% of them beat estimates. No wonder the S&P was up 5% last week.
The market can be a crazy place. But investing is a lot easier when you remember this: Consistent profits come from investing in great disruptive businesses.
Morgan Stanley points out 90% of a stock's performance is driven by profit and sales growth over any 10-year period: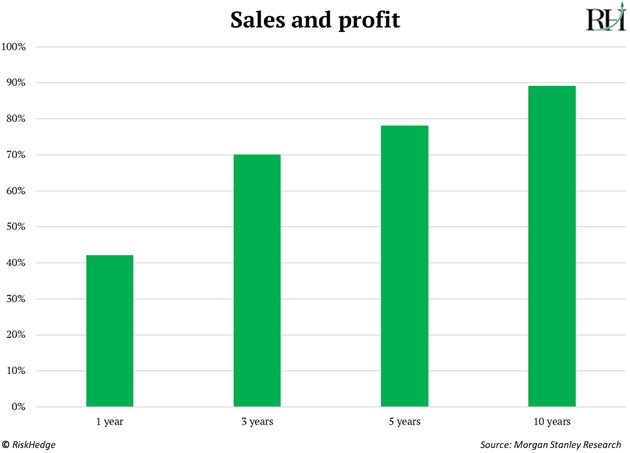 Apple is just not growing much anymore. It, along with the other FAANG stocks, is over the hill.
Luckily (for us, not for them), new fast-growing disruptors are rapidly emerging to take their place.
2. The juggernaut megatrend of our time.
Once every decade or so, an unstoppable megatrend is born. It hands out big profits to investors who identify it early and ride it for years.
Last decade, it was software, which destroyed pretty much every other group of stocks.
Before that, internet disruptors like Amazon (AMZN) and Google (GOOG) minted fortunes.
The cold, hard facts show AI is the next unstoppable megatrend.
If you're a longtime RiskHedge reader, you know we've been investing in AI for 5+ years.
My biggest frustration was the lack of great businesses in this space. Even a year ago, Nvidia (NVDA) was the only company making real money from AI.
But now everything has changed.
Take Palantir (PLTR), which makes AI military tools. It just surged 22% after achieving its best earnings results ever.
And Palantir is one of many. All the top AI names we track are growing by double digits—and that growth is accelerating.
Notice this is the total opposite of Apple, Google, and Netflix (NFLX), which are slowing.
The AI boom hasn't even begun yet. This is a multi-year megatrend.
AI is UNDERHYPED and UNDEROWNED right now. And the pace of innovation is off the charts.
It feels like AI is running at 10X the speed of a normal tech cycle.
3. Stock-picking can make or break your portfolio.
When I first recommended AI chip kingpin Nvidia five years ago, it was only 3/4 the size of Intel (INTC).
Today, Nvidia is almost 7X more valuable than Intel!
Intel and Nvidia are in the same business—making computer chips. But look at the wild performance gap between the two since 2018:
Anyone can invest in a fast-growing trend like chips. But you must pick the best businesses within a trend to make real money.
This huge difference in performance among stocks in the same sector is called "dispersion."
We're seeing it everywhere these days. Look at solar.
Big dogs SolarEdge (SEDG) and Enphase (ENPH) just got SLAMMED on weak earnings.
They're down 63% and 71%, respectively, this year.
Meanwhile, the one solar stock we own in Disruption Investor is up 20%.
You know why? Because it's a great business.
4. From the mailbag…
Dave asks: "Hey Stephen! Sounds like a great time in Amsterdam! Are you able to send out an email with your top 3–5 AI stocks to hold for the long term?"
Hey, Dave—Amsterdam was great. Although I nearly got creamed by a bicycle on the last day, silly tourist!
Your question is timely. Naming my top five AI stocks is exactly what I'll be doing at our AI investing summit. Sign up here.
Mike says: "Stephen, I appreciate your insights very much! What is the next AI? You started investing in AI five years ago. Besides AI… what is the other technology we should be investing in that will gain more notoriety five years from now?"
The next AI is… AI!
Not trying to be cute. But the boom in AI investing opportunities is truly just beginning.
One AI offshoot I'm excited about is robotics, which is simply "physical AI." An AI encased in a robot that can perform useful actions in the physical world.
The growth here will be incredible.
John asks: "Would you please tell me your pick of the leading chatbot for medical research scientific writing?"
Try GPT-4 (the paid version of ChatGPT). It passed the United States Medical Licensing Examination with an accuracy rate of 100%!
Related: On Biden's AI Executive Order