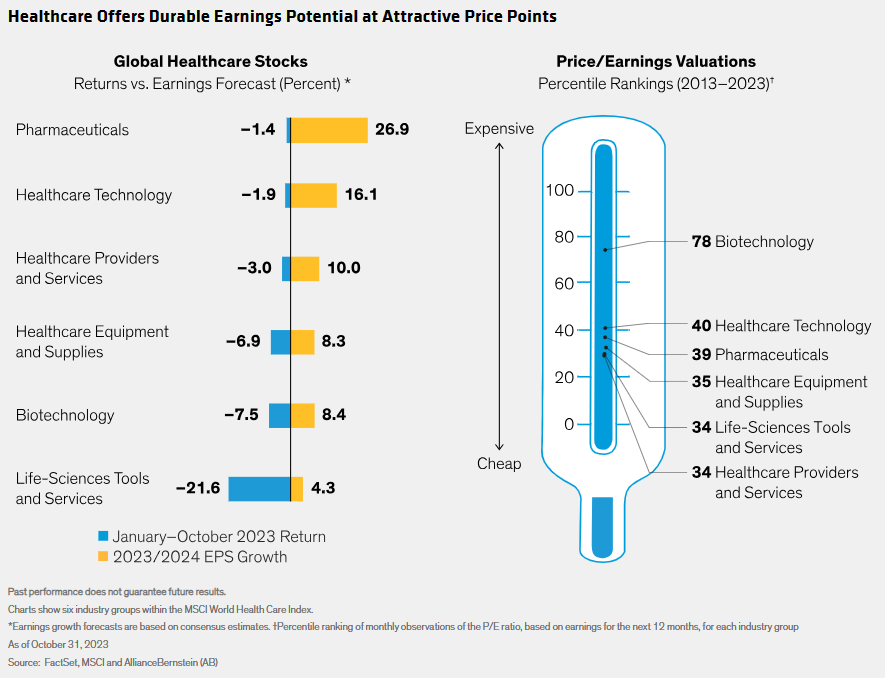 Healthcare stocks have underperformed the global market this year. But taking a closer look under the sector's hood reveals a more complex picture. In key industries, earnings growth forecasts are healthy and valuations look attractive.

Investors in healthcare stocks have been disappointed in 2023. With mega-cap technology stocks driving global equity markets amid excitement over artificial intelligence (AI), other sectors have been left behind. The MSCI World Index advanced by 7.9% through October 31 in US-dollar terms, while the MSCI World Health Care Index fell by 6.0%.
Industry Growth Forecasts Defy Weak Returns
Within the sector, we've seen a wide range of returns (Display). For example, pharmaceuticals and healthcare technology companies have declined modestly, while shares of life-sciences tools and services firms tumbled by 21.6%. Yet at the same time, every industry group within the global healthcare sector has seen positive consensus earnings growth forecasts for 2024 versus 2023.

By the end of October, the MSCI World Health Care traded at a price/forward earnings ratio (2024) of 16.2x, a 5.2% premium to the MSCI World. However, the sector has historically traded at a larger premium to the broader market. And as a result of falling share prices and positive earnings growth, we believe valuations of healthcare stocks look attractive in historical perspective. Based on price/earnings valuations over the last 10 years, most healthcare industries are valued below the 40th percentile of all monthly observations.
Quality Businesses for Uncertain Times
Active investors can find attractively valued companies that benefit from durable business growth trends across the sector. These include diagnostics and life-sciences companies that help improve early detection of diseases, and technology companies, which may benefit from introducing AI-driven solutions to healthcare. Innovative equipment companies are also developing new ways to improve outcomes—for example, through robotic surgery and other types of minimally invasive procedures. Biotechnology stocks are relatively expensive, so investors must be especially careful to ensure that the business and growth profile of a company in this group justifies the price tag.

Many growth trends in the healthcare sector are driven by the need for efficiency and cost savings in healthcare systems around the world. As a result, we think these trends will persist over time and are unlikely to be derailed by macroeconomic weakness. The key to success for equity investors, in our view, is to invest in business, not science. That means investors should search for healthcare companies with high-quality businesses and avoid predicting the outcomes of scientific research and development, which is notoriously hard to do. Healthcare companies like these are well-equipped to overcome short-term market weakness and provide equity investors with innovative sources of consistent growth for challenging conditions ahead.