The most important chart in housing… The ultimate predictor of home prices… Are we in for another 2008?
1. You probably remember the 2008 housing crisis all too well…
More than eight million Americans lost their homes.
Another 10 million lost their jobs.
And the average home lost over a quarter of its value.
Now, many folks think we're rushing toward another 2008-style housing crash.
According to a recent survey by Cinch Home Services, 53% of prospective homebuyers believe the real estate market will crash this year.
I understand where their fear is coming from…
Zillow (ZG), the US's largest real estate marketplace, shows average US home prices have been falling for five straight months.
In New York and Los Angeles, average home prices have fallen 10%. It's even worse in San Francisco, where they're down 13%.
Those might not sound like huge losses… but you must understand that in America, houses aren't just houses.
The typical American has over 70% of their net worth in their house. The average middle-class family's house IS their nest egg. When its value starts depreciating, it can feel like a comfortable retirement is slipping away.
So, is this the start of the next great housing crash... or nothing to lose sleep over?
Let's look at two key indicators…
2. The most important chart in housing is at its lowest level in decades…
Back in 2008, construction firms were building homes at full steam. They were eager to profit from soaring property prices.
From 2005 to 2008, the number of homes available for sale ballooned from two million to four million.
The problem was homebuilders were creating a massive supply glut.
Once the housing bubble popped, buyers disappeared. Millions of homes were left on the market... and prices crashed.
The '08 housing bust was so bad, it turned off many ordinary Americans from investing in housing altogether. And it shattered the confidence of homebuilders, too…
Scarred by the housing bust, homebuilders have been sitting on their hands for most of the past decade.
But by building less, they've created a different kind of problem—a housing shortage.
Today, available homes for sale are at the lowest level in decades…
United States Total Housing Inventor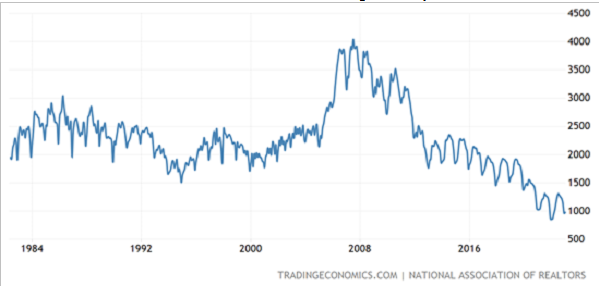 Source: Trading Economics
Total US housing inventory plunged from four million in 2008 to under one million today.
To put that into perspective, there were four million homes sold in America last month alone!
This makes today's situation the polar opposite of 2008. Back then, the market was oversupplied. Today, housing inventory is alarmingly low.
As long as this shortage persists, home prices won't crash like they did in 2008.
Even with mortgage rates jumping to their highest levels in over a decade, there are still more Americans looking to buy a home as there are homes available.
3. My "crystal ball" indicator is making a surprising prediction…
Ever hear the phrase "stocks are forward-looking"?
Stock prices don't just reflect current reality. They reflect what investors anticipate will happen in the future. It's why the stock market usually peaks before a recession begins, and bottoms before it ends.
Likewise, individual stocks can predict what will happen to specific industries.
D.R. Horton (DHI) is America's largest homebuilder. It's my "crystal ball" for home prices.
No business is more exposed to the housing market than D.R. Horton. When the housing bubble burst in 2008, its sales plunged 85%.
But the stock peaked a full year before home prices started falling. Investors "sniffed out" trouble long before it arrived. And DHI also anticipated the bottom, rallying a few months ahead of the housing recovery.
DHI was correct last year, too…
As I showed you earlier, US housing prices peaked in August.
If you followed D.R. Horton stock, you'd have known what was coming. As you can see, DHI peaked in December 2021…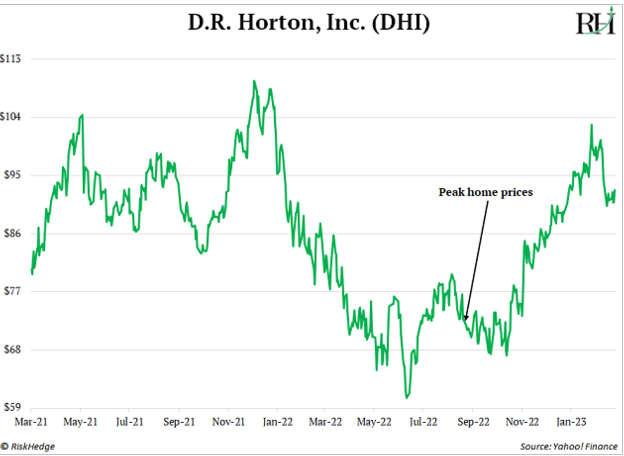 You'll notice something else as well…
DHI bottomed in the summer months. And now it's climbing higher.
If it's right—and it usually is—housing could be set for a rebound.
To get more ideas like this sent straight to your inbox every Monday, Wednesday, and Friday, make sure to sign up for The RiskHedge Report, a free investment letter focused on profiting from disruption.
Expect smart insights and analysis on the latest breakthrough technologies, the big stories the mainstream media isn't reporting on, and much more... including actionable recommendations. Click here to sign up.