Warren Buffett's latest move might surprise you… US stocks are passing the torch... Plus, a dead-simple way to invest in this big shift…
1. When Warren Buffett makes an unusual move… pay attention.
Buffett is likely the best investor of all time.
His firm Berkshire Hathaway (BRK.A) delivered an average annual return of 20% from 1965 to 2022, which turned a $1,000 investment into $38 million.
Buffett is known for buying large stakes in iconic American companies. He's invested billions of dollars into brands like Apple (AAPL), Coca-Cola (KO), and American Express (AXP).
In a 2021 shareholder letter, he wrote: "Never bet against America."
Which makes his latest move all the more surprising...
Warren Buffett is buying Japanese stocks. Specifically, he just increased his stakes in five Japanese conglomerates—including Mitsubishi and Sumitomo—that are plugged into important areas of the Japanese economy.
Buffett has repeatedly praised how "cheap" Japanese stocks are.
2. This is your second chance to act on my "top idea for 2023."
I dedicated a whole essay to convincing you to buy non-US stocks.
If you didn't listen, I can't blame you. For the past 15 years, it's been a complete waste of time for American investors to look outside of the US. All the greatest stocks were American.
But a changing of the guard is underway that's obvious to anyone who's paying attention.
This chart maps the performance of the S&P 500 ETF (SPY) versus stocks from emerging markets (VWO) and those from Europe and Japan (VEA) since 2010: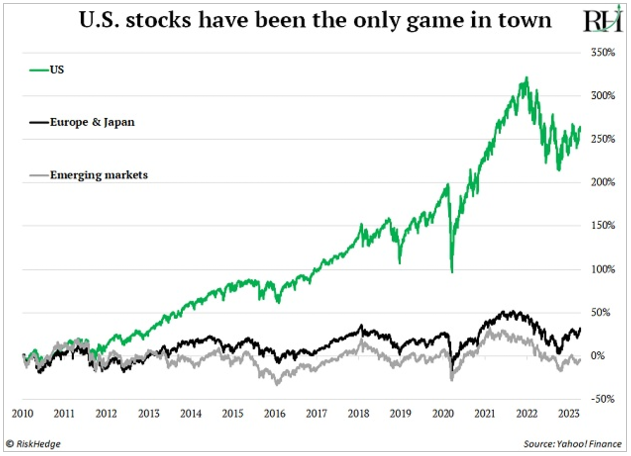 US stocks went up; foreign stocks went nowhere. For 13 years!
That's a long, long time. Long enough for most investors to practically forget that foreign stocks even exist.
3. Which is why this next chart is so important.
Stock market leadership is a pendulum that swings back and forth.
This chart from JPMorgan shows that US stocks (grey) outperformed international stocks for most of the last 15 years.
But as you can see… that's not a permanent state of affairs. Foreign stocks outperformed in the purple periods.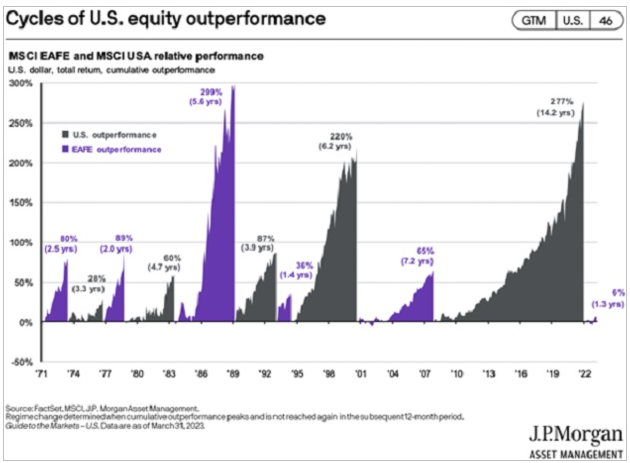 Source: JPMorgan
We haven't experienced international outperformance in a LONG time.
But notice the tiny purple bump at the far right?
After more than a decade of US outperformance, international stocks are taking the lead once again.
You can see it all over the new highs lists…
Euro Stoxx 50, an EU version of the S&P 500, recently reached a 52-week high.
Mexican stocks, as measured by the iShares MSCI Mexico ETF (EWW), reached new eight-year highs last week. EWW surged 18% since 2022, while the S&P fell 13%.
The FTSE 100 Index, which represents top UK stocks, is less than 2% away from reaching new all-time highs.
Add it all up, and the returns of foreign stocks over the past few months are double that of the S&P 500:
Don't underestimate the change in this trend.
The last time leadership shifted, international stocks outperformed for seven long years.
And for every $1 US stocks returned, foreign stocks handed back $1.65.
And to head off any questions I'll get…
I've lived on four continents, and I can confirm America is the most innovative, resilient place on Earth. I'm 100% certain it will continue producing the most disruptive companies in the world.
But facts are facts. International stocks are setting up to make a multi-year run higher. If you're a serious investor, you simply must allocate at least a small part of your portfolio to international stocks right now.
To get more ideas like this sent straight to your inbox every Monday, Wednesday, and Friday, make sure to sign up for The RiskHedge Report, a free investment letter focused on profiting from disruption.
Expect smart insights and analysis on the latest breakthrough technologies, the big stories the mainstream media isn't reporting on, and much more... including actionable recommendations. Click here to sign up.
Related: Are You Invested in 4D Printing?