Written by: Jordan Jackson
At its first meeting in 2023, the Federal Open Market Committee (FOMC) voted unanimously to raise the Federal funds rate target range by 0.25% to 4.50%-4.75%. The statement language and press conference were somewhat dovish. In the statement, the committee softened its tone on inflation, stating that inflation pressures have eased but remain elevated, and removed the Russia/Ukraine war and COVID-19 pandemic as contributing to higher prices. Elsewhere, the committee still sees "ongoing increases in the target range will be appropriate", however, exchanged 'pace' with 'extent' in determining future hikes suggesting the Federal Reserve (Fed) may be close to being done.
At the press conference, key points from Powell were:
PCE core services ex. housing inflation remains an area of concern for committee members, however, this series has been on a downward trend after peaking in November 2021.
While core goods prices are deflating, some normalization in goods prices could add to inflationary pressures later this year.
A period of below trend growth is likely needed to restore price stability, however, a surge in the unemployment rate may not materialize given the lack of available workers.
From the Fed's perspective, market anticipation for rate cuts is due to expectations of rapidly declining inflation this year, a thesis the committee doesn't seem to agree with.
While ongoing increases might suggest two more rate increases, we now expect the Fed to hike rates by 25 basis points at its March meeting and then pause. By March, the Fed will have two more months of convincing data that inflation is trending lower, job creation is slowing, and wage growth is decelerating. Bond yields fell and equities bounced following the announcement suggesting the markets anticipate a pause is near.
That said, the committee still sees a greater risk in not doing enough to return inflation back to 2% and while the disinflation process has begun, particularly in core goods and energy, it still feels there is more work to do. This keeps the probability of recession sometime this year elevated.
PCE Core Services ex-Housing has been trending downward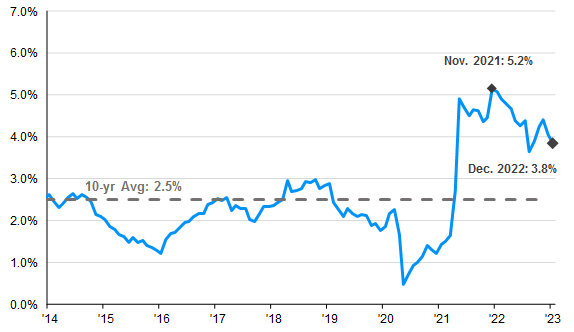 Source: BEA, J.P. Morgan Asset Management. Core Services ex-Housing is a custom PCE price index created by JPMAM based on Chairmen Powell's commentary. Data are as of February 1, 2023.