Albert Einstein once famously said "Strive not to be a success, but rather to be of value". This sentiment is true in life, but also true in a financial advisor/client relationship. The financial advisor needs to provide value to their clients, and that value is determined by the client. Regardless of how many services or traits an advisor has that they feel is valuable, it is only beneficial if the client or prospect sees the value.
Investment management is a component of the advisor/client relationship that many financial professionals use to differentiate themselves, however to most clients this service is expected with any relationship with a financial advisor. It is the non-investment management services where an advisor could provide real value. Knowing what those most valued services are, and ensuring they are included in what is provided to clients, is a good first step in ensuring client satisfaction and growing their business.
Spectrem Group recently conducted research among wealthy investors and investigated what services wealthy investors find to be valuable from their financial advisor. Several traits were presented, with investors having the option to determine if the service was valuable, beneficial, or not needed from their advisor. The services that were valued by over half of investors were the advisor providing unbiased advice, the advisor having knowledge that the client is lacking, and the advisor keeping the client from making bad investment decisions. Establishing financial goals and providing guidance during turbulent markets are also valued by 47 percent and 46 percent, respectively.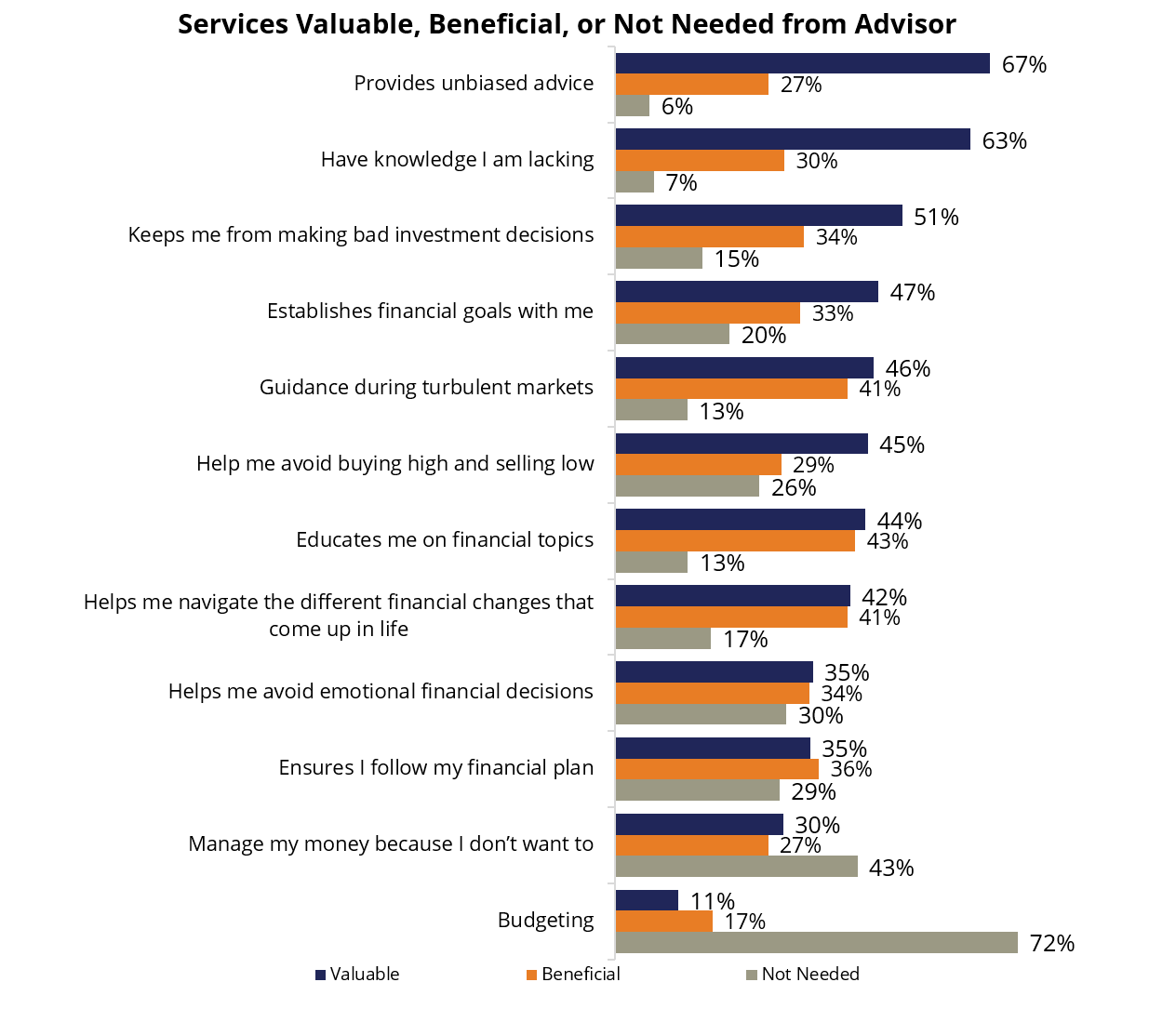 Equally important to the discussion on value are the services that clients feel are not needed from their advisor. The only service identified as not needed by more than half of wealthy investors is budgeting. Millennials are an exception to this however, as 45 percent of Millennials feel it is valuable to have an advisor who provides budgeting services. Forty-three percent of investors also felt that it was not needed for the advisor to manage the money because they didn't want to. All the other services had fewer than a third of investors who felt the service was not needed from their advisor.
There are many differences in what is valued by different wealth levels, retirement status, and occupation, however the overall priority remains fairly consistent. However, Millennials are one of the exceptions to that. The services identified by the largest percentage of Millennials as valuable is the advisor helping the client navigate the different financial changes that come up in life, and the advisor providing guidance during turbulent markets.
When financial providers are reviewing their service offerings, it is important to include these services in their communications to clients and prospects, as these non-investment management services can be of great importance to investors. Clearly communicating the ability to provide extensive knowledge and unbiased advice differentiates from firms that focus on investment management.