Make Them the Star of Their Next Chapter!
Whether Elton John's Farewell Yellow Brick Road tour stops in your city, you can still engage your clients about planning for their next chapter in life, enjoying their families, and knocking off "must-do" items on their bucket lists.
The Rocket Man and thousands of his fans will soon move on from working fulltime to living life to the fullest. With more people turning 65 than at any point in history, it's critical that they have a financial plan to support the lifestyle they want for the next 30 years or more.
That's why the Alliance for Lifetime Income has partnered with Elton John and his tour to educate consumers and help them avoid running out of money in later life. Here are some tips for how you can engage clients to plan for their own "Yellow Brick Road" adventure.
1. Tie into the Bucket List theme
At the concerts and online, the Alliance will highlight its "Bucket List" campaign, which is an educational effort that connects a pop culture term, recognized by people everywhere, with the need for protected income in retirement.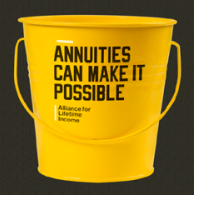 You can use the bucket list theme in your practice to open the conversation with clients and prospects about hopes and dreams.
Not everyone lives the life of a rock star, but one thing retirees may have in common with Elton John is a love of family and the plans that appear on their bucket list.
What's on Elton's Bucket List?
While the five-time Grammy award winner already has a lot of big moments checked off his list, there are many things he still wants to accomplish:
Play more piano with his sons
Take Zachary fishing
Do more work with his AIDS foundation
Take his sons to Watford F.C. football games
Does your client have a Bucket List?
They may not have a formal "must-do" list, but your clients are probably taking stock of life so far. They may be feeling proud of what they've accomplished during their lives, including saving for retirement, raising children, and contributing to their business and community.
You can help people articulate what's most important going forward, which will lead to revealing discussions around financial security.
What's most important to Americans? According to YouGov, our bucket lists are topped by getting healthier, traveling somewhere exotic and achieving financial goals.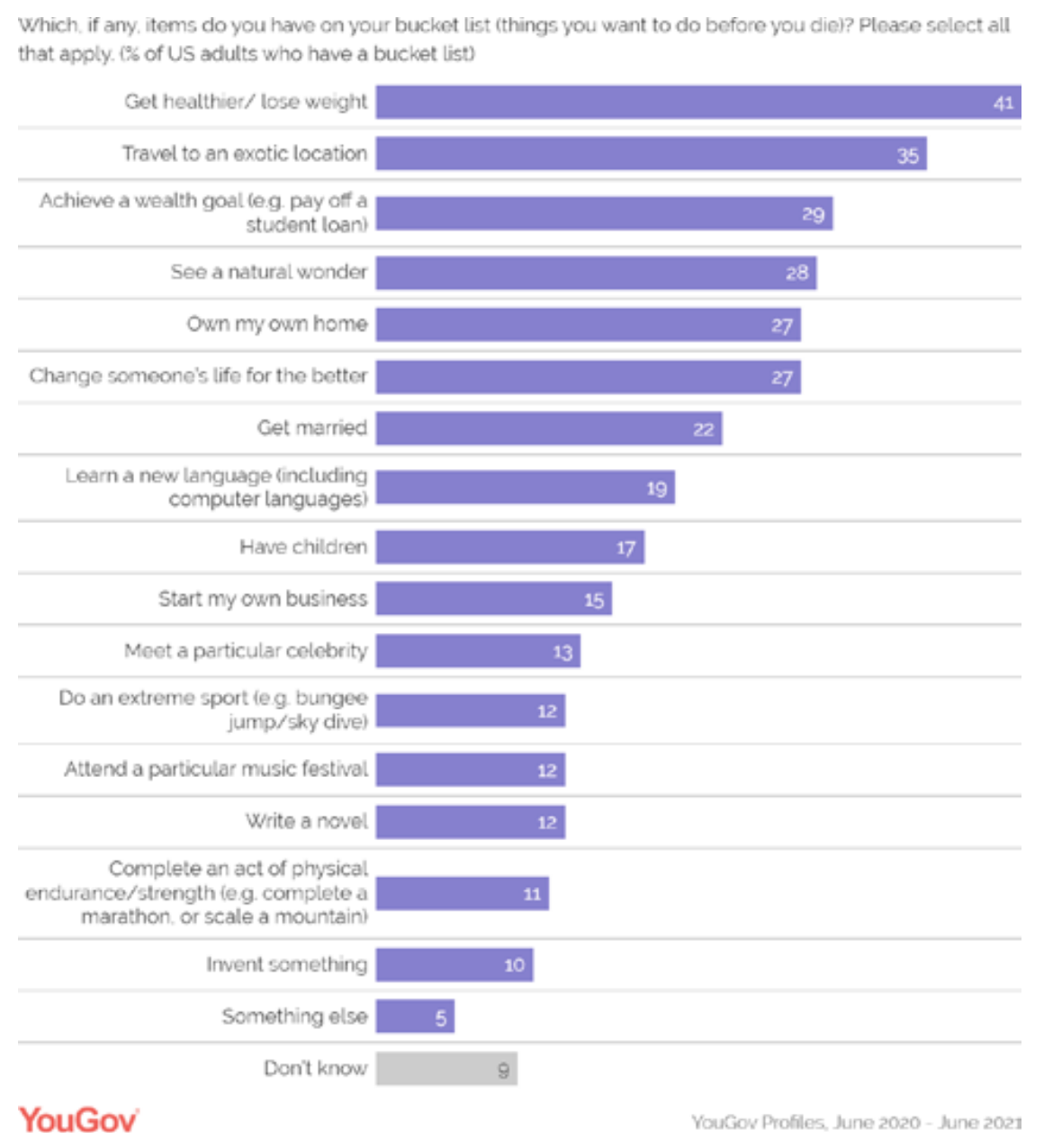 Not surprisingly, bucket list goals are different for everyone, whether it's a plan to fund a grandchild's education, attending the World Series or hiking Mt. Kilimanjaro.
When discussing bucket list ideas with your clients, remember that wealth goals can rank high and that once retirees have their essential expenses covered, they'll need a plan to fund their wishes.
2. Identify what's most important
No one can deny that Elton John has lived his life on his own terms. He's overcome very personal and public struggles that leave no doubt he's willing to examine his emotions and those of others. Don't be afraid to connect with clients on an emotional level; a bucket list discussion with your client can be a meaningful way to identify their values and feelings about retirement. Quite often, clients' unspoken values and emotions get in the way of good communication and decision making.
Recent Alliance for Lifetime Income research revealed that 71% of consumer respondents followed the same emotional path to financial security: I want to feel safe and secure. I want to feel optimistic and proud of what I've achieved so far. I've made smart and responsible choices/decisions. It's important to probe and listen for client responses to bucket list questions to show them you know where they're coming from. Above all, remember that this is a critical step before discussing the features and benefits of your firm or recommended products.
3. Create Your Own Bucket List Client Campaign
Use the Elton John tour as the perfect opportunity to have some fun with clients and prospects while discussing how they will fund their next act. The Alliance has plenty of helpful resources to help you assemble your own bucket list campaign.
Once again, Elton John is setting the stage. He's showing us that retirement isn't just the next chapter in life—it's the one we get to compose and perform more than any chapter that preceded it.
"Our goal with this Elton John tour is to ensure that retirees approaching or navigating their Yellow Brick Road--and we all have one--get the tools they need to protect their hopes and dreams while locking down essential expenses," says Michael Harris, CFP, CLU, ChFC and Senior Educational Advisor at the Alliance. "That's where an annuity can make a lot of sense, so that people have the freedom to enjoy their bucket list dreams."
Here's how to get started:
Elton John is Bucket-List ready. Are you?—Share this ALI branded article or customize it with your own brand and share it with the people you meet. It's a light-hearted feature with tips for creating their bucket lists while planting the seed that those plans require funding.
Income Hierarchy Brochure—Invite people in for a meeting and walk them through this helpful income hierarchy worksheet and guide. Use these materials to educate your clients and explain how protected lifetime income can fit into their overall retirement planning picture.
Other ALI resources you'll want to review:
Check Off the Basics—a guide to planning for essential expenses in retirement so that there can be a plan to account for bucket list items.
3 Keys to Income Planning and Answering, "What's Next?"—Get clients and prospects thinking about income planning and set up a meeting. This presentation provides another way to educate them about protected lifetime income.
Review ALI's new Personas Resources—Discover the segmentation approach that goes beyond just assets and reveals new opportunities to connect:
You can find these resources at the Alliance's Financial Professional Resource Center.
Related: Using Annuities To Offer Protection When Markets Go Down