Imagine you're a 29-year-old lawyer with a happy young family.
Then your son gets diagnosed with leukemia.
Every day, you must drive your weakening boy to the hospital while taking care of your other children and working full time.
A year later, your son dies. Then your wife divorces you, taking everything in the separation—including your home.
"Devastating" doesn't begin to describe it.
This actually happened to a guy named Charlie Munger.
Recognize the name? He's Warren Buffett's longtime investing partner and a billionaire investor.
At 99 years young, Munger is still second-in-command at the world's seventh-largest company (Berkshire Hathaway).
Charlie went on to build a large, happy, healthy family. Here he is (center in the white shirt) with his wife Nancy, their nine children, and many grandchildren.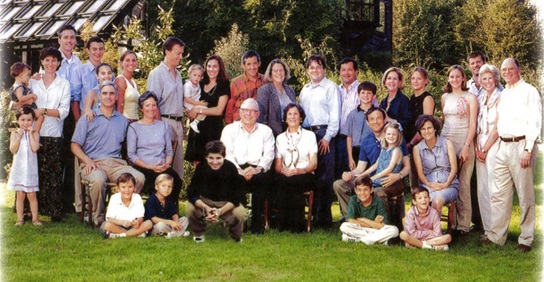 Source: X @safalniveshak
Stories like Charlie's inspire me. It shows why you must live life as an optimist. Charlie overcame unspeakable tragedy by finding his passion and working his butt off to become one of the richest men in America.
If Charlie can achieve his dreams, what's stopping us? Now, let's get after it…
Stocks are selling off—here's what to do.
Last week, US stocks suffered the biggest drop in six months.
Let's talk about why stocks are falling and what to do next.
This sell-off is perfectly normal, as we're slap-bang in the middle of the third year of a presidential cycle.
Remember, you should expect stocks to be falling right now.
Because that's what they've done around this time of year, on average, in pre-election years going back seven decades, as this chart from my friend J.C. Parets shows: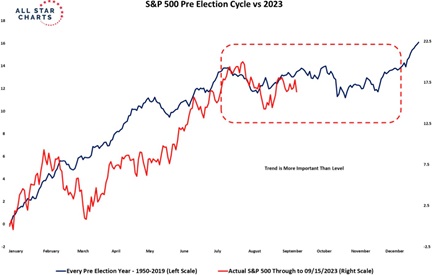 Source: All Star Charts
The S&P 500 ripped higher earlier in the year, as it was supposed to. Now markets are falling, just as the pre-election script predicted. Simple as that.
If markets go off script, I'll be the first to tell you about it. But unless that happens, this sell-off is just short-term noise… even though there are seemingly good reasons for it. Like inflation ticking back up and interest rates spiking (there are always reasons).
We invest in great companies profiting from disruptive megatrends. To them, this sell-off means nothing. If their stocks drop over the next few weeks, we'll buy more.
You can bet that's what Charlie Munger (and his partner Warren Buffett) are doing—buying their favorite stocks when others are running scared.
As always, I'll be here to guide you through whatever markets throw at us.
What the richest acquisition of 2023 means for us.
Networking equipment giant Cisco Systems (CSCO) just signed a $28 billion check to acquire cybersecurity firm Splunk (SPLK).
It's Cisco's biggest deal ever AND the largest acquisition of the year.
Splunk helps companies sift through large troves of data and find security threats.
This deal once again confirms that cybersecurity is a megatrend you must be invested in.
Robust cybersecurity used to be a "nice to have." Now you can't run a business without it. Every Fortune 500 company employs a chief security officer. No cost is too high when it comes to protecting your computer systems.
An easy way to put the odds on your side is by investing in trends that aren't going to change. We call them "megatrends."
I can't imagine a future in which CEOs say: "Yeah, cybersecurity isn't THAT important…"
Companies will lay off employees and shut down offices before they even consider cutting security spending!
Two of Las Vegas's largest casinos—MGM Resorts International (MGM) and Caesars Entertainment (CZR)—recently got hacked. You can bet your bottom dollar they'll spend boatloads of money to ensure it never happens again.
We own a cyber business growing almost twice as fast as Splunk in my flagship investment advisory, Disruption Investor.
Its stock jumped 50% this year, and there's plenty of upside left.
Prepare to have your mind blown by this new AI development.
ChatGPT captured people's imagination like nothing we've ever seen.
In just its first two months, the AI chatbot gained 100 million users, making it the fastest-growing app ever.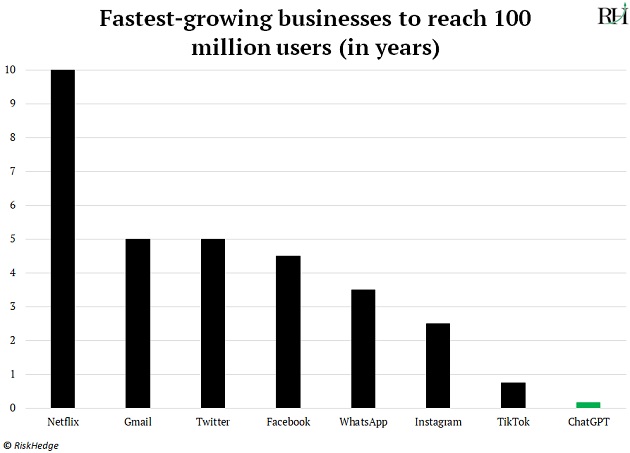 Now ChatGPT is getting new senses.
Today, the chatbot only communicates with text. It can give me birthday party ideas for my four-year-old and tell me how to cook côte de boeuf perfectly.
ChatGPT can "write" and "read"… but what if it could "see" and "talk" too?
Soon, the AI chatbot will be able to spit out image and audio responses.
ChatGPT will be able to code a website for you by simply seeing a napkin sketch of what you want the site to look like.
Or it can diagnose diseases from images you feed it. Maybe your son broke out in a rash, and you want to consult with "Dr. ChatGPT."
AI is one of the biggest booms of our lifetimes, for one simple reason: We can all use it. Anyone can go to chat.openai.com right now and start interacting with ChatGPT.
Bottom line: I see lots of exciting AI products launching—and we're only getting started.
Today's dose of optimism…
When Charlie Munger's son Teddy was diagnosed with leukemia in 1954, there were no treatments. It was a death sentence with a 100% fatality rate.
To quote a passage from Damn Right, a book written about Munger's early life: "In those days, you just literally sat and watched your kid die by inches."
As a dad of two young kids, my stomach feels sick reading these words. Unimaginable pain.
But thanks to the wonders of modern medicine, two-thirds of people diagnosed with leukemia today beat the terrible illness.
From 0% to a 66% survival rate in Charlie Munger's lifetime. That's incredible. The scientists who achieved these breakthroughs literally saved millions of lives.
Humans rock!