Written by: Gabriela Santos
After 14 years and 275% of underperformance versus U.S. equities, the case for international equities is frequently made, usually centered on discounted valuations and currencies. Starting points do matter as they are good predictors of future long-term returns; however, catalysts are needed. 2022 and beyond should present investors with those in the form of above trend international growth and stabilization in China. In addition, international equities offer investors a hedge against one of this cycle's biggest risks: inflation. Lastly, international markets now offer much more exposure to structural growth opportunities than before as index representation has morphed. Odds are investors are significantly underweight the asset class, so action is needed to bring up allocations to at least neutral. With that said, how to invest in the asset class is equally, if not more, important.
5 reasons to consider international equities besides valuations and currencies:
Cyclicality: Cyclical sectors represent 54% of international markets vs. only 32% of U.S. ones, leaving international companies more exposed to economic growth. In 2022, regions outside the U.S. can sustain stronger momentum: the U.S. economy is already 1.4% above pre-pandemic levels, while Europe and Japan are still 0.4% and 2.2% below. This cycle should contain more sustained synchronized momentum given coordinated monetary and fiscal support this crisis.

Inflation: International markets' great cyclicality offers investors a natural hedge for inflation. In 2022, global inflation should normalize somewhat, but still remain above trend. Earnings of sectors like materials, industrials and financials stand to benefit. This cycle, inflation hedges are valuable once again as inflation risk is tilted to the upside not downside.

China: China's 35% weighting in emerging market equity indices and its -22% return dragged down EM returns in 2022. This year, Chinese equity markets have the potential for a strong recovery, as reform uncertainty decreases and Chinese policy makers move to economic stabilization mode. Non-U.S.-based companies would benefit more given their 15% revenue exposure to China versus U.S. companies' 7%.

Growth: Cyclical sectors still make up the majority of international markets, but the representation of growth sectors like consumer, technology, and health care has increased. Beneath the surface, there are important trends to DIG: Decarbonization, Innovation in technology, and Growth of the EM middle class.

Odds are portfolios are significantly underweight the asset class: Based on thousands of financial advisor portfolios reviewed by the J.P. Morgan Asset Management Portfolio Insights team, the typical portfolio's non-U.S. equity exposure is 25% of the equity allocation, representing an 8% underweight relative to J.P. Morgan's current asset allocation views. December however, painted an encouraging picture that may indicate a shifting trend in coming months, as average portfolios saw an increase in allocation to international equities of 90bps. Additionally, over 57% of portfolios contained an allocation to a Foreign Large Blend strategy, an uptick versus November.
The case for continuing to increase the allocation to international equities is clear, but diligent investment selection is key. Case in point, the dispersion between a top and bottom decile strategy last year resulted in outperformance of 882bps*. All said, international equities warrant a deeper look as does the investment(s) used to increase allocations.
International markets are still cyclical, but increasingly offer access to growth too
Change in sector weightings, % point change from Dec. 31, 2005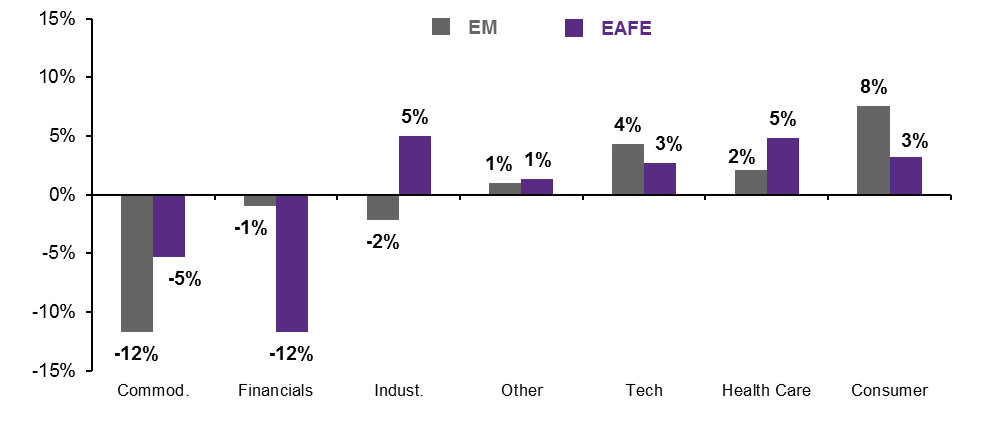 Source: MSCI, J.P. Morgan Asset Management. Data are as of January 12, 2022.
*Dispersion in performance in the Morningstar Foreign Large Blend category for 2021.
Related: What Will Happen to the Top 10 S&P 500 Companies in 2022?