Written by: Emma Wall | Hargreaves Lansdown
Confidence has fallen in the majority of Global Sectors over the last two months
There has been a 22% drop in the UK sector, 21% in the European sector, 14% in Global Emerging
Japan has held up the most, only dropping one point
In two months, the HL Investor Confidence survey has dropped dramatically. While the fall is stark, it is not surprising. Geo-political risk has increased significantly since September, with the unrest in Israel and Gaza impacting global stock market volatility, and grave concerns about escalation in the Middle East. The tensions have also highlighted fractures in UK and US politics – triggering the latest cabinet reshuffle in the UK resulting in the surprise return of former Prime Minister David Cameron yesterday – and caused widespread social upset. Inflation remains persistent, and central bankers stubborn. There have also been predictions of a double dip recession in Germany, and wider negative growth forecasts for Europe. And while China's outlook is beginning to finally show green shoots following the delayed opening up of the economy post Covid, the property sector is in crisis.
In short, the global macroeconomic picture is challenged as the year draws to a close – and 2024 is looking similarly difficult. But that doesn't mean you shouldn't invest. In fact, times of market turbulence can create excellent investment opportunities – and don't worry about getting your timing just right, over the long term, it is time in the market, not timing the market which has been proven to be the best indicator of outperformance. HL clients have been buying India funds, buying into the recent rally, but also dividend hero City of London trust, and inflation-hedging HICL Infrastructure.
Unfortunately, money market funds also remain in the top-buy lists as market and macro risks return – a false comfort blanket for anyone with a medium to long term view. Your money may not be at risk with cash, but it also never really grows. Cash just doesn't pay over the long term. Even in a stock market slump, it is usually better to ride the market through the downturn and hopefully up the eventual rally. The US stock market has fallen by more than 25% 11 times – and taken on average around 2 years to recoup losses. Cash on average took twice as long.
Over the past 10 years, the S&P 500 is up 290%, where cash has returned 8.6%. Instead, investors should look to what is currently undervalued – we think the UK and emerging markets on a regional view, and consumer stocks, REITs and financials for global sectors. Actively managed bond funds also present an excellent opportunity. These funds have the flexibility to take advantage of opportunities when the rate cycle starts to turn, and you are being rewarded with a compelling income yield while you wait.
HL data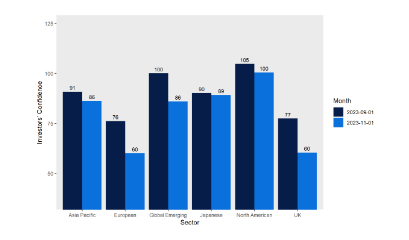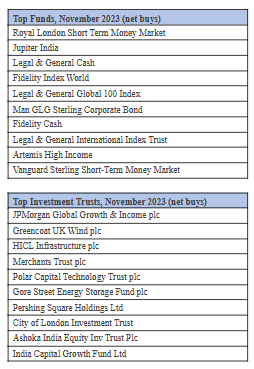 Investor Confidence Index
The Investor Confidence Index is compiled by surveying HL clients on a monthly basis. Each month we send the investors' confidence survey to 6,000 random clients and there is a representative split of our clients by age. On average around 10% of clients respond.
Related: What Should Investors Be Buying Now?