Written by: Abhishek Ashok, M.A., MFE, CFA® | AGF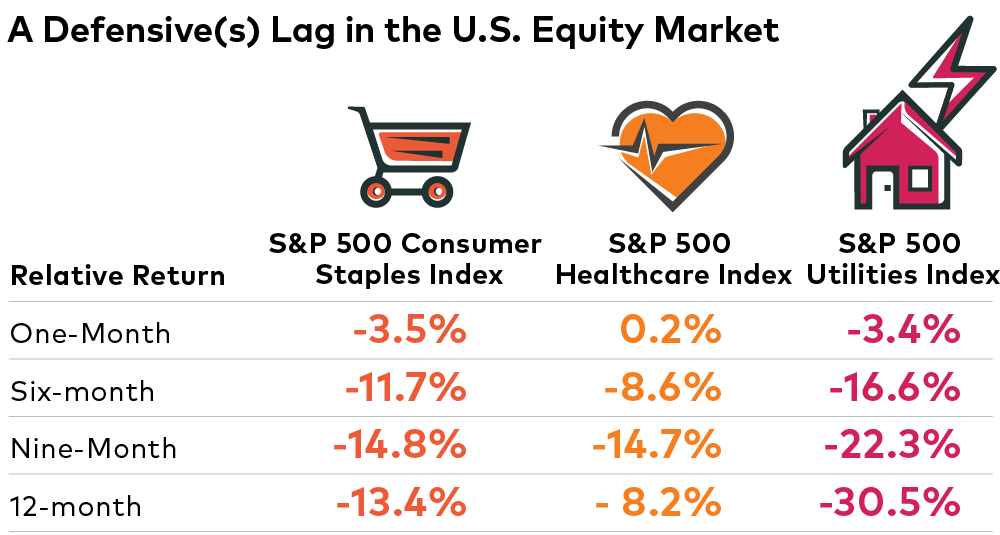 Source: AGF Investments as of August 31, 2023 using data from Factset. Relative returns are calculated as the difference between the performance return of each index noted above and the performance return of the S&P 500 Index. Past performance is not indicative of future results. One cannot invest directly in an index.
For all the talk of a looming recession, global equity investors don't seem keen on protecting their portfolios—at least not in the traditional way.
In fact, three of the worst performing sectors of the U.S. stock market so far this year are the "defensive" trio of consumer staples, healthcare and utilities that historically offer earnings stability and the ability to weather weakening economic conditions.
Granted, the underperformance of each of these sectors has improved a bit of late—possibly because some cracks in the economy are starting to show. But rumblings of a recession aren't the same as the reality of one taking hold and more evidence of a serious slowdown may be needed before investors choose to play defense more noticeably by allocating more of their holdings to consumer staples, healthcare and/or utilities stocks.
Related: Why Financial Advisory Firms With Growth Ambitions Need Strategic Planning