Everyone would like to have better business results for less work, and have more time away from the business. Personal productivity – or business efficiency if you prefer – matters, and there are a host of things that can kill it, but there is one really big killer of productivity.
It is simply "lack of thought".
Research has confirmed that the financial advisers who feel most in control of their businesses have higher productivity and business focus than those who do not feel in control. That is perhaps not surprising as those who are achieving more will usually feel like they are in control of their business, rather than the other way around, simply because the business is producing the desired results.
The majority of advisers who get to higher levels of personal productivity and business efficiency tend to not do it through luck. It is the result of deliberate decisions. It is the thinking behind those decisions which drives the results.
Oddly enough for professional advisers who are in the business of thinking and planning for a living, it is the lack of thinking about the right things that kills productivity.
There are three suggested types of productivity, and like all solid structures there is a logic, or sequence, to how each builds upon the other in order to achieve maximum effectiveness in running a business and getting the results you want.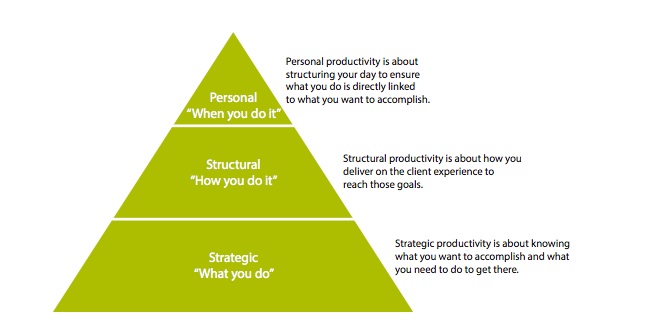 Often advisers who feel that things are out of control are spending too much time focusing upon the structural stuff and the personal productivity.
It is the classic professional "I am busy being busy" mindset. Reading time management books and refining how one arranges "to do" lists and creating excellent procedures manuals to instruct all and sundry on how the practice should run….but without the clear vision on where the practice is going or why. Just "being busy being busy" is the biggest personal productivity killer….or in the plainest language possible: the problem is being busy on stuff that just doesn't matter that much. THAT is a result of lack of thought about what matters, or what the plan is, and why.
To achieve maximum personal productivity – that is, the best return for the time and effort employed – there has to be strategic clarity first. That is the foundation for building the right structure and systems that make for a more efficient practice, which then enable the adviser to concentrate upon the right tasks and use their own time well. That clarity provides the necessary framework for making good decisions about what you should actually be busy upon.
When you are working on the right things there is a very good chance that you will be more productive and accelerate the growth of the business. You will also feel like you are in control and the that business is on track to serve your purpose, rather than you being busy simply serving the purpose of others.