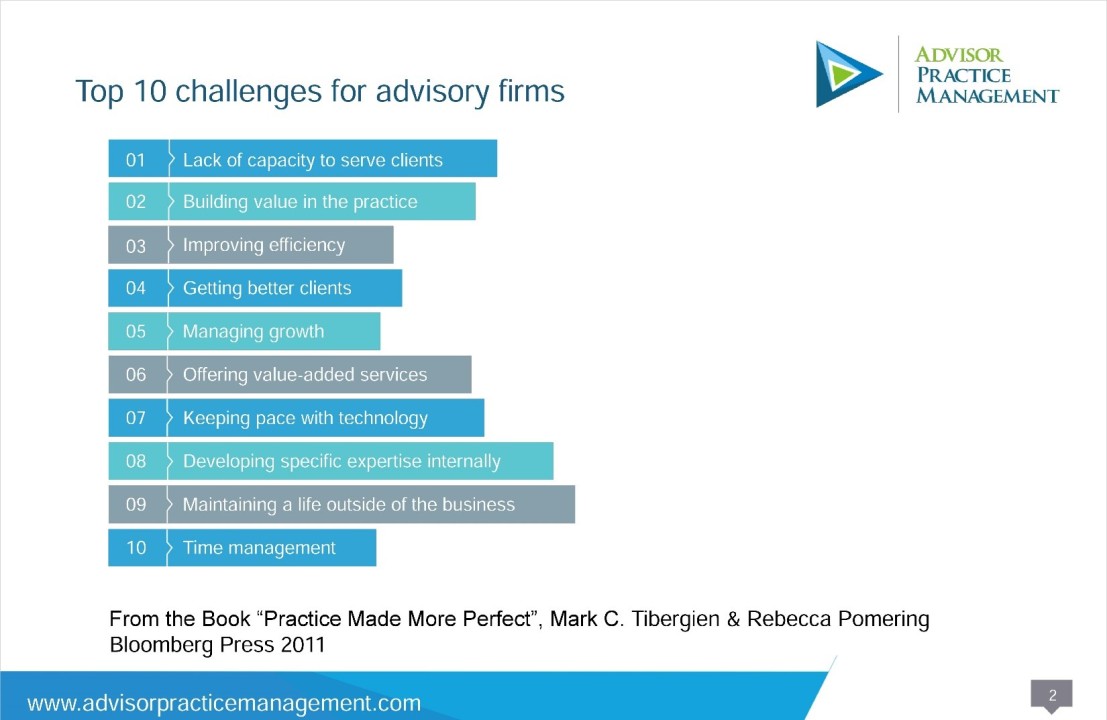 Increasing revenue without increasing your number of clients for financial advisors
How does a team of successful advisors scale their business, and increase equity and value, to make it more efficient? In other words, how do you scale your practice from 75 million to 150 million to 300 million or more? Or a 300 million practice to 500 million+. No matter what the numbers are, or revenue, you know what to do but do you know how to do it?
Money is recoverable time isn't
You know you can go and earn more money as a successful advisor, but you can't go and earn more time? Capacity is the number one issue for successful advisors, so how are you managing your capacity? In the book on practice management, by Mark Tibergien and Rebecca Pomering, (Practice Made (More) Perfect: Transforming a Financial Advisory Practice Into a Business (Bloomberg Press) they show the difference in time management between average and elite financial advisors. What if you could find 200 more hours in a year, what would you do with the extra time? This is the difference between teams that do in-house portfolio management and teams that don't. The average advisor spends 24% of the time on portfolio management and research versus 12% or less when they have either outsourced it or built it in-house, where they control the cost and revenue and build more equity. I see successful wealth managers generally increasing efficiency, capturing more ideal clients and assets, and improving client outcomes consistently. A Portfolio manager process or a TAMP process, turnkey asset management process, either way, how much time are you spending on your process? How can you get 200 more hours in the next 12 months, you know what to do, but how will you do it?
Ideal families
The financial industry drives me crazy sometimes. Everyone talks about ideal clients. If the language in the industry changes from clients or households to ideal families, then the math changes dramatically and so does the revenue. An ideal client or household may have a million dollars so the revenue at a simple 1% is $10,000 plus additional services such as insurance planning banking etc. If you target ideal families, not just parents and grandparents, but other family members such as parents brothers and sisters, and other relatives, you go from $10,000 for an ideal client to $20 $30 , $40 or $50,000 or more revenue. 50 ideal families at $50,000 per ideal family is an ideal business that generates $2.5 million or more. You have a team of 4 of those types of advisors and you have a 10 million-plus revenue firm. What is the value of that firm if you transitioned to retirement or sold it? Start thinking differently. During the pandemic, people moved closer to family members, so referrals to other family members came easily to financial advisors. Why not capitalize and look at families linear as well as horizontally? Wealthy business owners always have family involved in their businesses. Make a list of your ideal families and how you will capture more!
Replace costly inefficient staff with technology and tech-savvy staff
The biggest thing on financial CEO's minds these days is when staff comes back to work what will the model be, and how will the culture be? Let's face it, the pandemic has forced the financial industry to adapt to technology. It is a tech-savvy business, do you have non-tech-savvy staff who resist change? The future-ready financial advisor no longer has an admin assistant, they have a technology assistant or I refer to as a Robo-assistant, handling everything in the digital world, and implementing technology practice management processes with ease. They bring the practice forward and are always looking for fresh ideas on how to scale the practice. Some examples of Robo-assistants I have worked with have blown me away in their processes in running their practice. They have shown me technology that is super efficient and changed how I work with assistants in consulting with financial advisors and teams. Do you have a technology assistant or administration assistant?
Acquire more ideal families
What are the two or three marketing processes embedded in your practice to find and acquire more ideal families? Don't have these processes that you can turn on or off at any time, hmmm are you winging it when it comes to marketing? Marketing for financial advisors is about three things, process, process process. The subject of a future blog article. Hint, it starts with delivering more value. How are you going to deliver more value to ideal families in the next 12 months? The more value you give or deliver, the more valuable you become.
Take more time off
We all know you make more money by taking more time off. Whenever I hear advisors say to me, I have difficulty taking time off, I think of how much growth they are missing by not taking time off. Every successful business book you have ever read endorses this, yet some choose to ignore this sage advice. Get rid of the guilt or reason why and plan it. Your team will always be more productive when you are away. If the team isn't more productive when you are away, this is the first thing you need to change on your way to increase revenue.
One final question?
You know what to do to scale your business. How are you going to do it? I highly encourage you to connect with your coach, consultant, mentor, or manager and schedule a discussion of how you are going to do it. "Over every mountain, there is a path, although it may not be seen from the valley. Theodore Roethke
How about your goals for your practice in 2023?
Comprehensive Practice Management checklist
https://practicemanagement.getresponsepages.com/
Sample: Comprehensive Financial Advisor Practice Management Benchmarking Report
Key data and KPI's Key Performance indicators. Do want a sample benchmarking report to help you understand how to get the edge on your practice and your competition?
https://benchmark.getresponsepages.com/
Updated 2023 Technology Checklist for Financial Advisors
This checklist is five years worth of research on the best processes elite financial advisors and their teams implement to acquire and service ideal clients, while running an efficient practice.
https://technology-checklist.getresponsepages.com/
Related: Your Ideal Clients Want 10 Touches Per Year, How Are You Doing?