Written by: Finn Gilbert
To be a leading firm in the wealth management industry requires an in-depth understanding of your target audience. However, when disconnected software systems fail to 'speak' to one another, important client information becomes siloed in separate platforms. As a result, marketers struggle to access, track and report on data needed to build effective marketing campaigns that delight clients and engage prospects.
Additionally, in the coming years, Millennials and Gen X will soon inherit most of the world's wealth. As these generations desire more personal and effortless interactions with businesses, it becomes increasingly important for marketers to engage different audiences with the right messaging.
Practifi Promote helps marketing teams craft data-driven campaigns and drive results for your firm. With access to Practifi data, marketers can build segmented lists for campaigns, create meaningful connections and track performance across every stage of the customer journey.
Build segmented list
Data is generally segmented across various tools, software and spreadsheets which makes it difficult for advisors to see a 360-degree view of clients and prospects. However, siloed data also makes it difficult for marketers to understand target audiences and identify campaign opportunities. Targeted campaigns are inherently important to engage clients and prospects effectively, however, marketers can't create targeted campaigns without having access to data. Clients feel the effects of this, too. 70% of millennials are frustrated by brands who send irrelevant emails, reinforcing the importance of creating segments to send targeted communications relevant to the receiver.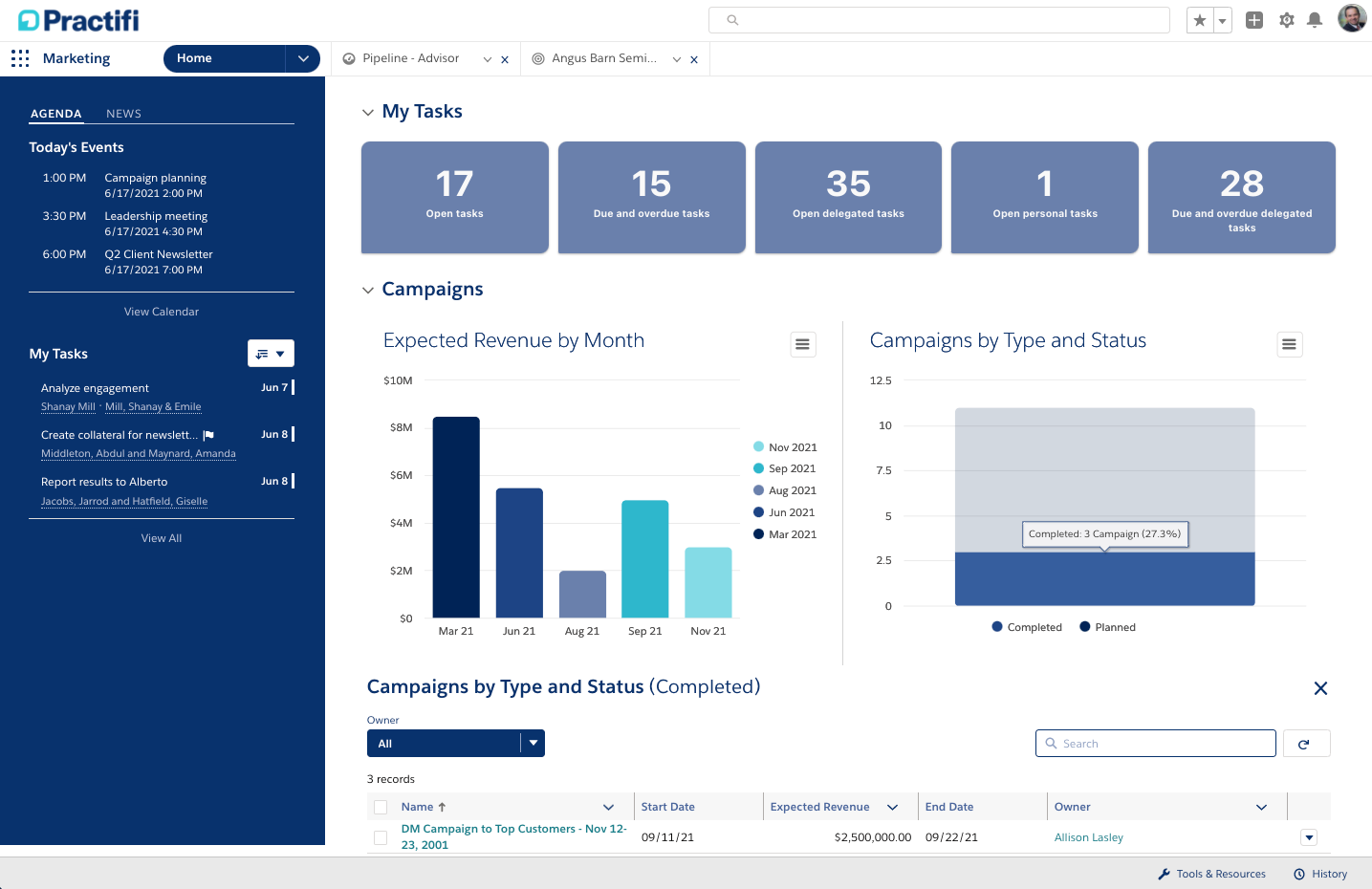 Access Practifi data through the Marketing app to build segmented lists
Practifi Promote allows marketers to access unified client and prospect data to build segmented lists for targeted campaigns. With access to the marketing app through Promote, marketers are able to leverage Practifi's database to identify opportunities based on certain characteristics. They can also create lists and tailor emails based on demographics, AUM and financial products.
For example, clients aged 20-30 are entering peak income years, but if data reveals they don't have a Roth IRA (or Super contributions in Australia) set up, marketing teams can pull them into a segment and deliver campaigns to educate them on the benefits of doing so. Segmented lists help firms ensure different audiences receive the most relevant and personalized communication possible.
Create meaningful connections
A recent study of wealth management professionals found that 83% of them agree that personalization elevates the customer experience and consequently, creates a competitive advantage. Most marketers can't create targeted communications to achieve personalization due to siloed data. Without systems to track campaign data, marketers not only struggle to create meaningful connections, but they also can't gain insights as to how to improve campaign engagement. Understanding campaign performance helps marketers build personalized, meaningful and relevant experiences, which in turn, helps deepen the client-advisor relationship.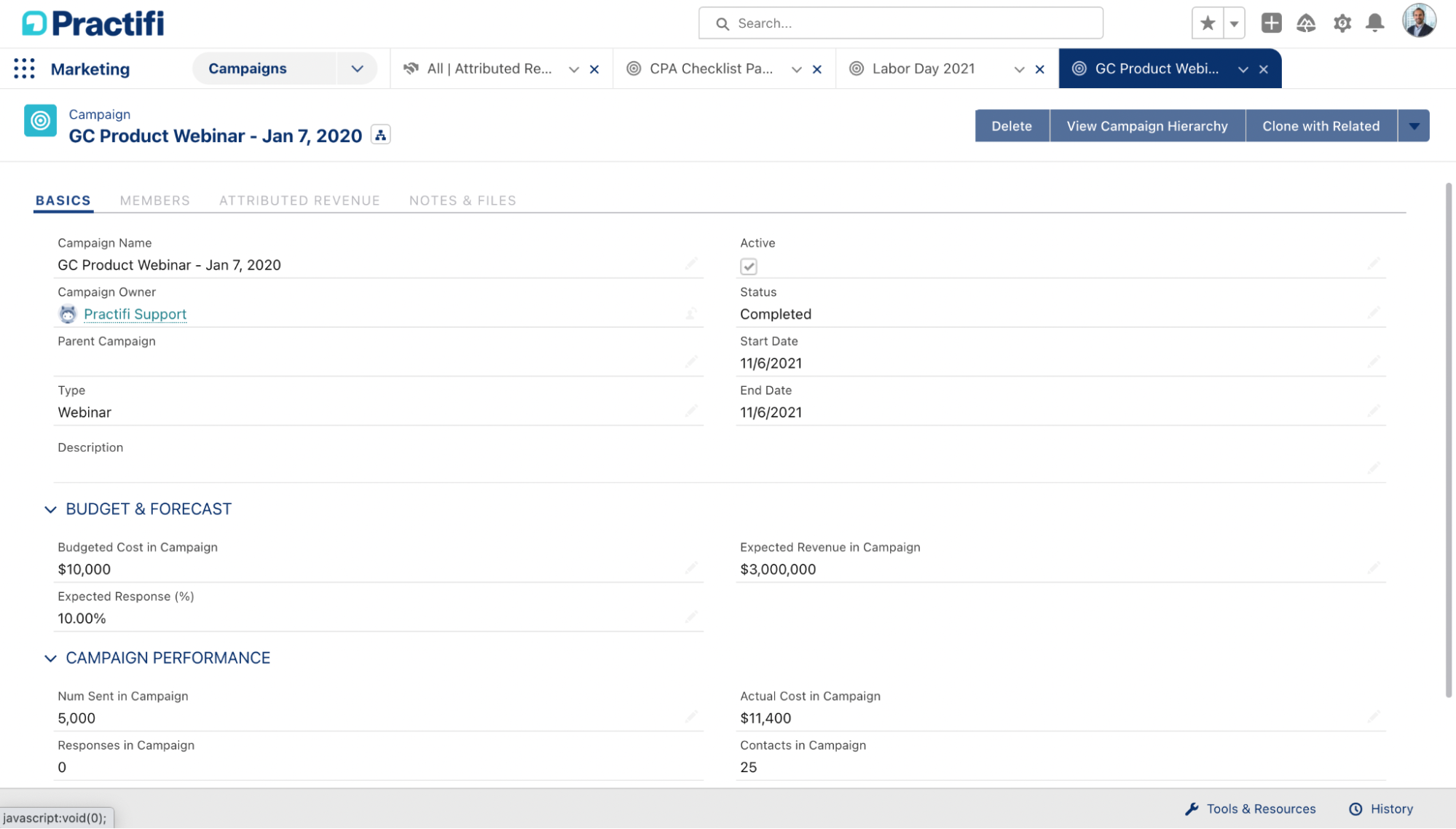 Capture campaign data with 34 fields, giving insights into results
Practifi Promote helps marketers build more meaningful connections with clients and prospects. Marketers have access to campaign functionality including 34 fields to capture campaign data, allowing them to analyze campaign performance and identify ways to improve engagement. Marketers can leverage these data insights to create the most effective materials for specific audiences, crucial for creating personal and effortless relationships between advisors and clients.
In addition to built-in campaign and email capabilities, Practifi Promote enables integrations with marketing automation platforms like Pardot, Marketing Cloud and Constant Contact so marketers can leverage the best of both platforms. By capturing and analyzing campaign data, marketers can observe how different strategies impact engagement and improve this over time.
Track performance
With a wide variety of marketing tactics and channels available, firms want to understand how campaigns are (or aren't) generating revenue for the business. Client acquisition costs can vary greatly, which makes it essential to know which tactics work best for your firm. However, marketers struggle to track the ROI of each campaign without the right technology in place.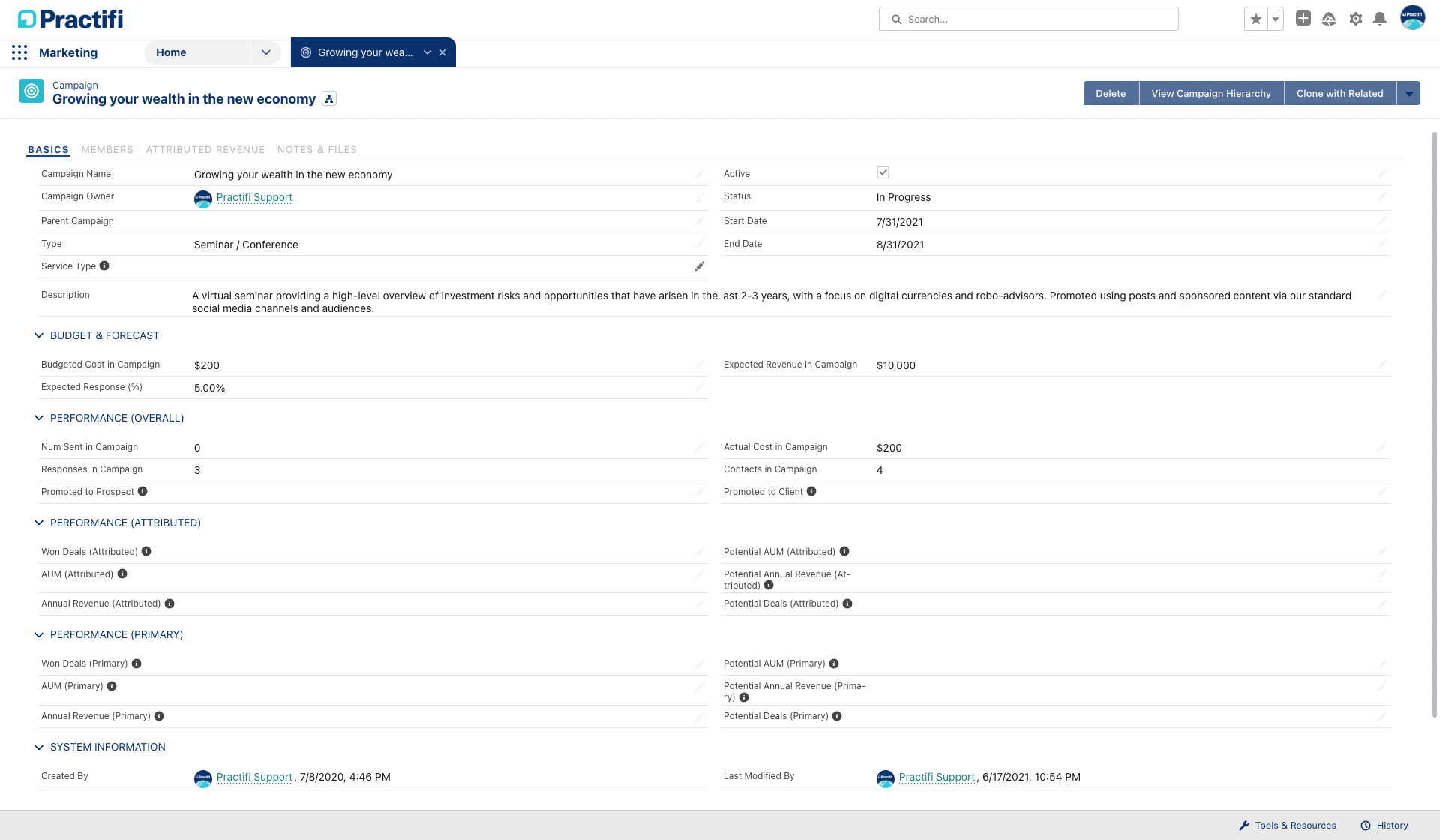 Attribute revenue to individual campaigns
Practifi Promote not only gives marketers access to the data they need to build segmented lists and create meaningful connections, but it also enables them to track campaign ROI. By connecting the firm's pipeline to current campaigns, marketers can see when deals close and which campaigns influenced them. Specific percentages can be linked to individual campaigns, tracking how much revenue each campaign attributed and comparing ROI against other campaigns. With access to this data, marketers can gain insights into successful techniques and accurately report on campaign ROI.
Interested in learning more?
For leading wealth management firms, building highly effective marketing campaigns can deliver tremendous results and better cater to your audiences' needs. However without the right tools, data and connectivity, marketers struggle to track, report and improve on their campaigns and efforts.
Creating meaningful connections between firms and clients is more important than ever before, tracking performance across all stages of the customer journey is also crucially important. Practifi Promote gives marketers access to the data they need to delight clients, engage prospects and deliver results for your firm.
Practifi Promote is available as a subscription add-on. If you'd like to learn more, get in touch with your CSM or contact a member of our team today.
Related: Maximizing the Value Out of Data with Glenn Elliott