Written by: Derek N.H. Notman, CFP®
Key takeaways from the 2023 AdviceTech.Live virtual community event
Just last week I had the pleasure of attending and speaking at the AdviceTech.Live event hosted by my friends over at Asset-Map. If you haven't attended this event then you should be feeling some post-FOMO right now.
My co-host on the Rethink. Financial Advice Podcast , H. Adam Holt, CFP®, ChFC® and his awesome team have put together the event for financial advisors and fintech & wealthtech providers to learn about cutting-edge tech and the state of financial advice.
The following are my 3 takeaways that will give you special insights into what the thought leaders and tech creators are doing and seeing that make the future of financial advice more human.
Key Takeaway 1 - Tech Enabled Advice Delivery
Remember when robo-advisors where going to replace us human advisors? Well that didn't happen but what has happened is an interesting shift to tech enabled advice delivery. Advisors now more than ever are using a variety of tech solutions to better serve their clients and ultimately deliver advice.
There's a newer and growing category on the Kitces Advisor Technology Map
called Advice Engagement which is quickly becoming important to helping meet clients where they are and the way they want it.
Recent data from JD Power's Wealth management division shows us that this growing category of advice engagement makes total sense given how clients want to interact with their advisor and how they feel when they actually get goals-based or comprehensive planning.
Clients want more advice and are happier when they believe the have it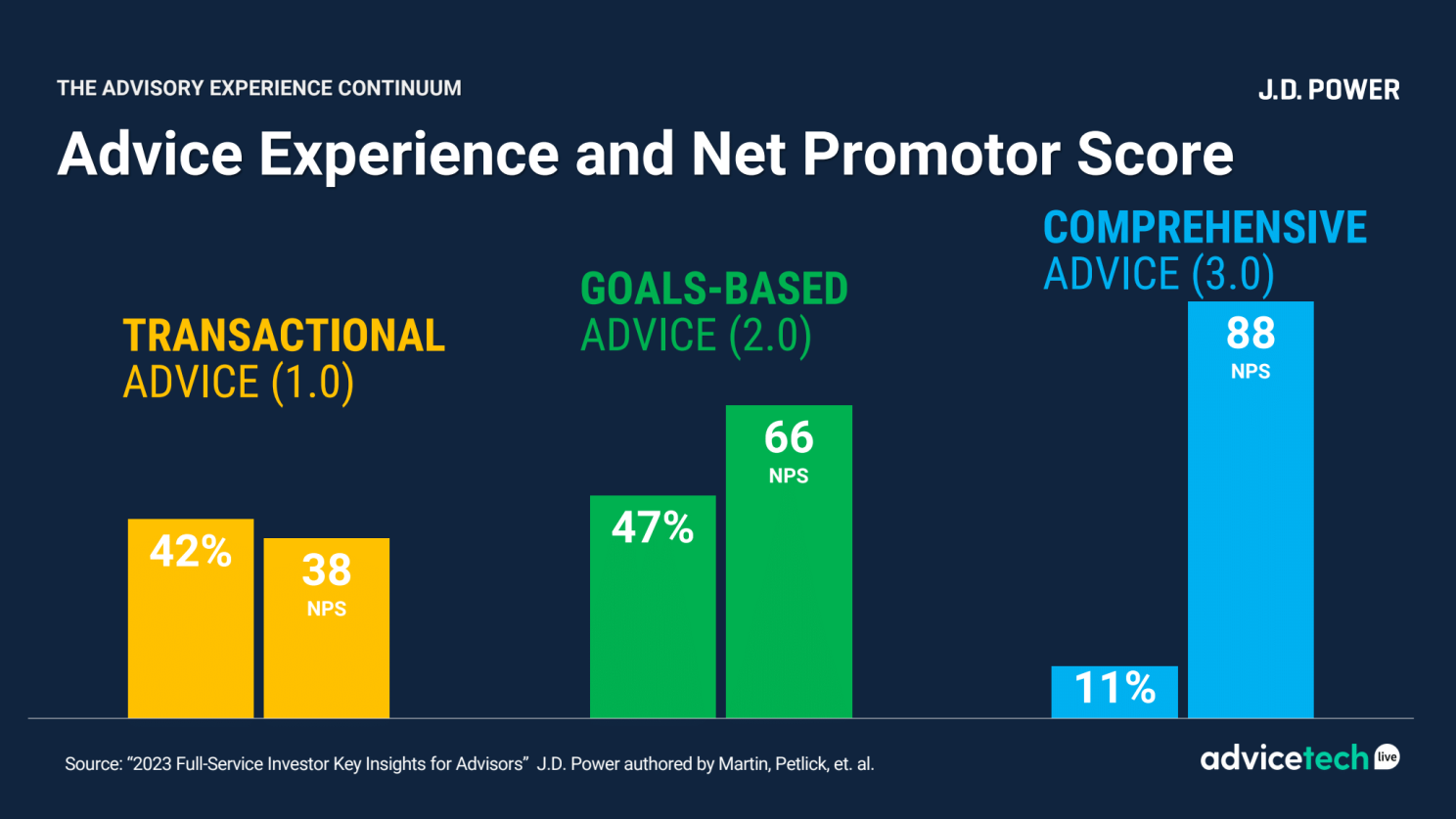 Client preferences for more digital & tech enabled advice, planning, and service are shifting.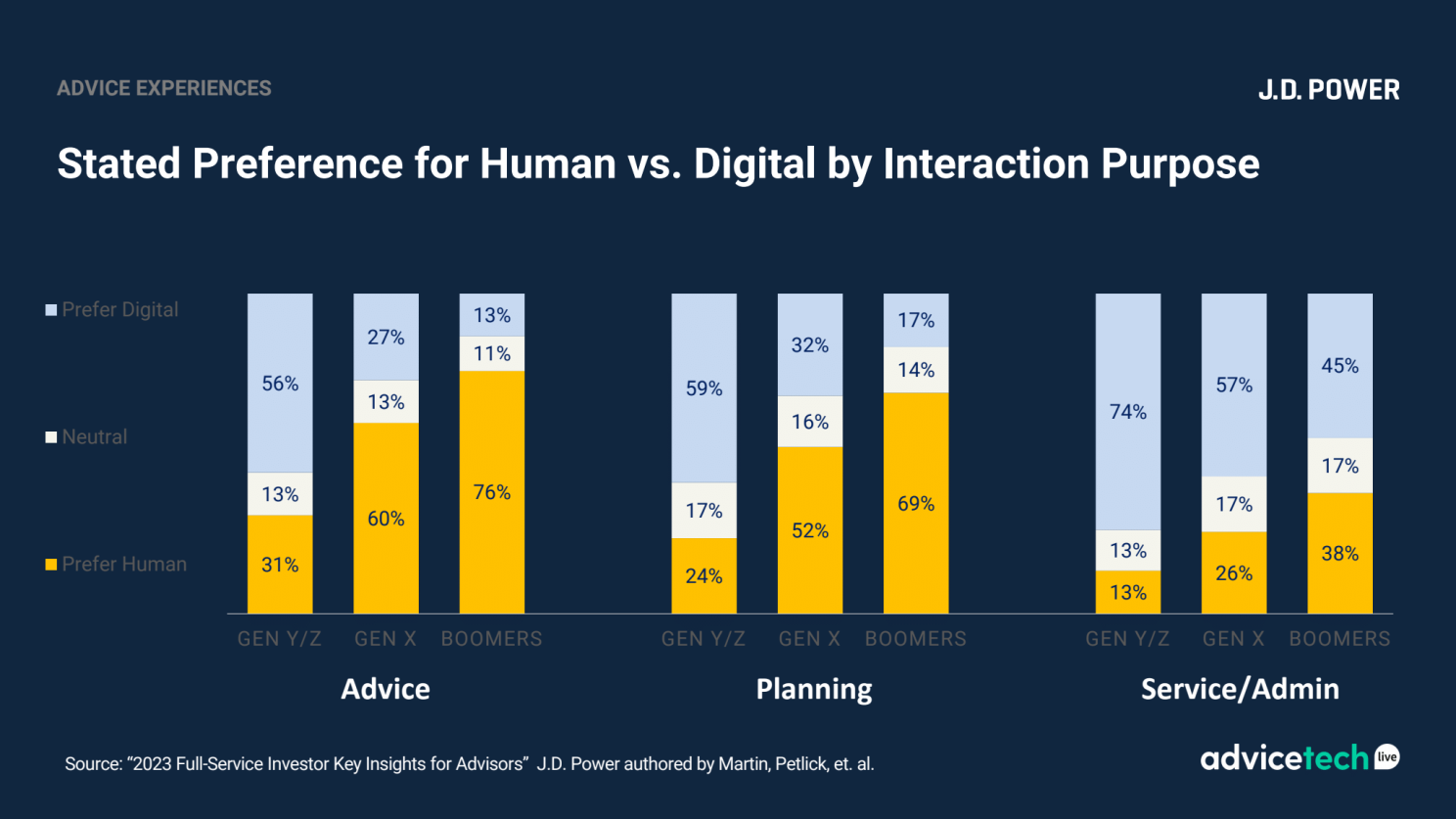 Tech enabled advice is the future no doubt but it's here now too. Advisors should be thinking about their clients and how they want to interact with them. If there's a disconnect then advisors have an opportunity to create a better tech-enabled advice experience by leveraging solutions from a long list of cutting-edge fintech.
"Tech wont replace human advisors, but human advisors with tech will replace those humans without it."
Key Takeaway 2 - Financial Advice 3.0 is Empathetic
A number of times over the two day AdviceTech.Live event the word "Empathy" was mentioned.
This is part of what appears to be a natural progression from financial advice 1.0 to what is now evolving into 3.0. You can listen to episode 52 of the Rethink. Financial Advice Podcast episode where we talk about this progression with our friend Michael Lecours, CFP®.
Gone are the days of primarily helping clients in a transactional manner. Not that transactions are bad, the business needs to get done, but clients are looking for deeper relationships with their advisors. Clients want more than just rates of return and asset allocation conversations, they want to talk about the meaning behind their money.
As you can see from the data above, clients that have deeper conversations with their clients as part of a more comprehensive planning process tend to be happier with the work their doing with their advisor.
The challenge here is that it's hard to scale deep conversations and comprehensive advice, thus the importance of advisors getting clear on who they want to serve and creating a tech-enabled experience to give clients what they want while still being able to run a profitable business.
Key Takeaway 3 - Rapport, Trust, and Relationships are Paramount
"Technology has become the great equalizer" - Debra Azarian Taylor.
As technology has become somewhat table stakes for most advisors and a basic expectation from our clients some of us might be asking; well how do I differentiate myself when most advisors now have the same type of tech?
Simple, focus on the human element.
Sure, clients want more tech-enabled engagements but they still desire human relationships. The kitchen table has simply been replaced with virtual meetings and screensharing.
Money is a very personal thing for most of us and we don't just open up to anyone about our financial situation and skeletons which is why a trusting relationship with their advisor is so important. We open up more with those we trust.
Tech is actually helping advisors focus more on Who they are and then helping them communicate it. Tech may be the big equalizer, but being You is the big differentiator.
Advisors should look for tech that helps them communicate who they are to build rapport and trust much more quickly and in a digital manner. We've learned this with our work at Couplr in studying the science of interpersonal trust and how people connect on deeper levels via a variety of different human dimensions and that it can and does happen digitally when done correctly.
Final Thoughts
AdviceTech.Live was packed with ~2,000 attendees and over 20 technology providers and countless industry thought leaders.
The common themes above that I noticed throughout the two day event are all connected to one core element, the human element. This is what makes me believe the future of financial advice is bright.
Our industry and profession is a warm, forward thinking, friendly, and hard working community of experts from diverse backgrounds who are pursuing their passions to ultimately help people with their money.
If there's a pulse to have your finger on as you look to best serve your clients and grow, this is it.
What was your main takeaway from AdviceTech.Live?
Related: The Future of Territory Management: Trends and Innovations To Watch