Advisors that were in the business in the late 1990s and not long after the bursting of the tech bubble bursting are likely to remember a time when the notion of investing in internet stocks could just as easily give clients pause as much as it would serve as a source of allure.
That condition lasted awhile as it took the Nasdaq-100 Index (NDX) roughly 16 years to return to the highs of January 2000. In other words, it took some temerity to introduce a dedicated internet exchange traded fund in mid-2006 – a period in which value stocks were in style.
However, First Trust did just that, introducing the First Trust Dow Jones Internet Index Fund (NYSEARCA:FDN) in June 2006. FDN tracks the Dow Jones Internet Composite Index and proving that in the world of ETFs, sometimes all a new product needs is some time to breathe, FDN is now home to more than $11 billion in assets under management.
That puts the fund not far outside the 100 largest ETFs of any stripe and it's also one of the largest sector funds. To be precise, FDN is an industry ETF, but you get the picture: It's one of the dominant funds in its category, a premier avenue for accessing a basket of well-known internet equities and an easy-to-convey strategy to clients.
Celebrating FDN
FDN turned 15 years old last month and unto itself, that's an accomplishment because plenty of ETFs don't last that long. A couple of years ago, it was reported that the average lifespan of an ETF is a mere 3.4 years.
Even if a naysayer wants to claim that "First Trust never closes ETFs" – and that's mostly true – that assertion misses the mark on FDN and it's showing since coming to market.
"Since its launch, FDN has produced an admirable track record, offering investment professionals an attractive investment option for their clients, with a cumulative total return of 1,086%, compared to 878% for the S&P 500 Information Technology Index, and 358% for the S&P 500 Index," according to First Trust research.
Today, FDN holds 42 stocks at weights ranging from 0.31% to 10.09%. Indeed, Amazon (NASDAQ:AMZN), Facebook (NASDAQ:FB) and Alphabet (NASDAQ:GOOG) combine for 26% of the ETF's weight, but although FDN is a passive fund, its index rebalances do an admirable job of keeping up with the times in what's a constantly evolving industry. For example, the fund is home to the likes of Etsy (NASDAQ:ETSY) and recent IPO Bumble (NASDAQ:BMBL), among others.
FDN's ability to include some of the potentially promising internet stars of tomorrow while maintaing sizable exposure to the titans of today is advantageous.
"While FDN's holdings currently represent more than 14% of the S&P 500 Index's market capitalization, with three stocks in the index's top 10 holdings, this wasn't the case 15 years ago when FDN's holdings were just 0.8% of the S&P 500 Index," adds First Trust. "For much of the past 15 years, investors didn't have much exposure to internet stocks by simply owning a fund linked to the S&P 500 Index. We believe thematic investing may help investors gain exposure to the growth potential of trends that may be tomorrow's winners, but are not well represented in broad market indices today."
FDN Still a Fine Idea
Due in part to the fact some internet stocks previously resided in the tech sector, some advisors may simply opt for a tech fund over FDN. As the chart below indicates, that may not be a winning bet.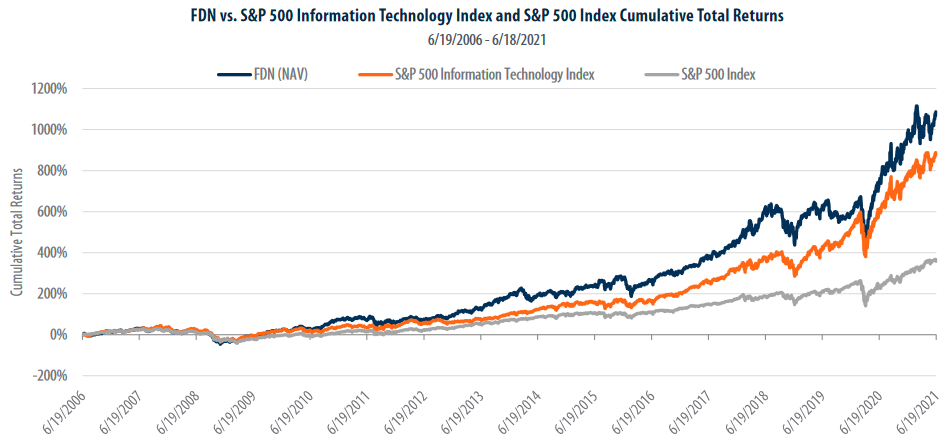 Courtesy: First Trust
Additionally, FDN's easy-to-understand approach and large-cap exposure make it a fine alternative to some of the riskier, more nuanced thematic funds on the market today.
"As FDN celebrates its 15th birthday, more and more investment professionals have come to recognize the potential of thematic investing," concludes First Trust. "According to Morningstar, assets in thematic funds grew from $49 billion at the beginning of 2020 to $160 billion, as of 3/31/21. As investment professionals seek to add value for their clients, we believe thematic ETFs may be effective tools for many years to come."
Advisorpedia Related Articles:
Ideas to Consider as Quality Comes Back Into Style
Metaverse Could be Marvelous in New ETF Form
Advisors, It's Time to Talk Taxes with Wealthy Clients