No need to do a double take. That headline is accurate. US-listed exchange traded funds hauled $518 billion in the first seven months of 2021 – a new calendar year record.
This isn't an indictment of active management, though passive ETFs reign supreme, because active ETFs are having a moment this year and this groundswell of support for ETFs isn't all about low fees. With ETFs on a nine-month streak of taking in at least $50 billion on a monthly basis, it's safe to say there's more at play and the year-to-date activity could lead to some lofty flows forecasts.
"The flows in July pushed full-year 2021 figures to $518 billion, a new calendar record in just seven months. With such dazzling flow totals in a short period of time, it begs the question of how high flows could get in 2021 — particularly if ETFs can make it into the four commas club (more than $1 trillion of flows)," said Matthew Bartolini, head of SPDR Americas research.
To put ETFs' year-to-date inflows of $518 billion into context, that figure is larger than the Aug. 6 market capitalization of semiconductor giant Nvidia (NASDAQ:NVDA) – the ninth-largest member of the S&P 500.
Everyone Loves Projections
Something I've learned in 13 years covering ETFs is that market participants love flows data because it's like a security blanket – it tells them where their counterparts are allocating to and there's some level of comfort in that.
As such, they also like projections and as the above data indicate, the projections for 2021 ETF inflows are something to behold.
When accounting for the trailing 12-month average, trailing 36-month average, historical third- and fourth-quarter flows seasonality, the average figures for the third and fourth quarters measured with "the increase that Q1 and Q2 2021 had versus their historical average to account for cyclicality but also the current 2021 pace" and the current 2021 pace, "a final composite average of these five metrics was tallied to get a full-year 2021 projection of $797 billion — a strong figure and one that would be 60% higher than the $505 billion from 2020," adds Bartolini.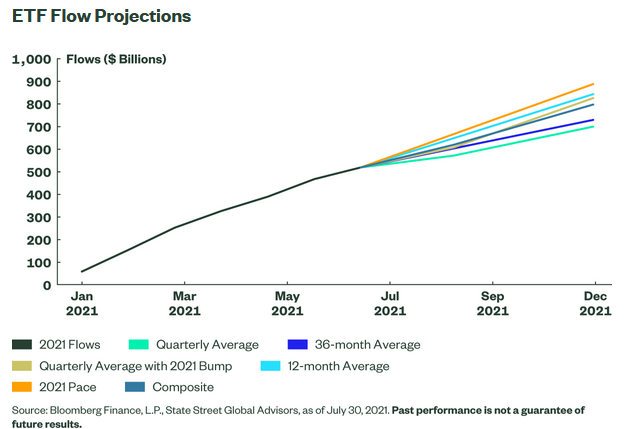 Courtesy: State Street
In what probably isn't a surprise to advisors, equity-based ETFs are dominating 2021 flows, raking in $391 billion of the aforementioned $518 billion. Six of the top 10 asset-gathering ETFs to this point in the year are equity-based funds while six of the 10 worst offenders in terms of assets lost are bond funds or commodities products.
With the U.S. once again ranking as one of the world's best-performing major equity markets, it's likely enthusiasm for related ETFs will continue until asset allocators are compelled to look elsewhere.
Other Areas of Interest
With inflation being a point of concern for many clients this year, it's not surprising that inflows to Treasury Inflation Protection Securities (TIPS) ETFs are accelerating. As State Street's Bartolini points out, the $3.6 billion added to TIPS ETFs last month was the second-highest monthly tally on record.
At the sector level, there's potentially valuable information for advisors, too.
"Sector flows reinforce this bullish but worried, or fragile but sturdy, sentiment. While sector flows were positive for their 10th consecutive month, one-month shy of their record streak, flows were more focused on defensive sectors," said Bartolini. "Defensives took in $5 billion in July, their second-highest flows ever and a departure from the trend where cyclicals had outpaced defensives for the prior 11 straight months."
Adding to the intrigue around defensive sector flows is that low volatility are the only group of style funds to see outflows this year.
At this point, the mystery isn't about ETFs packing on assets. It's where that capital will be directed to in the last five months of the year.
Advisorpedia Related Articles:
TTAC: Where Quality and Cash Flow Collide
Trying to See the Forest Through the Trees in China
Keeping Clients Calm Amid China Calamity
Fund Costs Aren't Client Priority They Used to Be, Says State Street Survey