For advisors that have only recently become engaged with cryptocurrencies and for those pondering why bitcoin recently resumed its volatile ways after peaking around $63,000, there are several reasons, but Tesla (NASDAQ:TSLA) plays a role in this scenario.
No one man should have all that power, but Musk rattled bitcoin enthusiasts by recently saying he wasn't fond of the dirty energy element associated with mining of the largest digital coin. He made up for it, sort of, on Monday, noting that Tesla would resume accepting bitcoin as a form of payment when the mining process becomes more environmentally friendly.
In other words, some investors have recently endured a carbon calamity of sorts. Advisors are likely aware of some of the various efforts to eliminate or reduce carbon footprints in the investing realm and they're certainly aware of many clients' affinity for such strategies. What many of those clients may not be aware of is the concept of carbon credits.
"Tesla is already one of the most high-profile traders of carbon credits. In Q1 of 2021 alone, Tesla generated $518 million in revenue by selling carbon credits to other car manufacturers through the Zero Emission Vehicle (ZEV) carbon allowance program after generating $1.65 billion in 2020," notes KraneSharees Head of Strategy Luke Oliver. "ZEV is a niche carbon allowance market specifically for car manufacturers and is smaller than the broader overall California Carbon Allowance program."
Calling on KRBN
The concept of carbon credits is undeniably wonky and relative to other sustainable investing themes, it's not the easiest concept to convey.
Fortunately, that scenario is changing and the universe of carbon-free investments is evolving. Regarding that evolution, however, not all carbon-related investments actually tap into the theme of carbon credits. Enter the KraneShares Global Carbon ETF (NYSEARCA:KRBN).
KRBN looks to top the IHS HS Markit Global Carbon Index and while this exchange traded fund may sound like too much of a good thing on the thematic spectrum, advisors should not be be dismissive of it. KRBN turns a year old at the end of July and it's already cobbled together nearly $439 million in assets under management.
"Performance has been strong too. Since the Fund's inception last year and as of May 20, 2021, KRBN's index (the IHS Markit Global Carbon Index) has returned 76.38% and 39.36% year-to-date," adds Oliver. "The market also exhibits low correlations to all other asset classes, even commodities. The correlation to US equities is below 0.4."
For those that need a bit more convincing regarding the efficacy of the KRBN strategy, just have a look at the chart below.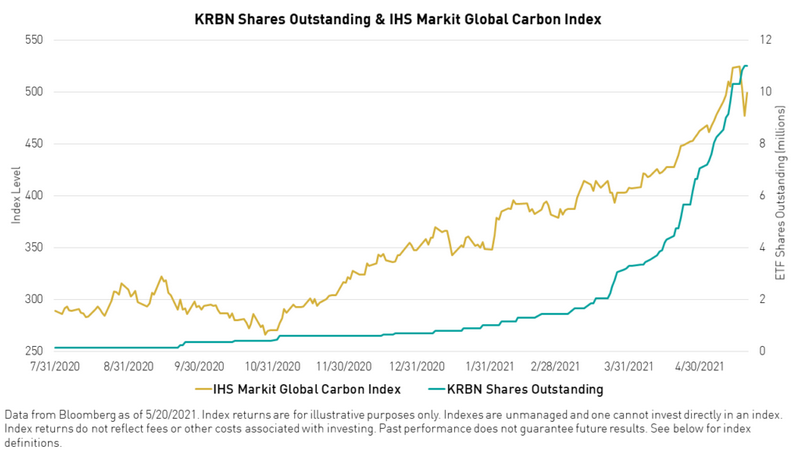 Courtesy: KraneShares
KRBN as a Growth Idea
KRBN is not an equity-based ETF. However, the strategy is still fairly easy to explain to invetors. The fund's underlying index currently is a basket of the marquee European and North American cap-and-trade programs: European Union Allowances (EUA), California Carbon Allowances (CCA) and the Regional Greenhouse Gas Initiative (RGGI).
What's interesting about KRBN as a satellite position for environmentally demanding clients is that there's a credible long-term growth opportunity here.
"It is estimated that carbon allowance prices need to reach a range of $50 – $100 per ton of CO2 to achieve the emissions reductions goals of The Paris Agreement," according to Oliver.
Even at the low end of that range, that would be more than double the carbon allowance price per ton of CO2 at the end of 2020. Indeed, as carbon emissions tighten around the world, and that's likely to happen, KRBN stands to benefit.
Advisorpedia Related Articles:
New ETF Focuses on LGBTQ Principles, But Has Appeal for Variety of Clients
M&A Hope Springs Eternal for SMID Biotechnology
Short-Term Chip Supply Constraints Won't Derail Long-Term Tech Trends