Disinflation continues, and it's good news for silver prices. The odds of seeing a less hawkish Fed are rising!
Great news for the economy and the precious metals! The prices declined in December 0.1% compared to November. The deflation followed 0.1% inflation in the preceding month. The core inflation, which excludes food and energy prices, increased 0.3% last month, following 0.2% in November. It suggests that inflation is more entrenched into the economy and right now it is less about energy prices and more about shelter prices. Indeed, the gasoline index declined 9.4% in December, while the shelter index rose 0.8% over the month, being a dominant factor in the monthly increase in the core CPI.
On an annual basis, the CPI inflation rate softened from 7.1% in November to 6.5% in December. It was the smallest 12-month increase since the period ending October 2021. The core CPI inflation rate also slowed down, although to less extent: from 6% in November to 5.7% in the last month of the year.
All the figures were perfectly in line with expectations. However, the markets reacted positively anyway. This is because the recent CPI report shows huge disinflation. To be clear, inflation is still very large and much above the Fed's target, but it seems that it has already peaked.
The reason why the stock market and the precious metals market reacted positively to the CPI report is simple. Weaker inflation implies that the Fed could adopt a more dovish stance. It could worry less about inflation and focus more on the potentially negative effects of its tightening cycle on the labor market and the economy. This is at least what the markets expect. According to the CME FedWatch Tool, future traders see a 94.2% chance that the U.S. central bank raises interest rates just by 25 basis points in early February. One week ago, the odds were just 62.6%.
Implications for Silver
What does it all mean for the silver (and gold) outlook for 2023? Well, the release of the report sent silver prices up initially. They jumped above $24 for a while but corrected later to about $23.6 - only to rally again. Hence, they continued to be traded just below $24, as the chart below shows (courtesy of silverpiceforecast.com).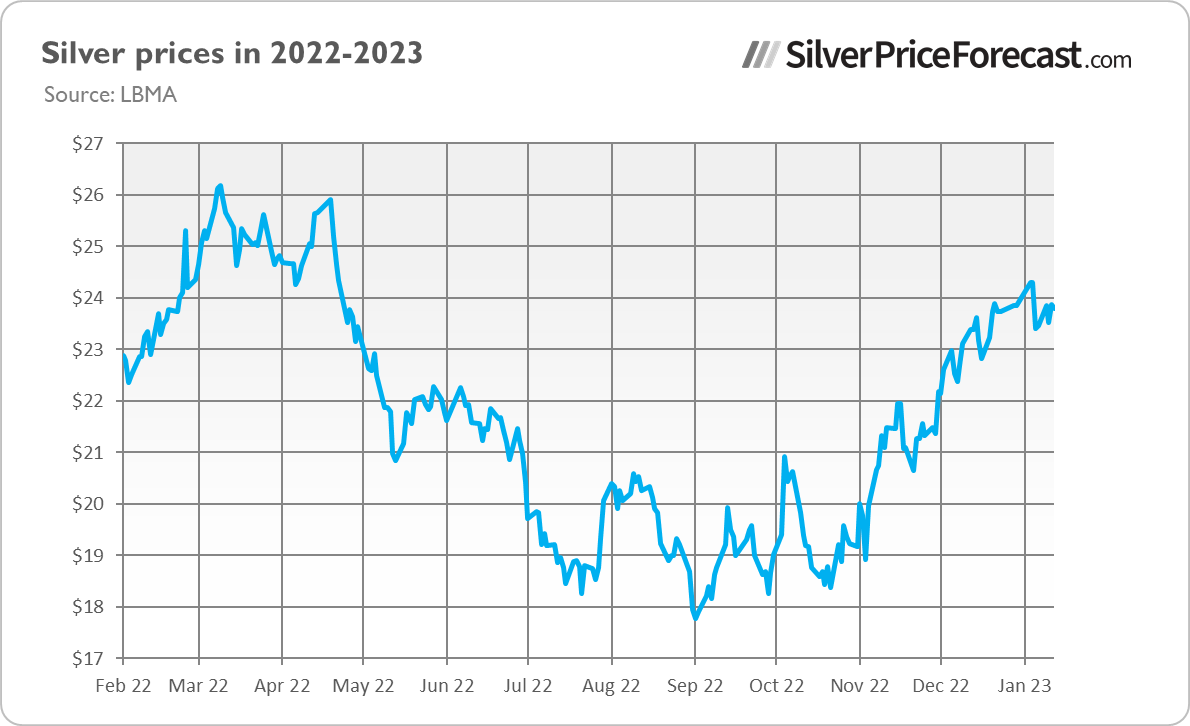 However, the CPI report is fundamentally positive for the silver prices. It reaffirmed market expectations for a less hawkish monetary policy by the Fed. As a consequence, the bond yields and the greenback declined. This fundamental backdrop is bullish for gold and silver.
Do you think inflation has truly peaked or will we see a second wave of inflation?
Related: Could Stagflation Save Gold In 2023?