Written by: Jordan Jackson
Oil prices have risen substantially this year; WTI crude is up 60.1% to $77.43/bbl and Brent has risen 58.1% to $80.98/bbl1. While it was expected that easing pandemic conditions would support demand for oil, the move in spot prices this year has caused investors to question whether these price pressures will persist and lead to higher inflation.
We think the rise in oil prices has been driven by a few factors:
Improving oil demand: the delta wave appears to be receding in the US and globally helping fuel energy demand.
Natural gas substitution: natural gas prices have surged ~120% this year as electricity demand rebounds with industrial growth. This has increased the demand for oil and coal as a substitute.
OPEC+ production: even with strong demand, OPEC+ has agreed to only increase output gradually by 400kbpd per month, while demand estimates forecast extra oil demand of 500k-1mbpd.
Weather-related supply hits: Hurricane Ida took a lot of supply—more than 17mm barrels—out of the U.S. crude market. At 421mm barrels, U.S. crude inventories are 7% below the 5-year average2.
Oil storage: Global crude inventories that ballooned during the pandemic have shrunk to the lowest level since January 2020.
Our base case remains that Brent prices average $70-$80 in 4Q21 as global inventories are restocked and global consumption continues to recover. We acknowledge that persistent supply chain constraints present some upside risk to this outlook. With that said, it should be emphasized the OPEC+ has plenty of capacity to ramp up production and could do so if prices continue to move higher.
Going forward, its likely oil prices will remain elevated over the medium-term, keeping headline inflation above 3% through mid-2022. However, supply constraints should ease and inventories should gradually be rebuilt, allowing for inflationary pressures driven by higher oil prices to ease into 2023.
Commodity prices
Commodity price z-scores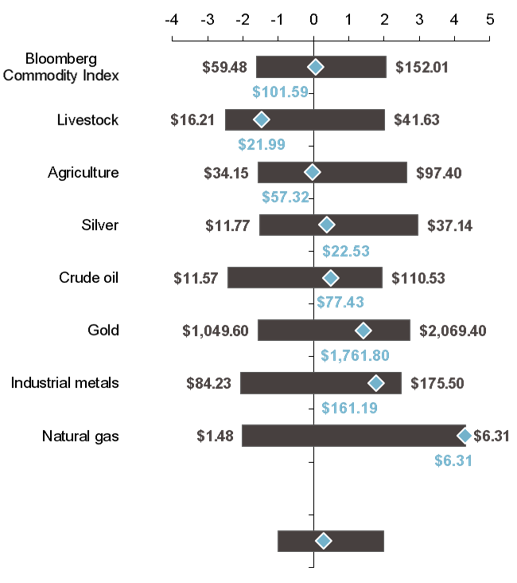 Source: FactSet, J.P. Morgan Asset Management; Bloomberg. Guide to the Markets – U.S. Data are as October 6, 2021.
1As of October 6, 2021.
2Weekly petroleum status report for week ending October 1, 2021. EIA